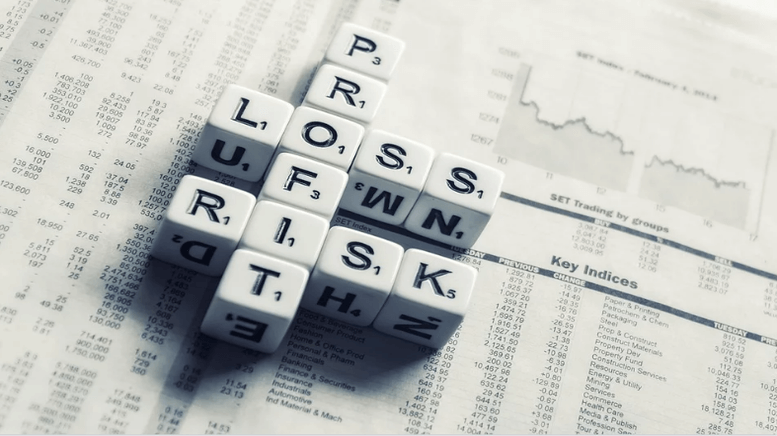 The coronavirus pandemic may have come as a major shock to the global economy and to the stock market, but there are some tech stocks that have managed to record gains despite the current situation. The tech stock earnings announced this week proved to be another trigger for some tech stocks to record gains in the market, and investors could do well to keep an eye on these stocks this week.
Many of these tech companies seem to have been cushioned from the overall chaos unleashed by the coronavirus crisis, and the earnings seemed to drive home that particular point. Three of the biggest tech stock earnings were announced this week, so it could be worthwhile to take a look at how these stocks gained momentum afterward.
Biggest Tech Stock Earnings: Tesla Inc (NASDAQ:TSLA)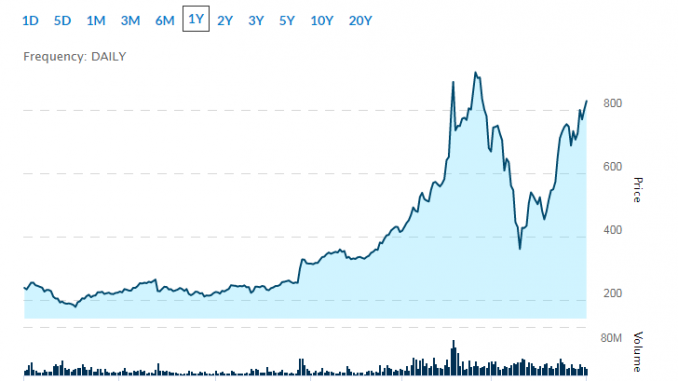 The electric car manufacturing giant has seen its stock perform fairly impressively in 2020 so far, and on Wednesday, it started soaring after the company announced its earnings. It was one of the most eagerly anticipated tech stock earnings of the quarter, and the company managed to deliver some stellar numbers.
The company generated earnings of $1.24 per share, which completely blew away analysts' estimates of $0.36 per share loss. The company noted that it was the first time in its history that it managed to generate a profit in the "seasonally weak first quarter."
Investors have been bullish about Tesla stock due to the way in which the company has been able to execute its plans, and that was reflected once again in the sales generated by the Model Y.
>> 3 Hot Tech Stocks Outperform as Markets Rebound
Model Y made a significant contribution to Tesla's overall gross profits, and it was also the first time in the company's history that a new product had been able to generate profits. In addition to that, the company's new factory in Shanghai improved its profitability in the quarter, another major positive.
TSLA stock generated gains of 8% in today's opening trade, taking total gains in 2020 so far to over 100%.
Biggest Tech Stock Earnings: Facebook (NASDAQ:FB)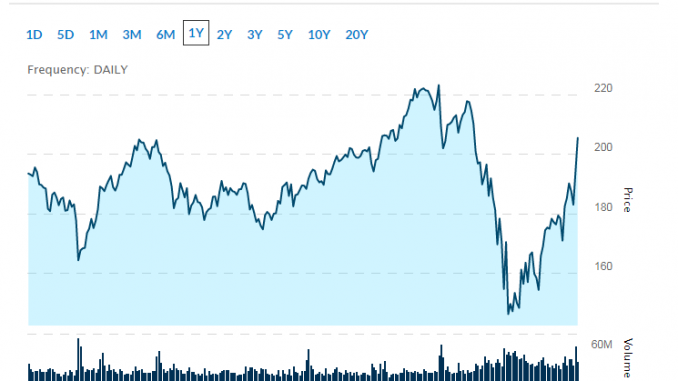 Some investors seemed worried that social media giant Facebook's earnings were going to take a hit due to lower revenues from advertising. However, these concerns proved to be unfounded. In Facebook's earnings report, published late Wednesday, the company revealed that advertising revenue has been stable after having fallen in March.
The announcement resulted in a significant rally in Facebook stock, which gained 7% in Thursday's trading session as investors piled on to it. Facebook's earnings report was one of the most closely watched tech stock earnings of the week, and the company managed to deliver decent numbers. Facebook's revenue for the quarter came in at $17.74 billion, which reflects a jump of 18% from the prior-year period. In the first quarter last year, the company generated revenue of $15.08 billion.
Facebook also noted that the total number of users across its platforms grew to 2.99 billion for the quarter. In the previous quarter, the same figure stood at 2.89 billion. Most importantly, the company revealed that the coronavirus pandemic triggered a significant decline in advertising revenue in March. However, this has since stabilized. It is important for investors to keep in mind that the company generates most of its income through advertising, so any significant dent in that could result in a highly negative effect on the stock.
Biggest Tech Stock Earnings: Alphabet Inc (NASDAQ:GOOGL)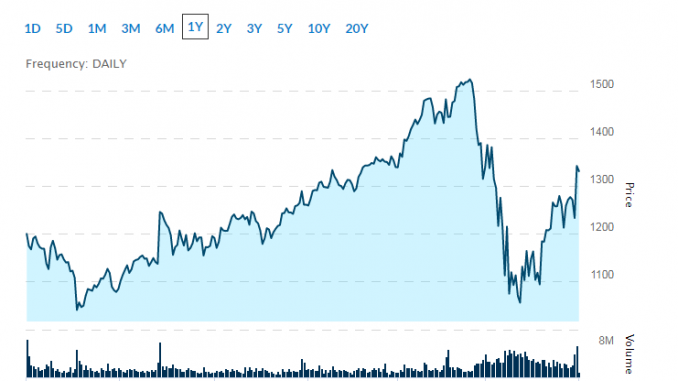 Another major tech stock earnings announcement this week came from Google's parent company Alphabet. The coronavirus pandemic was expected to have an impact on its earnings, and although revenue growth slowed down, it was not as bad as investors were expecting.
The company resorted to cost-cutting measures during the quarter, which proved to be a significant factor in its performance. Revenue for the quarter came in at $41.16 billion, which managed to beat analysts' expectations of $40.29 billion. However, the earnings of $9.87 per share fell short of analysts' estimates of $10.33 per share.
The company's Chief Executive Officer, Sundar Pichai, stated that the usage of YouTube, Google search, and many other apps rose significantly as users tried to find out more details about the coronavirus pandemic. GOOGL stock rose by 7% on Wednesday after the earnings announcement.
Featured image: Pixabay