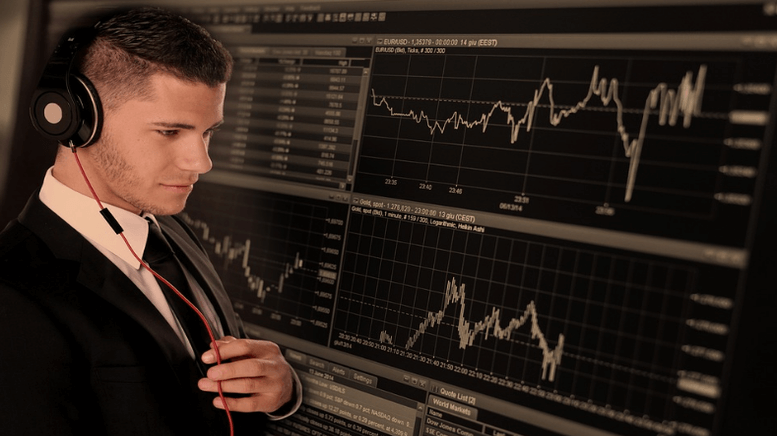 The coronavirus pandemic has proven to be one of the most difficult crises in modern history, and it has had an effect on every aspect of life across the world. The crisis has also hit the stock markets in a big way, and earlier this week, the Dow Jones suffered its biggest crash since 1987. Despite a cautious recovery, the carnage continued in the markets, and many cheap tech stocks plunged to abysmal lows as the selloff intensified. The Dow Jones has slumped by 33% from its record highs, while the S&P 500 has tanked by 30%. In addition to the coronavirus crisis, the massive decline in the price of crude oil has not helped matters either.
In other words, this is a time when many investors are exiting the stock market, which actually means there could be an opportunity for other investors who might be looking for bargains.
The full effect of this pandemic will only become clear later, but intelligent investors may be able to pick up stocks with the right fundamentals and make a killing in the long-term. Here is a look at 3 cheap tech stocks that could be worth tracking.
Cheap Tech Stocks to Buy: Autodesk, Inc. (NASDAQ:ADSK)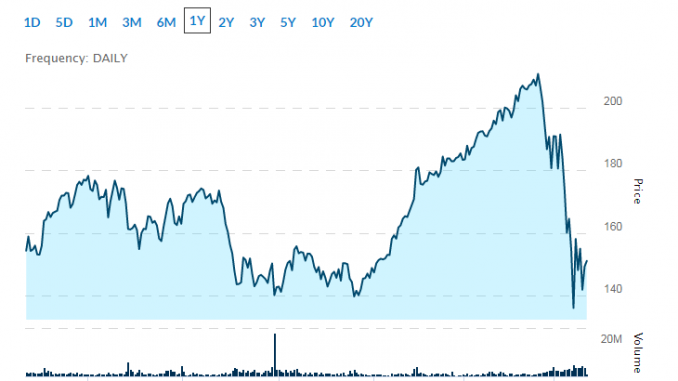 Due to the extreme volatility and weakness in the wider market, Autodesk stock declined by 25% in recent days. However, it should be noted that it has been an impressive performer prior to that. Over the past five years, the design software and services firm saw its stock soar by 158%.
The company is involved in the software-as-a-service (SaaS) space, which is a sector many believe should see explosive growth in the years to come. Autodesk could well prove to be a stock worth owning for those looking for a SaaS play, particularly so because the stock has declined amidst the selloff. Autodesk has grown its sales at a remarkable clip; from $2.1 billion in fiscal 2018, its total sales in fiscal 2020 ballooned to $3.1 billion.
Analysts believe that sales might hit $5.1 billion by 2023. The forward price to earnings ratio of the stock is 26, which is quite reasonable considering the industry. Currently, Autodesk boasts of a paying customer base of 5 million, which is expected to grow considerably in the years to come.
>> 4 Casino Stocks that Plunged Up to 80% After COVID-19 Outbreak
Cheap Tech Stocks to Buy: Broadcom Inc (NASDAQ:AVGO)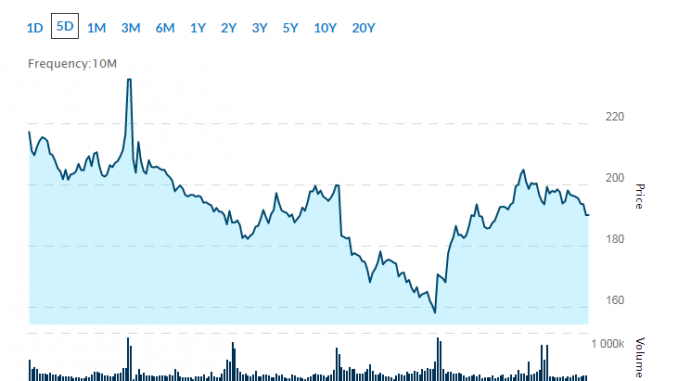 The chip manufacturing industry has grown at a remarkable pace over the past decades or so, and one of the giants of that sector is Broadcom. The semiconductor stock has managed to deliver gains to the tune of 1,000% since March 2010, so despite the recent fall in stock price, it is a stock worth considering.
Over the past month, AVGO stock has declined by 28%. Despite a slowdown in chip sales, the company has managed to move into the software space in a big way through acquisitions.
This strategy allowed the company to offset the slowdown in chip sales and record an annual growth rate of 8% in 2019. The stock has a price to earnings multiple of only 10.2 and has an attractive dividend yield of 5.5%. The company expects earnings to rise by 8% in 2020, making AVGO a possible attractive pick at current levels. The company does have debts of $30 billion, but with operating cash flow of $9.7 billion, Broadcom can easily service that debt.
Cheap Tech Stocks to Buy: Baidu Inc (NASDAQ:BIDU)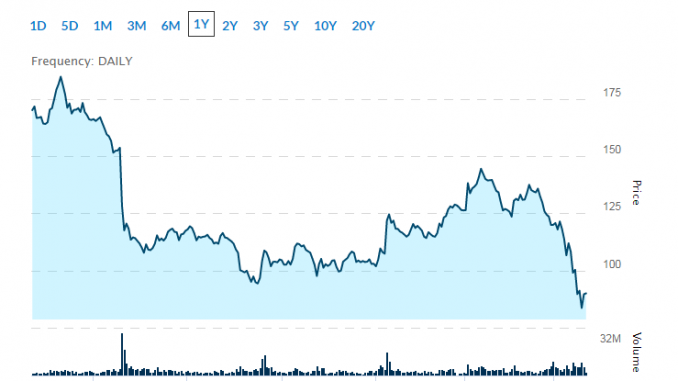 Chinese search engine giant Baidu is another big-ticket company that has seen its stock price decline over the past month. The stock has lost 26% during that period and has actually been struggling since 2018. Due to the US-China trade war, among other issues, BIDU stock is down 61% from its record highs. On top of that, the company's revenues are generated entirely in China, and since the country is now at the center of the coronavirus crisis, its revenues could be hurt further (although it should be noted that China seems to be getting its cases under control).
In the 2019 financial year, Baidu's sales rose by 5%, hitting $15.3 billion. Analysts believe that sales could grow by 4.2% in 2020 and by 14.5% in the year after that. It should also be noted that earnings are projected to fall by 12% in 2020. Baidu is trading at a forward price to earnings ratio of 15 currently, which could be an attractive ratio for most cheap tech stock investors.
Featured image: Pixabay