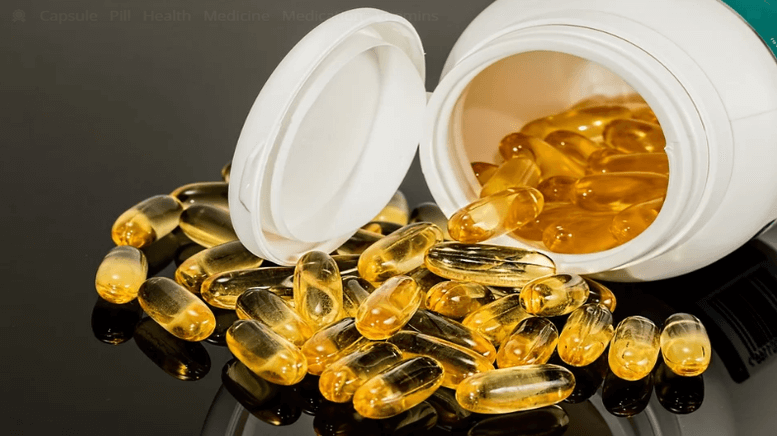 Over the past years, the biotech sector has grown at a breakneck pace, so it's only natural that biotech stocks have emerged as one of the more popular sectors among investors during this period. The coronavirus pandemic has sent the markets into a tailspin.
The weakness and volatility in the markets are real; however, there are certain stocks that could still help investors make money in these trying times. Biotech stocks could well prove to be the sector that investors need to look into. There are many biotech companies working in various fields that could be tracked. Here is a quick look at 3 popular biotech stocks that could be worth tracking right now:
Popular Biotech Stocks to Buy: Vertex Pharmaceuticals Incorporated (NASDAQ:VRTX)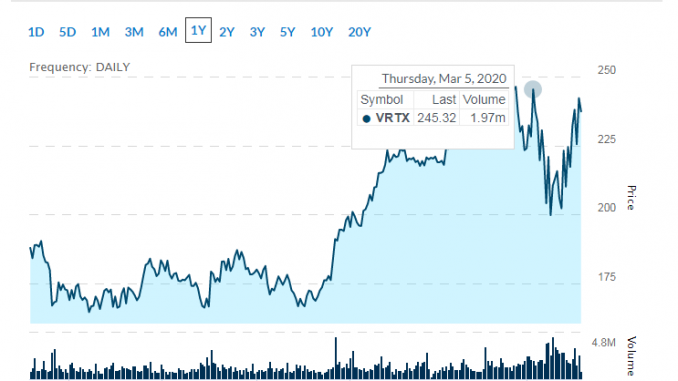 One of the more interesting biotech stocks in the market at this point is Vertex Pharmaceuticals. The company dominates the market for medicines meant for cystic fibrosis (CF) treatment.
Vertex is consistently profitable and has an enviable pipeline of products. The company has three medicines that have made it profitable and are approved to treat half of the CF patients in Australia, Europe, and North America. Those regions collectively have 75,000 CF patients. One of its products, Trikafta, was named by the pharmaceutical industry market research firm EvaluatePharma as the most valuable R & D program in the industry.
Vertex has delivered strong financial results in recent times, and in the full financial year 2019, the company recorded product revenue growth of $4.16 billion. That reflects a year-on-year rise of 37%. The earnings per share after adjustments hit $5.33, which reflects a handsome rise of 31%.
The company is building towards higher growth patiently and has emerged as one of the stocks to watch in the market. More importantly, Vertex has a cash pile of $3.8 billion, which will definitely help it to develop its business further in 2020.
Popular Biotech Stocks to Buy: BioMarin Pharmaceutical Inc. (NASDAQ:BMRN)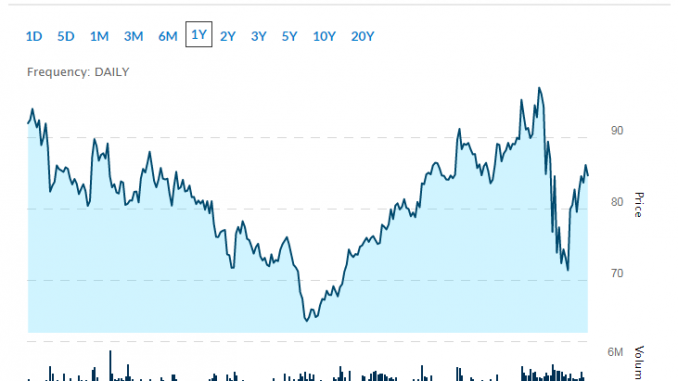 BioMarin Pharmaceutical has emerged as another promising biotech stock in recent times. The company is involved in developing treatments for rare genetic diseases in children and is on track to become profitable. In the financial year of 2019, BioMarin grew its revenues by 14% to hit $1.7 billion.
>> 3 Semiconductor Stocks All Set to Outperform This Quarter
More importantly, the company's net losses dropped from $77.2 million in 2018 to $23.8 million in 2019. BioMarin expects to become profitable in 2019 and has projected that its revenues for the year should be between $1.95 billion and $2.05 billion. The projected earnings per share is $0.30, and in 2021, is expected to go up to $1.15.
Additionally, BioMarin also has two highly promising products in the pipeline, which will help the company's long-term growth prospects. One of those products is valrox, which is meant to treat hemophilia A patients. The United States Food and Drug Administration has granted a priority review to valrox.
BioMarin's share price has not moved much in recent times, but with profitability on the horizon and a price to sales ratio of 7.5, this could be a compelling stock to track.
Popular Biotech Stocks to Buy: Alexion Pharmaceuticals, Inc. (NASDAQ:ALXN)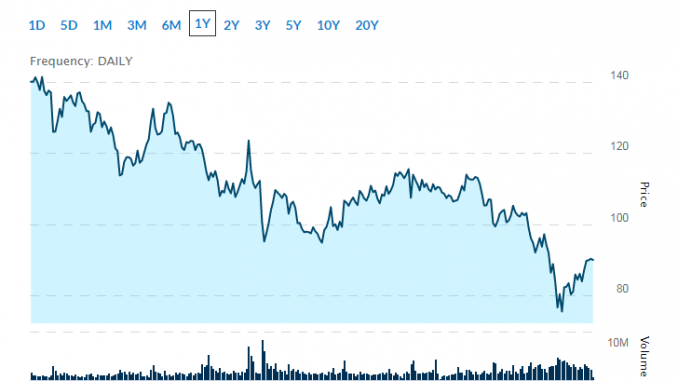 One biotech stock that has emerged as a promising proposition in recent times is Alexion Pharmaceuticals. The stock is trading at cheap valuations currently, and considering the fact that it develops medicines for rare diseases, it is worthwhile to have a closer look at it. The stock is currently trading at 7 times its future earnings per share and 10 times its 2020 cash flow.
The fact that Alexion works on medicines for very rare diseases keeps it immune from intense competition, something that could work in its favor. Its niche work allows Alexion to sell its treatments at a premium price. Alexion has replaced its wildly successful product Soliris with Ultomoris, which should see the company raking in revenue in the foreseeable future.
Featured image: Pixabay