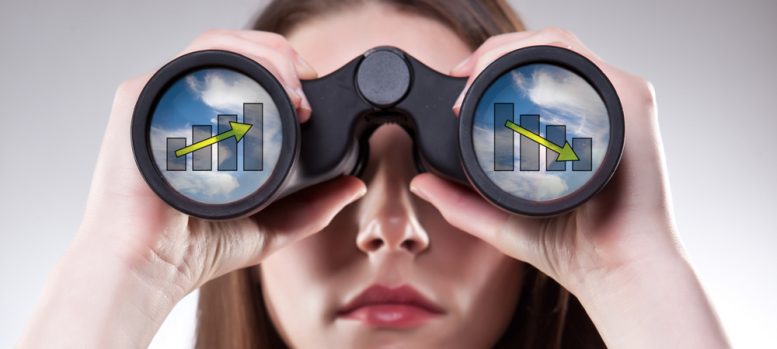 A new year is upon us, and stock market forecasts for 2020 are looking bright after a solid finish for US equities in 2019. The S&P 500, the Dow Jones Industrial Average, and Nasdaq composite all hit a record high late last year, and analysts expect much of the same this year. So, what will the biggest stock market trends be in 2020, and which stocks should investors keep an eye on?
Stock Market Trends 2020: The US Presidential Election Expected to Move the Market
The US presidential election could be one of the most significant catalysts of 2020 for stocks, according to Bank of America analyst Savita Subramanian. She believes that a liberal democrat victory would be the worst-case scenario for the market due to their aggressive regulation and tax proposals. At the same time, a win by Joe Biden or another moderate Democrat would be a modest negative for the stocks. Meanwhile, if Donald Trump wins the race, Subramanian believes it either won't produce much of a market reaction or could trigger a modest relief rally.
Dutch asset management firm Robeco expect Trump to win the election because "the incumbent party tends to win whenever the economy is improving" but also acknowledged that the way to victory is likely to be volatile.
JPMorgan Chase & Co. doesn't see the elections as a key risk that should keep investors out of risk markets, while Citi analysts said they would not be surprised to see increased market volatility ahead of the election but aren't ignoring the potential positives the US election will bring either.
"With most candidates desiring a strong economy during their term, we think that the election could actually support equities if discussions eventually turn to fiscal stimulus in the form of tax cuts 2.0 or infrastructure spending," said Citi. The bank also noted that the second half of the election year tends to be more favorable for the market, in general.
Stock Market Trends 2020: The Launch of 5G Wireless Networks
Another one of the key stock market trends for 2020 will be the launch of 5G networks around the world. Promising download speeds up to 20 times faster than the current generation, near-instant connections, and greater capacity, 5G will unlock the power of several transformative tech applications, like autonomous cars, Internet of Things (IoT) devices, and virtual reality.
Major communications companies Verizon Communications Inc. (NYSE:VZ), AT&T Inc. (NYSE:T), T-Mobile US (NASDAQ:TMUS), and Sprint (NYSE:S) have all begun deploying 5G networks, but many see hardware providers taking the top spots in the 5G market.
>> AAPL Stock Crosses $300 Mark for the First Time
Samsung (OTC:SSNLF), Huawei, and OnePlus have all given the market a glimpse at their 5G hardware. Interestingly, Apple Inc. (NASDAQ:AAPL) is notably absent from the list of companies set to launch 5G devices to the market, yet many believe the company is going to dominate once it does.
Indeed, Wedbush analyst Daniel Ives expects Apple to secure the top spot in the 5G race and has offered the company an "outperform" rating and a $350 USD price target.
Meanwhile, chipmakers like Nvidia Corp. (NASDAQ:NVDA) and Qualcomm (NASDAQ:QCOM) are also expected to continue on their upward trajectory as 5G network adoption continues, which is expected for years to come.
Stock Market Trends 2020: Trade War to Transition to Tech War
The US-China trade war was easily one of the biggest economic conflicts of 2019, and while things have cooled off after a preliminary agreement was reached, the bigger danger lies in a Sino-US technology war as the two powerhouse countries race to develop industry-leading artificial intelligence (AI).
According to the Bank of America, "the next phase of the trade war could be a technology war in which trade disagreements and national security concerns result in the US and Europe lowering their dependence on China."
The bank said that improvements in automation and rising costs in China have already shifted global supply chains and anticipate that the world may soon resemble the dual global economy that was prevalent during the Cold War.
The phase-one US-China trade agreement is expected to be signed on January 15, which should help de-escalate the tariff war and protect US intellectual property. The deal is also expected to boost the four American semiconductor companies that control 90% of the world market: Synopsys, Inc. (NASDAQ:SNPS), Photronics Inc. (NASDAQ:PLAB), Nvidia, and NXP Semiconductors N.V. (NASDAQ:NXPI).
Stock Market Trends 2020: International Economies to Outperform the US
The US economic growth outpaced the rest of the developing world in 2019, but economists expect that trend to reverse in 2020. Bank of America economists are predicting decelerating US economic growth, while the economic growth for the rest of the world picks up.
According to Kristina Hooper, chief global market strategist at Invesco, Chinese equities have been "beaten down unfairly" after two years of trade battles. However, she believes that with China's central bank in stimulus mode and the upcoming phase-one US-China trade agreement, China, Thailand, Vietnam, and Singapore should all see a boost.
This shift from the US to overseas markets suggests that investors may want to consider including more foreign shares in their portfolio. However, it is important to note that risk is everywhere, and investors should follow the age-old adage: look before you leap.
Like other stock market trends, it's essential that investors do their own research and tread lightly. However, if 2019 is any indication of where stocks are heading this 2020, it could make for an exciting year indeed.
Featured Image: DepositPhotos © aremafoto