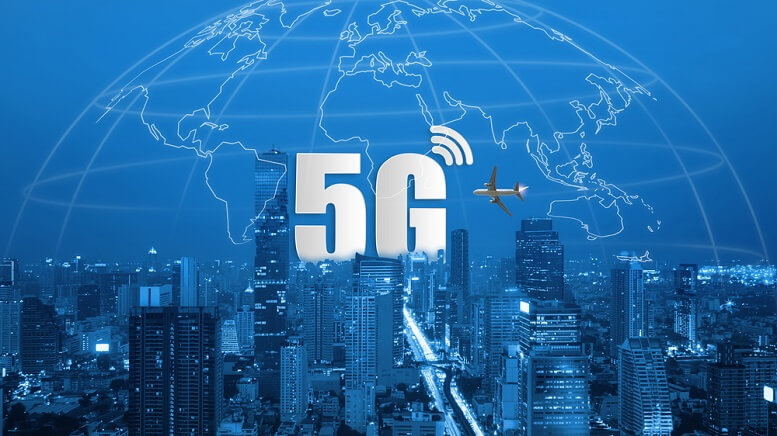 This year will see the widespread rollout of 5G networks across North America, with almost all major phone makers set to launch their new generation of 5G-enabled devices. Promising download speeds up to 100 times faster than the current generation, 5G opens the door for a whole new world of possibilities across the spectrum of industry and business. From driverless cars to virtual reality, the next generation of wireless communication looks set to be the most disruptive force since the advent of the internet over 25 years ago.
What is 5G?
5G refers to the fifth generation of wireless communication, the next major phase of mobile telecommunications standards beyond the current 4G/IMT-Advanced standards. The new technology will be able to transfer a significantly greater volume of data through the existing radio waves we currently use in everyday life, whether it's sending a text or surfing the web. By 2035, it is estimated that 5G will enable US$12.3 trillion of global economic output, while the global 5G value chain will generate US$3.5 trillion in output and support 22 million jobs.
How Will Consumers Benefit From 5G?
While the transition from 3G to 4G focused primarily on faster and more reliable connections, the transition to 5G is about so much more. 5G is essentially the core enabler to unlock the full potential of a variety of technologies that we are already beginning to see in everyday life. The combination of enhanced speed, responsiveness, and reach will unlock the full potential of blockchain and mobile payments, augmented and virtual reality technology, the Internet of Things (IoT), drones, and autonomous vehicles, to name just a few.
How Will Businesses Benefit from 5G?
5G will be a major advancement in improving the remote working experience, an increasingly common practice in the modern office environment. Network-related tasks, such as online sales or sharing large files in the cloud, will become faster and more efficient, even on mobile devices, without the need to connect to WiFi, making the modern workplace more agile and productive. Office management systems will also become more efficient, reducing overheads such as air conditioning and electricity, while security systems will also become much more advanced.
The Stocks Leading the Revolution
So, we've established the all-sweeping changes we can expect to see in the world of mobile communications over the next few years and just how they will impact us as consumers. However, as an investor, you're probably curious as to which companies are building the technology required to facilitate this industry-defining technological shift. Let's take a look at three of the stocks that could be set to lead the 5G revolution.
>> JNJ Stock Sinks Following $344 Million Marketing Lawsuit
Microsoft (NASDAQ:MSFT)
The tech giant scaled its way to the summit of international industry by being a leading light in the primitive days of computers and firmly established itself as one of the biggest companies in the world during the dot-com boom of the nineties. Three decades later and Microsoft is still the torchbearer for technological advancement and has presented a pretty grand vision for the future of the 5G connected world.
Microsoft has entered into a number of strategic alliances in preparation for 5G, including a partnership with AT&T, which will see it become the preferred cloud provider for non-network applications, as part of AT&T's broader public cloud-first strategy, and will support AT&T as it consolidates its data center infrastructure and operations. The company will also bring 5G to the gaming world with the launch of its xCloud service, a potentially revolutionary force in the gaming industry that will allow for a Netflix-style delivery system for gaming.
Corning (NYSE:GLW)
Corning is a global leader in the material sciences industry, and its products are found in a whole host of everyday uses that you probably never even realized. For example, if you're reading this on an iPhone or most Android devices, you've likely got your fingers on a Corning-made screen. In September, Apple (NASDAQ:AAPL) announced that it would invest US$250 million in Corning, in an effort to develop and manufacture the glass needed for many of its 5G products, including the iPhone, Apple Watch, and iPad.
The company recently announced a partnership with Intel (NASDAQ:INTC) to solve one of the biggest issues facing 5G―signal penetration. Due to their short wavelengths, mmWave 5G signals can be blocked by physical barriers like walls or even glass. A signal's difficulty in moving from outdoors to indoors can result in poor indoor coverage for 5G customers. Corning's 5G contracts go as far back as 2017, when Verizon (NYSE:VZ) announced it would buy 12.5 million miles of fiber per year through 2020 for a massive US$1 billion. Corning makes about 1,400 miles of fiber cable per month.
Qualcomm (NASDAQ:QCOM)
Last, and most definitely not least, is chipmaker Qualcomm. This could be the biggest beneficiary of the 5G revolution, after semiconductor manufacturers were described as "the arms dealers of the 5G race," given how pivotal the technology is in making 5G a reality, and Qualcomm is the foremost of these firms. The company's key product range is the Snapdragon processing chip, which is the best-performing chip on the market and the component of choice for most mobile phone makers.
Qualcomm stock rocketed over 60% in a week last July after the company settled an IP dispute with Apple to allow its chip to be used in the next generation of iPhones. Apple had previously used Qualcomm's technology before a fallout led to Intel becoming the iPhone's supplier. However, Intel's chips didn't really hold up against Qualcomm, and as Apple struggled to develop its own chip in time for 5G, it had no choice but to switch back to Qualcomm. Going to battle with a firm the size of Apple, and coming out on top, is certainly an impressive statement of intent.
Featured Image: DepositPhotos © nirutdps