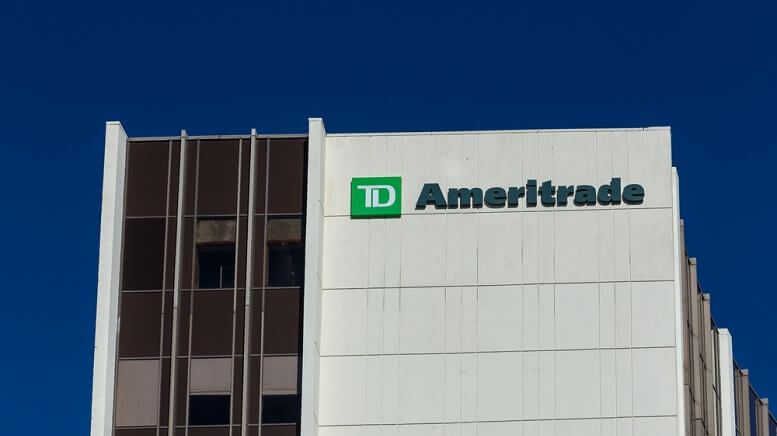 AMTD stock is flying high on Thursday following reports that Charles Schwab (NYSE:SCHW) is in talks to buy TD Ameritrade (NASDAQ:AMTD) for $26 billion USD.
The takeover would create a giant in the wealth management industry, with combined assets from the two banks totaling more than $5 billion USD. A deal between the two institutions would see massive consolidation in an industry that has been experiencing serious headwinds as of late, with many investment firms announcing plans to go to a zero-commission model. Schwab's founder and Chairman Charles Schwab said last month that consolidation in the retail brokerage industry is a "logical conclusion that will occur." AMTD shares are up nearly 17%.
Schwab CEO Walter Bettinger has been designated to run the combined company, sources said, after TD Ameritrade CEO and President Tim Hockey said in July that he is leaving the brokerage firm in February of 2020. This added further speculation that TD Ameritrade may be in the shop window, and today's reports indicate that a deal could be finalized before the end of the week. Schwab announced in October that it was wiping out trading fees, one day before TD did the same, in a move that has borne dividends for both SCHW and AMTD shares.
Last week, Schwab revealed that the free trading model had generated about 142,000 new brokerage accounts in October, up 31% from the previous month.
>> Macy's Stock Extends Sell-Off After Disappointing Q3 Earnings, Outlook
"Consolidation thus far has been good and I think that will probably continue to be the case here," said Devin Ryan, a financial analyst at JMP Securities. "The key thing is what does the consumer get out of this. Ultimately the consumer's been treated very well with lower commission pricing, their [sic] getting paid more on a lot of different parts of the platform."
Federal regulations may get in the way of the deal, with antitrust hurdles set to be the major stumbling block for a deal of this scale. Despite those fears, AMTD stock is flying high at $48.38.
If you're interested in opening a brokerage account, you can read about how to do so here!
Featured Image: DepositPhotos © wolterke