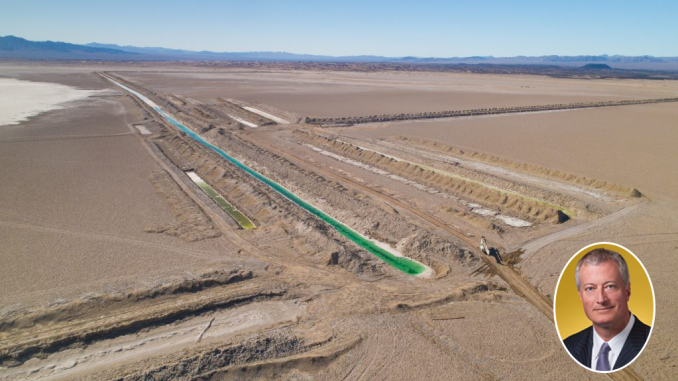 The age of the internal combustion engine is coming to a close. By 2030, China, the world's largest auto market will likely end sales of all polluting vehicles. It already leads the world in the number of electric vehicles, ahead of both the EU and the US. By 2040, the United Kingdom and France will follow. California is already mulling a similar move. Even India has set a target to only sell electric cars by 2030.
It's no surprise then that lithium demand is expected to reach near exponential growth rates over the next couple decades. By 2030, Bloomberg New Energy Finance predicts a more than thirtyfold increase in electric vehicles.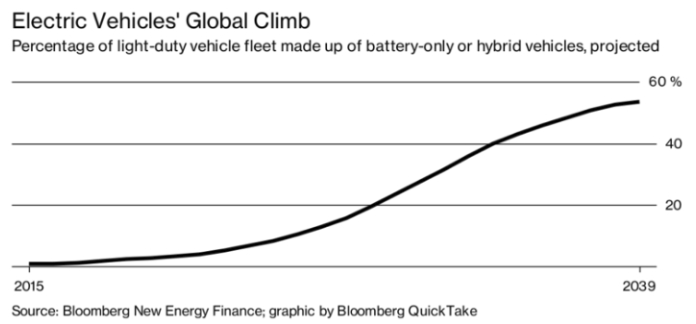 Car manufacturers have been announcing plans to release electric vehicle models seemingly every couple weeks. In less than five years, it is estimated that 50 new electric car models will be introduced, bringing the total number to 136 pure electric models.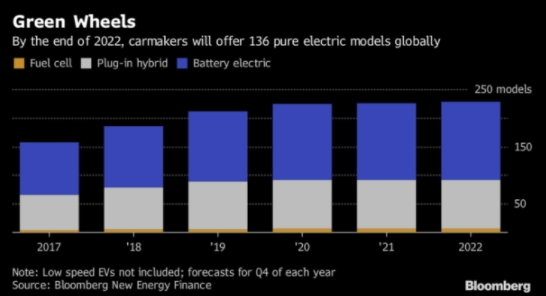 However, the global mismatch between lithium supply and demand continues. Driven by the electric vehicle revolution, lithium production is already lagging behind current demand. For instance, in its second quarter report in 2017, Tesla Motors blamed a battery shortage for the company not achieving its car delivery targets.
In October 2017, lithium prices have continued to surge. The Chinese spot price of lithium carbonate reached about $23,000 a ton, up 38% since the beginning of the year; it's even an 18% increase compared to late August. As more and more news of electric vehicle mandates and pledges continue to roll in, it appears that lithium prices will remain very well supported.
As Bloomberg sums it up "We're Going To Need More Lithium"
The Investment Opportunity – Lithium Mining Companies
There is no doubt a huge investing opportunity here. While many people are focused on the 'Big 3': Albemarle, SQM, and FMC, which continue to dominate lithium production, there has also been a flood of junior mining and exploration companies entering the market.
Most investors would regard investing in one of the Big 3 lithium companies as the ideal lithium play. But Bob Cross isn't your average investor. And as he says in the interview below, when it comes to lithium, he is invested in one and only one company – Standard Lithium (TSX-V:$SLL) (OTC:$STLHF) (FRA:$S5L).
What makes Standard Lithium stand out to Bob Cross? Read it in his own words first.
Are you still long on Standard Lithium?
Yes, I own a significant position and I've participated at every financing level. It's my only lithium exposure at the moment, for reasons listed below, and I believe this will be a big winner when the global M&A cycle in this sector unfolds. You will see a frenzy of strategic acquisitions by the battery makers and even the EV makers to secure lithium supplies, and I believe the valuations will shock people. SLL is perfectly positioned to benefit from this.
If you are, what do you think about the California property and Smackover opportunity in Arkansas and what intrigued you to make such a big investment?
First of all, when you analyze the different methods and costs of mining Lithium, whether, from hard rock, clay, or extraction from brine, I'm 100% convinced that extracting lithium from brine using currently available extraction technologies (versus using evaporation ponds) will have the lowest production costs for the production of battery grade material. These technologies have been used in various forms in the mining business for other commodities for 50 years. Furthermore, these closed circuit extraction systems are very environmentally friendly, with a small footprint and minimal waste or tailings to deal with.
When surveying the current junior landscape of lithium players, and focussing specifically on the brine players, you have a choice between the Argentina/Chile brine companies that are focussed on the older evaporation pond methods, or companies like Standard Lithium. I backed SLL for the following reasons:
Management: I've known Robert Mintak and Andy Robinson for four years and I was an early investor in Pure Energy, their previous company with a brine project in Nevada. They are world leaders in understanding the currently available technologies that can efficiently extract lithium from brine to produce battery-grade Li hydroxide and have developed a global brain trust of technical advisors and suppliers over 5 years that is incomparable in my view.
Domestic Resources: I've been working internationally in the resource business for 25 years, and political risk is increasing everywhere. Standard Lithium's strategy is to develop US-based resources, and I believe these resources will get a large premium when the M&A phase of this cycle begins. Any long-term strategic investor should think twice about making significant investments in Argentina or Chile.
Minimal Geological Risk: The California asset has known lithium concentrations from existing data. The brine is near the surface, Route 66 goes right through it only 2 1/2 hours drive from Las Vegas. The Smackover has well-understood geology and chemistry with significant existing brine production, re-injection and mineral/chemical extraction infrastructure.
Resource Size: Both assets have significant resource size potential.
Low Infrastructure Costs: Both assets have easy access to power, water, rail, and road transport. Compare this advantage to the infrastructure costs associated with the development of the Argentina deposits.
Low Permitting Risk: The deal that was done in California with National Chloride allows SLL to do initial work alongside a company with existing mining permits, and SLL also has access to private land to build the plant. A similar strategy will be used in the Smackover to limit permitting risk which often becomes the critical path with new mining developments.
Next US Producer: I believe that the combination of the above advantages will allow SLL to become the next lithium producer in the US because of the low risks and reduced timelines.
Do you own any other lithium stock?
No
As you can see, Bob is very confident in his investment in what might appear to be, from the outside, a small and little known junior mining and exploration company. His confidence in Standard Lithium comes down to this:  Low Costs, Low Risks, and High Resources Equals Massive Potential.
Bob Cross foresees the upcoming M&A cycle in the lithium industry. As automakers and battery makers identify strategic lithium mining companies that can suit their future needs, we will be seeing as Bob puts it a "frenzy of strategic acquisitions".
Already, we are seeing the early signs of this upcoming phase. Sinochem, China's state chemical group, is looking to acquire a $4 billion stake in SQM. This was on the back of Tianqi Lithium, a Chinese producer, acquiring a $210 million stake in SQM in 2016. Great Wall Motors, a Chinese automobile manufacturer announced last month that it would be taking a $28 million stake in Australian miner Pilbara Minerals.
This is just the beginning of the cycle. As it intensifies with growing lithium demand, Bob Cross believes that Standard Lithium is uniquely positioned to benefit.
Low Costs
Standard Lithium's low costs are driven by two things, location and process. Its current main focus, the 25,000-acre Bristol Dry Lake lithium project has a location that inherently gives it a cost advantage.
First, because of almost a century of historical mining in that location, much of the infrastructure is already in place. Electric power and water are already supplied to the property, while a major highway (Route 66) crosses its western and northern edges. Finally, the Burlington Northern Santa Fe railroad runs adjacent to the property.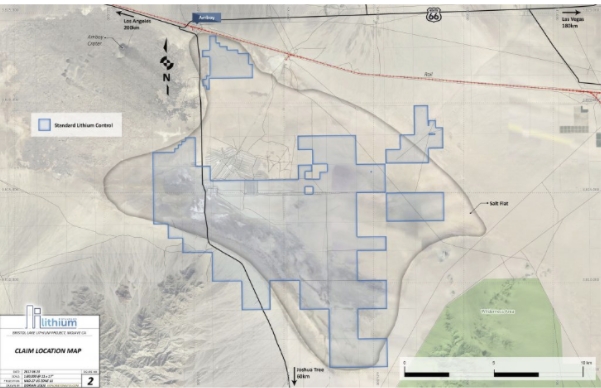 Efficient processes also drive Standard Lithium's low costs. Compared to hard rock mining, lithium brine is far more cost effective. However, the most common lithium brine extraction method in use today is through solar evaporation. Not only is it time consuming, taking approximately 12 months (not including construction), it is also not cost-efficient.
While Standard Lithium has currently constructed evaporation ponds for brine testing purposes, the company does not intend to use them as their primary extraction method. Instead, the company will use a combination of solar evaporation, membrane, chemical precipitation and selective lithium extraction technologies.
This new lithium extraction process would not only be more cost-efficient but also more environmentally friendly compared to solar evaporation. When coupled with the fact that the brines at the Bristol Lake project are mostly surface level, it's clear that Standard Lithium will enjoy a processing cost advantage over other miners.
The extraction process was first developed by a company called Pure Energy Minerals, which was founded by the current CEO of Standard Lithium –Robert Mintak. The COO of Pure Energy Minerals, Dr. Andy Robinson, who was instrumental in developing the process, is currently the COO of Standard Lithium. And Bob Cross himself was a former advisor of Pure Energy Minerals, which explains his faith in the management team at Standard Lithium.
In addition to its own in-house world-class lithium brine process engineering team, Standard Lithium has also partnered with The University of British Columbia, global leader in process testing and development SGS, and world class material science and chemical engineering company Lilac Solutions. These partnerships are all geared toward perfecting the most optimal lithium extraction process through membrane/solvent extraction and ion exchange methods.
Low Risks
The main risk when it comes to investing in junior mining and exploration companies is that they have not entered production yet. Because of this, many such investments are risky prospects.
Standard Lithium's risk mitigation is something that stands out to Bob Cross. The first is its location; the United States of America. Currently, most miners are looking to Argentina, where the 'Lithium Triangle' is located. All the big players have mining claims there.
But as Bob Cross sees it, resources are one thing, risk is another. He's been in the game long enough to know that when it comes to mining natural resources, geopolitical risk is a factor. A big factor. Think nationalization of the oil industry. In fact, Argentina is one country with a nationalized oil industry; it just re-nationalized its state oil company in 2012 after privatizing it in 1993. As lithium becomes the 'new gasoline', we may see such familiar political disputes arise.
When the M&A phase goes into full swing, automakers and battery vehicles will be looking for lithium supplies that will be secure and stable over the long term. And as Bob Cross says, Standard Lithium's strategy of focusing on US-based resources will definitely be a premium.
In addition to the low geopolitical risk, Bob also sees Standard Lithium as having low regulatory and geological risk. Standard Lithium's deal with the National Chloride Company and its own private land mean a smooth regulatory path toward production. The company will replicate this strategy with its Smackover Formation resource.
As for geological risk, it's almost negligible. The Bristol Lake project is already producing brine, so existing data already shows anomalous lithium concentrations. And the Smackover Formation has existing brine production and extraction infrastructure.
Lithium: Here for the Long Term
Many lithium companies, including Standard Lithium, have seen huge gains in their share prices in 2016 and 2017. So it's tempting for some investors to want to cash out. But Bob Cross is obviously not one such investor. Fossil fuel powered vehicles are the present, but they are quickly becoming the past. Electric vehicles are here to stay, and so is lithium.
Despite some people warning of a 'lithium bubble', the facts show that this is only a myth. Not only is there no bubble, we are only in the beginning of the lithium boom.