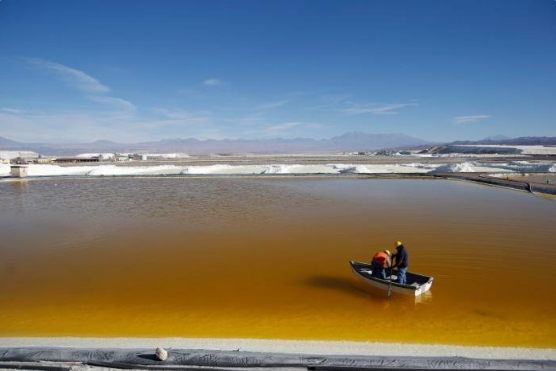 At the end of a road that loops through the Andes mountains and runs north to south along the western coast of South America lies the Olaroz salt flat. The flat rests roughly 4,000 meters, or 13,000 feet, above sea level. One of the few sounds that can be heard in the area is a mechanical one, created by untended pumps. Those at the Olaroz salt flat pluck lithium-bearing brine from wells that are sunk below the salt crust and then go on to place it in evaporation pools. After that, the concentrate will be transported to a plant within reach for processing into lithium carbonate.
As of right now, the project in Argentina's Jujuy state, which is a joint venture between Argentina, Australia, and Japan, holds the title of being one of the country's two active lithium mines. In 2016, it produced 11,845 tonnes of lithium carbonate, which is roughly 6% of the world's production. This year, however, Sales de Jujuy is working towards producing 17,500 tonnes of lithium carbonate.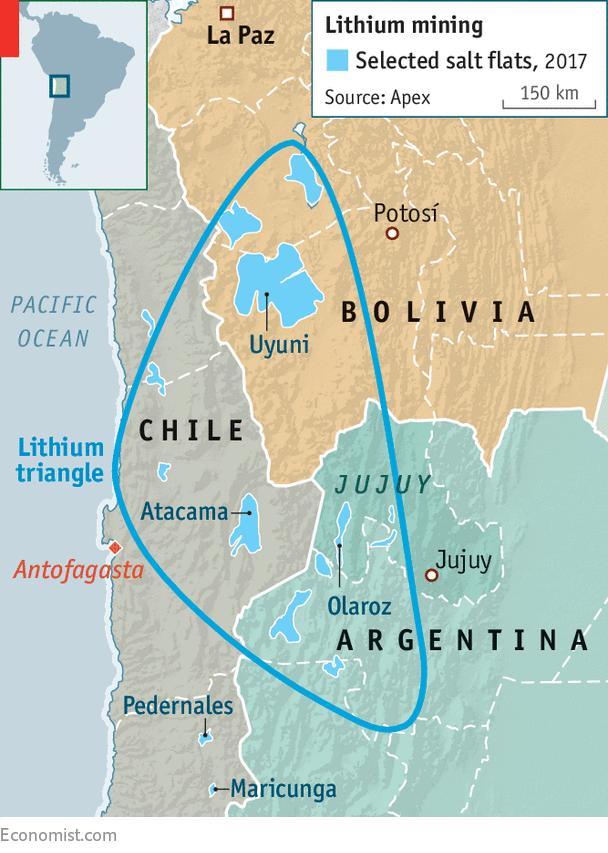 Lithium is one of the hottest commodities on the market right now. Why? Because it is one of the most important ingredients in lithium-ion batteries, along with cobalt. These batteries power more than just the apps running on your phone, they also power electric vehicles (EVs) and electricity grids (if affixed to wind turbines and photovoltaic cells). According to Joe Lowry, the demand for lithium is predicted to triple by the year 2025. Currently, lithium supply is falling, which resulted in an increase in price. As reported by the Industrial Minerals journal, annual contract prices for both lithium carbonate and lithium hydroxide have doubled this year. This increase has created a rush of investors trying to get a foot in the door at the "lithium triangle" which covers Argentina, Bolivia, and Chile. The lithium triangle occupies 54% of the globe's "lithium resources".

The three countries, Chile, Argentina, and Bolivia, have not been equitably eager to take advantage of the opportunity. Chile, one of the richest sources of high-grade, low-cost lithium in the world, has a head start. Argentina, on the other hand is stepping up to make up for lost ground, while Bolivia has scarcely started to capitalize on them. These differences prove how the South American trio approach both investment and enterprise differently. The trio faces an intimidating challenger in Australia, where lithium is extracted from hard-rock mines and then shipped to China for processing, but the investment conditions are cordial.
Chile takes the title of regional champ
As mentioned, Chile is one of the richest sources of high-grade, low-cost lithium, thus allowing them to control the lithium market for decades. The Atacama salt flat, for instance, has the highest-quality and largest proven reserves. When combining the desert sun, the lack of rainfall, and mineral-rich brines, China's output costs are the lowest in the world. Chile's lithium deposits are in close proximity to Antofagasta, a port city in northern Chile, and a number of other Chilean ports. This means that the lithium carbonate produced in Jujuy passes through these ports.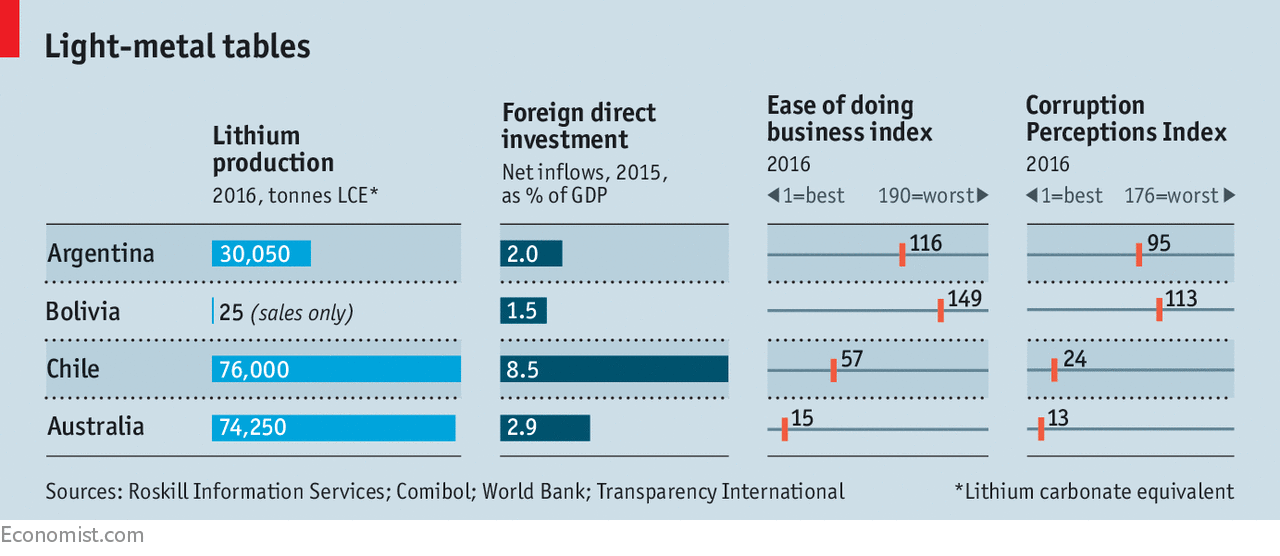 However, growth has now flattened, thus allowing Australia to endanger Chile's ranking as the top lithium producer in the world. This can be blamed on the fact that, when it comes to the alkali metal, Chile is far less liberal than it is to copper. Luckily, this problem can be mended.
In the 1970's and 1980's, laws were put into place that labeled lithium as a "strategic" material on the ground which can be used for future nuclear-fusion power plants. Though there is little prospect that Chile will build a nuclear-fusion power plant, controls on lithium output do help to protect the desert's delicate ecosystem.
Under the contracts signed in the 1980s, there are only two companies, Chile's Sociedad Química y Minera (NYSE:$SQM) and the US's Albemarle Corp. (NYSE:$ALB), that are allowed to remove brine. Additionally, SQM and ALB have quotas on the lithium that they produce from the brine. Currently, the government wants to increase output, but the Economic Development Agency is undergoing a legal dispute with SQM. As a result, the government has rejected the suggestion to raise it's quotas, which SQM is most likely to use up by the year 2021.
Respectively, Chile is now looking for other outlets to increase production. In January, Codelco, the Chilean state owned copper mining company, allowed for private firms to invest in the Maricunga and Pedernales salt flats. These are the richest lithium areas that Codelco is in charge of. In 2017, Corfo, a production development corporation, entered a deal with Albemarle; under the terms of this deal, Albemarle's mining lease was extended to 2044 and the Louisiana-based company was given an additional quota. As a result of the deal, Albemarle agreed to sell a quarter of its production at preferential prices to Chile-based firms.
The Atacama salt flat could allow Chile to stay on top
According to Corfo's chief executive, Eduardo Bitran, the Atacama salt flat could more than quadruple output to 350,000 tonnes a year without having to extract more brine. Essentially this would help Chile maintain the title as one of the top lithium producers in the world. However, removing quotas and ridding lithium of strategic status would make more sense. As would improving institutions and infrastructure in Chile. Despite being labeled 'the region's best', Chile still falls behind those of Australia. According to Daniela Desormeaux of signumBOX, "Chile is going in the right direction, but more is needed." In regards to Sociedad Química y Minera, this progress is still far too slow, which made it shift its attention to Argentina.
This is a last resort and it would not have happened, say, 2 years ago. It has been decades since investors considered Argentina to be business-friendly. Plus, Cristina Fernández de Kirchner, who ruled until December of 2015, didn't help the situation. For instance, currency controls meant to boost up the peso blocked foreign business from restoring dividends and export taxes decreased profits. Additionally, import controls made the process of bringing in machinery a lot harder and investors were forced to apply to the tax authority if they wanted to import. After that, investors then had to report to the central bank for hard currency. "It would usually take months to get drilling equipment and pumps into the country," stated David Sidoo, chief executive of the Canadian firm, Advantage Lithium (CVE:$AAL).
According to the constitution, it's the provinces that own the country's minerals, not the federal government. As a result, mining firms were sent on a wild goose chase trying to maneuver their way around a number of provincial rules and requirements. Daniel Meilan likened the situation to the Tower of Babel. Why is this an issue? Well, investors found it hard to decipher which companies had already been given concessions or permits, while provincial governments were including themselves in projects. JEMSE, for instance, is a mining firm owned by the Jujuy province, who called for an equity share of 20% in Sales de Jujuy. They ended up settling for an 8.5% equity stake.
Mauricio Macri, Argentina's current President, has attempted to unblock investment, and that includes lithium investments. In fact, in Macri's first week in office, the President lessened currency controls and began to remove export taxes. Additionally, Macri's entrepreneurial fervor has prompted the provincial government to approve permits for extraction and exploration a lot quicker. "It's much faster to get equipment into the country now," stated David Sidoo. Now, the Jujuy government has constructed a database which makes the process of finding out who already has mining concessions a lot easier.
Currently, the federal government is trying to fix provincial requirements. It has already created an agreement on a standard royalty (3% of revenue and 1.5% to improve local infrastructure), which now has to move through both provincial and federal legislatures. President Macri has plans to work on Argentina's poor infrastructure, but that will take a considerable amount of time.
These improvements have already started to unfreeze lithium investments. Last year, the lithium industry brought in $1.5 billion and output rose by roughly 60%. "We're in expansion mode," says the chief operating officer of Sales de Jujuy, Alex Losada-Calderon. Sales de Jujuy is currently investing around $160 million in new equipment. In 2022, the country hopes to manufacture 145,000 tonnes of lithium carbonate. However, despite the plans, Daniel Meilan, the country's current mining secretary, remains circumspect. Over the years, investors started to lose confidence in Argentina and Mr. Meilan recognizes that "it will take more than a day to recoup it."
In the 16th century, the city of Potosi was thought to be the world's largest industrial complex and today, investors are anxious to take advantage of Potosi's lithium deposits. However, the democratic government of Bolivia is less welcoming and enthusiastic than the imperial one.
According to the American State Department, Bolivia's investment system struggles from a "lack of legal security, weak rule of law, corruption and murky international arbitration measures." Since 2006, under the ruling of President Evo Morales, Bolivia has abandoned a number of bilateral investment treaties, which has denied investors access to international arbitration.
Contrary to popular belief, the Bolivian government actually keeps a tighter hold on lithium than it does on gas, which is the country's biggest export. In fact, since 2010, it is only the state that can extract lithium brine. Private firms can admire the Uyuni salt flat near Potosi from afar.
So far, the state's venture into lithium extraction is not going as well as they had once hoped. For example, the state has yet to calculate how the Uyuni salt flats resources translate into exploitable reserves. Regardless, Bolivia has built a pilot extraction operation and is continuing on with their plans to build a full-scale lithium-carbonate plant which has the ability to manufacture 30,000 tonnes a year. According to Juan Carlos Zuleta, an economist specializing in lithium, the state's foray into lithium extraction is well behind schedule, over budget, and is hindered by a lack of technology and expertise.
Similar to Chile, Bolivia aims to develop partnerships with private firms in order to produce value-added products, such as EVs or batteries, through Yacimientos de Litio Bolivianos. That said, the government continues to insist on controlling stake which is scaring prospective investors. Last year, Bolivia sold a total of 25 tonnes of lithium carbonate to China and pocketed $208,000.
However, there is good news for investors. It seems as if the government's attitude towards private investment may be lightening up. In 2014, a mining law was put into action which allows new contracts between private firms and the state. Keep in mind that these new contracts do not include lithium. In the same year, there was an investment law passed which allows foreign investors into the country. According to Fernando Aguirre, a lawyer, these challenges have grabbed the attention of investors. Even though Bolivia has a long ways to go before it catches up to Chile and Argentina, if the country continues to remove some of their rules and regulations, Potosi could one day reclaim its title of the "treasure of the world, king of all mountains and envy of kings."
Featured Image: twitter