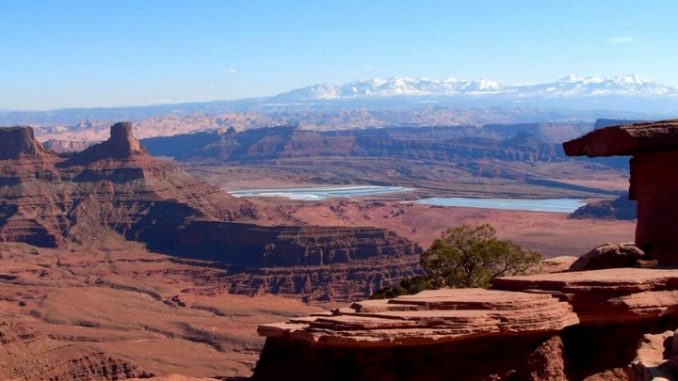 MGX Minerals, Inc. (OTC:$MGXMF) (CSE:$XMG) (FRA:$1MG) is on the verge of revolutionizing the energy sector. With the introduction of MGX Minerals innovative technology, the small, Canadian industrial minerals company promises to produce lithium from petroleum production brine. Its PetroLithium™ technology removes lithium carbonate from the salt water that accompanies crude oil as it is pushed to the surface. Lithium carbonate is perhaps one of the top sources of lithium as it is used largely in batteries for electronic devices. Additionally, the demand for lithium is going to continue to expand as the demand and sales of electric vehicles increases.
As of right now, MGX has obtained a working interest in more than 1.7 million acres of lithium-bearing brine formations spread throughout North America. This includes major land locations throughout Alberta and the Paradox Basin in Utah. In Utah, for instance, MGX Minerals has obtained a lead land position in the Paradox Basin. The well in the Paradox Basin, which was formed in the Paleozoic Era, has reported lithium values as high as 730 ppm lithium. Additionally, MGX disclosed plans to bring together gas and oil rights within its Lisbon Valley project and to authorize the petrolithium #1 borehole well.
Before the commercialization of lithium-ion batteries, lithium first entered the scene as a medicinal aid in the nineteenth century. In fact, lithium carbonate would be prescribed to breakdown stones in the bladder, while lithium salts were suggested for those suffering from depression, rheumatism or gout. Lithium carbonate is also one of the main treatment methods for mood disorders. More specifically, lithium carbonate is used to treat the mania phase associated with bipolar disorder. However, in 1991, the use of lithium was updated after Sony commercialized the lithium-ion battery.
Now, lithium has become so profitable that it is being referred to as 'white gold'. Lithium carbonate is a white crystalline powder and it's rising value is boosted by the increasing demand for rechargeable lithium-ion batteries. These batteries will be used as power sources for mobile electronic devices and electric cars like the Tesla Model S and Nissan Leaf. According to Allied Market Research, the worldwide lithium-ion battery market has been predicted to increase at a CAGR of 10.8% and it will reach $46.21 billion by the year 2022.
Most of the global production of lithium will stem from Chile (36%) and Australia (36%), while supply will come from China (14%), Argentina (8%), Zimbabwe (3%), Portugal (2%) and Brazil (1%). It's important to note that, as a supplier of lithium, the United States does not make it on this list. In fact, Silver Peak mine in Nevada's Clayton Valley is the only feasible U.S. lithium operation. Altogether, the lack of domestic lithium mining productions allows for MGX to be in position for a great opportunity.
MGX is developing its patent-pending Petrolithium™ technology with PurLucid Treatment Solutions. The novel technology will remove lithium carbonate from the brines linked with petroleum deposits. At the same time, the Petrolithium™ will treat the resulting wastewater for reuse as clean water.
The majority of the natural gas and petroleum found in the United States was formed in the Earth's crust at the site of ancient seas. For these reasons, the shale, petroleum and gas deposits tend to occur in aquifers which contain salt water.
Furthermore, MGX Minerals has disclosed a massive advancement in the development of its extraction technology after PurLucid upgraded petrolithium brine from the Sturgeon Lake Petro Lithium Project in the province of Alberta. Using a new process that concentrates lithium while extracting contaminants, PurLucid Treatment Solutions was able to enhance a concentration of 67mg/L Li to 1600mg/L Li during the pre-treatment and filtration phase of the extraction process.
Speaking of PurLucid, on July 6, 2017, MGX disclosed that PurLucid has filed a new provisional patent in relation to the recovery of metals and minerals from produced wastewater brine in the gas and oil sector. This is fantastic news for the Vancouver-based company as patent rights have been exclusively granted to MGX for the life of the patent as well as the focus on concentrating metals and minerals – like lithium, magnesium, and boron – from produced oilfield brines.
The new provisional patent directly complements the Company's other provisional patent, which works to purify wastewater brine through an additional evaporation cycle. When combined, this Cleantech process puts the Company in a position to provide flexibility and fully integrated oilfield solutions to gas and oil operators. As we speak, pre-commercial test pilot plants are being produced and engineering is in motion for a 1,200-cubic meter per day commercial plant to target metal and mineral extraction. Not only that but the pre-commercial test pilot plants will target water reuse and re-purpose applications.
The invention will provide systems and methods for the treatment of waters made by the hydrocarbon sector that allows recovery of water, metals and minerals as practical resources. The system for treatment and metal and minerals recovery could either be incorporated into an industrial water treatment system or it could stand alone and act as a complete system.
MGX Minerals PetroLithium™ technology is an important development in the lithium sector as removing lithium from petroleum brine is faster and less expensive than traditional methods, such as solar evaporation. In the recovery process, lithium brine evaporation times are predicted to fall to less than one day, whereas conventional solar evaporation techniques take up to 18 months.
Featured Image: twitter