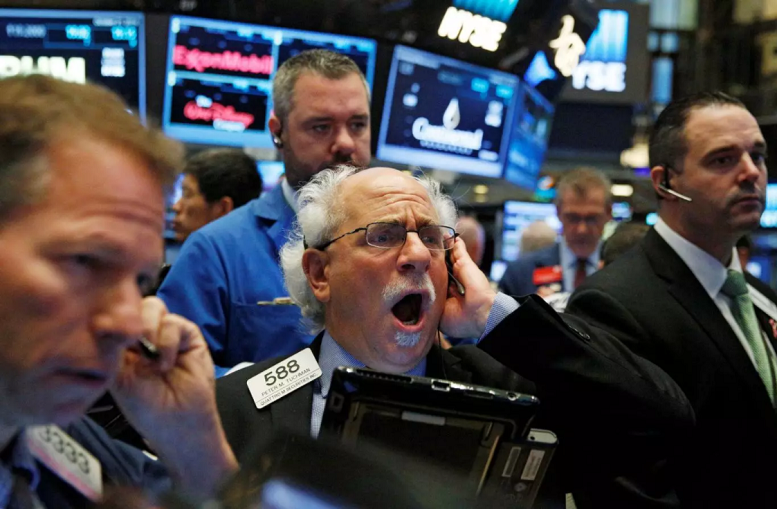 It's been a wild afternoon for investors today as market-wide panic sell-offs have prompted a Dow Jones plunge of 1,175 points by closing time – the time of writing. It comes after a peak plunge of 1,500 earlier in the day.
Today's change was finally marked at -4.6%, bringing the Dow down to its lowest point since December 8th. The sudden drop has shaken Wall Street since the Dow as a whole has been rising steeply and consistently this year so far. Things looked to be set for a recovery at around 3:30 PM EST before falling 453 points again by 4 PM. So what's going on?
>> Donald Trump Hits Back at Rapper Jay-Z
Every single one of the 30 companies which make up the Dow average is in the red today. Boeing (NYSE:BA), Exxon Mobil (NYSE:XOM), and 3M (NYSE:MMM) are currently suffering the biggest losses, down -5.74%, -5.71%,  and -5.68% respectively. Quoted in the Express, Horizon CEO Chuck Carlson appeared to pin the blame on rising interest rates, at which "people are starting to get increasingly uncomfortable." Meanwhile, other analysts have warned that rising bond yields – the returns that bonds have for their investors – could catalyze further sell-offs. 
Could this be a result of President Donald Trump's State of the Union address last week where he highlighted a booming American economy and decreasing unemployment? Indeed, reports seem to show positive results in that regard with wage growth also a factor. Unfortunately, this has sparked fears of inflation. Another theory is that today's slump is simply a belated correction following such spearing growth in 2018 so far as well as since President Trump's election. 
>> Amazon, Berkshire & JP Morgan Enter Landmark Healthcare Partnership
The Dow isn't the only market hit by disappointing performances today. The cryptocurrency market is suffering hugely as Bitcoin dropped to $6763.11 – its lowest value since November and a fall of -28.27% from its weekend peak. It could be that the drops in each of these markets is leading to panic in the other, which certainly won't help. 
In any case, investors will have to take some deep breaths and consider how to take action when markets reopen tomorrow. It is important to bear in mind that markets don't go straight up forever, even if today's fall is startlingly steep. 
Featured image: The Independent