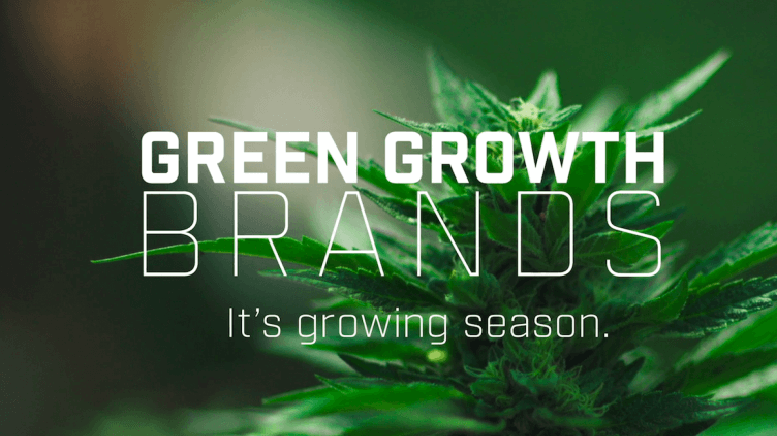 It would have been almost impossible to predict, just a few years ago, how big the cannabis space would be by now. Recent legislative decisions from both the United States and Canadian governments have led to a booming industry, one that supports dozens of companies vying for a share of cannabis profits. The recent downturn in the market, however, shows that not every company will survive the industry's infancy and prove profitable in the long run. Investors need to consider which cannabis and CBD companies have plans to establish themselves as broadly and as firmly as they can, particularly in the retail sector. Companies that are implementing these plans—like Green Growth Brands Inc. (CSE:GGB) (OTC:GGBXF) (GGB or the Company), Curaleaf Holdings Inc. (CSE: CURA) (OTCQX: CURLF), HEXO Corp. (TSX: HEXO) (NYSE: HEXO), MedMen Enterprises Inc. (CSE: MMEN) (OTCQX: MMNFF), and OrganiGram Holdings (TSXV: OGI) (NASDAQ: OGI)—are cementing a place for themselves in the cannabis space, and are likely to provide long-term profits for shareholders.
Green Growth Brands' Rapid Expansion with Seventh Sense
Green Growth Brands Inc. (CSE:GGB) (OTC:GGBXF) has been doing a better job of establishing itself as a retail powerhouse than perhaps any other cannabis company. GGB is remarkable amongst its contemporaries for having the strongest sales per square feet in the entire industry and is continuing to expand at an ambitious rate.
On October 3, Green Growth Brands opened its 150th Seventh Sense Botanical Therapy CBD shop. This milestone achievement would be impressive for any cannabis company, but it's especially impressive for GGB considering it only opened its first Seventh Sense store less than nine months ago.
The first shop opened in Lexington, Kentucky on February 13. Since then, Green Growth Brands has spread its retail footprint to 150 stores across 35 American states. The company has no plans to rest on its laurels, however, as it expects to open a total of 200 retail locations by the start of the 2019 holiday shopping season. 
But it's not just the number of stores that makes the Ohio-based company's future so encouraging. It's also the impressive marketing strategies and the customer loyalty it's been able to foster. 
Green Growth Brands Inc. (CSE:GGB) (OTC:GGBXF) has found that, to date, nearly 20% of customers in its consumer database have chosen to make a repeat purchase. On top of that, online purchases occur, on average, every 31 days. This appreciation that Seventh Sense customers have for the brand is further highlighted by the fact that more than 350 product reviews online provide an average rating of 4.5 stars out of 5.
Over the month of August, the Seventh Sense email consumer database grew by 59%. That same month, GGB launched an SMS texting initiative for its customers, and in the last 30 days enrollment for the messaging service has risen 178%.
Clearly the retail brand's outreach efforts are being reciprocated by its customers. To capitalize further, Seventh Sense is launching its first national media campaign this October, which will focus heavily on digital and branded media partnerships. As part of this campaign, the company will commission editorial-focused media placements and unique out-of-home activations in key markets throughout the US.
Through the two-pronged approach of swiftly increasing its retail footprint in malls all over America and optimizing its digital reach to customers, Green Growth Brands (CSE:GGB) (OTC:GGBXF) is proving that it deserves its position as a leading name in the cannabis and CBD industry. Current investors, and those interested in investing, can look forward to the company's Q4 financial results which will be released on October 23.
Green Growth Brands' Contemporaries
Though Green Growth Brands' remarkable growth is unparalleled, the company doesn't stand alone in the cannabis space.
This year, Curaleaf Holdings Inc. (CSE: CURA) (OTCQX: CURLF) has been making incredible strides to establish itself as a major player in cannabis and CBD retail. In March, CVS Health Corp.—the largest drugstore chain in the US by total sales—began carrying Curaleaf's line of CBD products. 
Plus, with 49 dispensaries across the nation, the company currently has the largest dispensary footprint in the US. And it's still increasing all the time. 
Likewise, one of the largest licensed cannabis companies in Canada, HEXO Corp. (TSX: HEXO) (NYSE: HEXO) has been extending its cannabis products across the country, and even into Europe, by partnering with Fortune 500 companies. 
One such company is Molson Coors Brewing Company, which is partnering with HEXO to launch cannabis-infused beverages. This deal could propel HEXO towards a global cannabis drinks expansion, a market that analysts believe could be worth $5 billion by 2026.
Trailing just a little behind in terms of retail capacity, MedMen Enterprises Inc. (CSE: MMEN) (OTCQX: MMNFF) recently opened its 27th, 28th, and 29th retail locations. With this news, the company now has four operational stores in the state of Florida, and is planning to open eight additional stores there before the end of 2019. 
On top of that, MedMen is licensed for a total of 35 retail locations in the state. Based on its potential expansion, analysts remain bullish on the company.
Finally, no discussion of impressive growth in the cannabis retail sector would be complete without bringing up OrganiGram Holdings (TSX: OGI) (NASDAQ: OGI). The New Brunswick-based company is one of only three LPs that have distribution agreements in all 10 provinces across Canada. 
In growing from a regional cannabis player to a nation-wide powerhouse, OrganiGram has amassed a portfolio of legal adult use recreational cannabis brands. In recent months, the company's revenue has been soaring, and in August OGI stock began listing on the TSX.
Partnerships Are Critical for Cannabis Companies
As companies like HEXO and Curaleaf have made clear, partnerships with popular, name-recognizable brands are one of the best ways for cannabis retailers to establish themselves. In this regard, Green Growth Brands Inc. (CSE:GGB) (OTC:GGBXF) continues to go above and beyond.
In January, the company made an agreement with shoe company DSW Inc. to sell hemp-derived CBD personal care products under the Seventh Sense Botanical Therapy brand in 96 DSW stores throughout the US. The agreement is for 54,960 units—which include muscle balms, body lotions, body washes and foot creams—and followed an impressive 10-week test run. During those 10 weeks, 74.4% of Seventh Sense products provided were sold.
In May, the Green Growth announced a partnership with Abercrombie & Fitch to sell CBD-infused Seventh Sense body scrubs, bath bombs, cleansing oils, lotions and lip balms. While initially planned for just 10 A&F locations in Massachusetts, California, Colorado, and Nevada, the partnership was quickly expanded to reach more than 160 stores.
Most recently, at the start of October, Green Growth Brands' partnership with American Eagle Outfitters, Inc. led to the launch of MOOD, a line of 45 hemp-derived wellness and personal care products. The product line is genderless in its appeal to consumers and features a broad range of personal care products, bath essentials, and aromatherapy items. All MOOD products come from licensed hemp processors in the United States,and if the line is successful, it has the opportunity to grow beyond the first collection.
These partnerships put Green Growth Brands Inc. (CSE:GGB) (OTC:GGBXF) in an enviable position, one that only the most competitive companies in the cannabis space can match.
Through game-changing partnerships with international brands, Curaleaf Holdings Inc. (CSE: CURA) (OTCQX: CURLF) and HEXO Corp. (TSX: HEXO) (NYSE: HEXO) are ensuring that they will remain profitable and well-recognized by the consuming public well into the future. Similarly, MedMen Enterprises Inc. (CSE: MMEN) (OTCQX: MMNFF) and OrganiGram Holdings (TSXV: OGI) (NASDAQ: OGI) are putting themselves on good footing in the cannabis retail sector through quick, targeted expansion in key markets. 
Combining both these elements is Green Growth Brands Inc. (CSE:GGB) (OTC:GGBXF), which is uniquely positioned to capture an industry that is expected to be worth $20 billion by 2024. 
SOURCE Green Growth Brands Inc. (CSE:GGB) (OTC:GGBXF) (GGB or the Company)