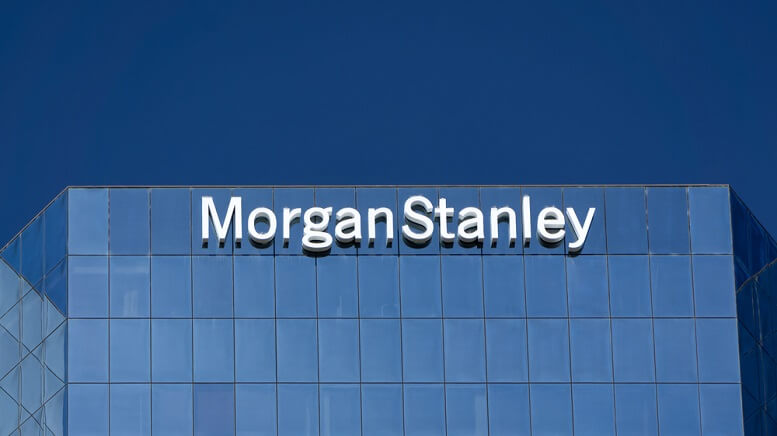 MS stock is sparing on Thursday after Morgan Stanley (NYSE:MS) posted record earnings in the fourth quarter, which smashed analysts' expectations.
The bank reported a 46% gain in profits to US$2.23 billion, or $1.30 per share, compared with the 99 cent estimate of analysts surveyed by Refinitiv. Revenue was also up 27% to US$10.86 billion, smashing the expected figure of US$9.72 billion by more than US$1 billion. MS shares are up over 7% following the release of the results.
"We delivered strong quarterly earnings across all of our businesses," Morgan Stanley CEO James Gorman said in the release. "Firmwide revenues were over $10 billion for the fourth consecutive quarter, resulting in record full-year revenues and net income. This consistent performance met all of our stated performance targets." In his decade-long tenure as CEO, Gorman has transformed the bank from one heavily weighted in money-losing trading businesses into a more balanced institution, and more than doubled the value of MS shares.
Gorman made wealth management a cornerstone for his plans for the bank and was a key figure in its acquisition of wealth management firm Smith Barney from Citigroup. The wealth management division saw an 11% gain in revenue to US$4.58 billion, just beating the expected figure of US$4.39 billion. However, it was the firm's smallest division, investment management, which was the main driving force behind the revenue beat and the soaring value of MS stock today.
That branch of the bank almost doubled its revenue from last year to US$1.36 billion, beating the estimate of US$783.2 million by more than half. Interestingly, the strong performance in wealth management looks to have been driven by a single investment, US$670 million gained from the carried interest from an IPO in Asia. MS stock is currently trading for $56.70 following the release of the results.
>> XPO Stock Hits 52-Week High After Announcing Possible Spin-Off
Morgan Stanley is the last of the big six banks to release its results and  J.P. Morgan (NYSE:JPM), Citigroup (NYSE:C), and Bank of America (NYSE:BAC) also posted profits, while Wells Fargo (NYSE:WFC) and Goldman Sachs (NYSE:GS) struggled off the back of legal fees linked to scandals at both banks. In December, Wells Fargo was downgraded by analysts due to "lingering stigma" from an accounts scandal in 2016.
Featured Image: DepositPhotos © Wolterke