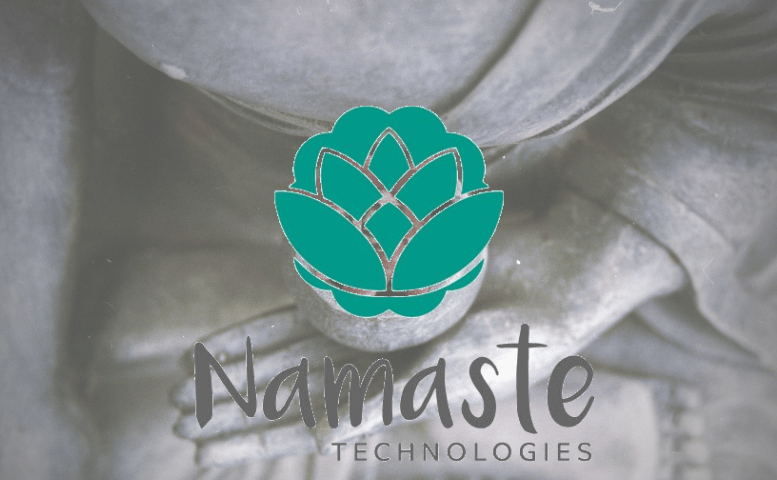 Namaste Technologies Inc. (TSXV:N) (OTCQB:NXTTF) started off 2020 strong and has continued to climb throughout the month of January with several "BUY" ratings.
The Ontario-based e-commerce company's stock has shot up significantly since the start of the year, increasing by 61.29% to C$0.50 on the TSX Venture Exchange (TSXV) since January 2, 2020. Namaste stock is also 61.6% on the OTC for that same period, reaching US$0.39 on Friday morning.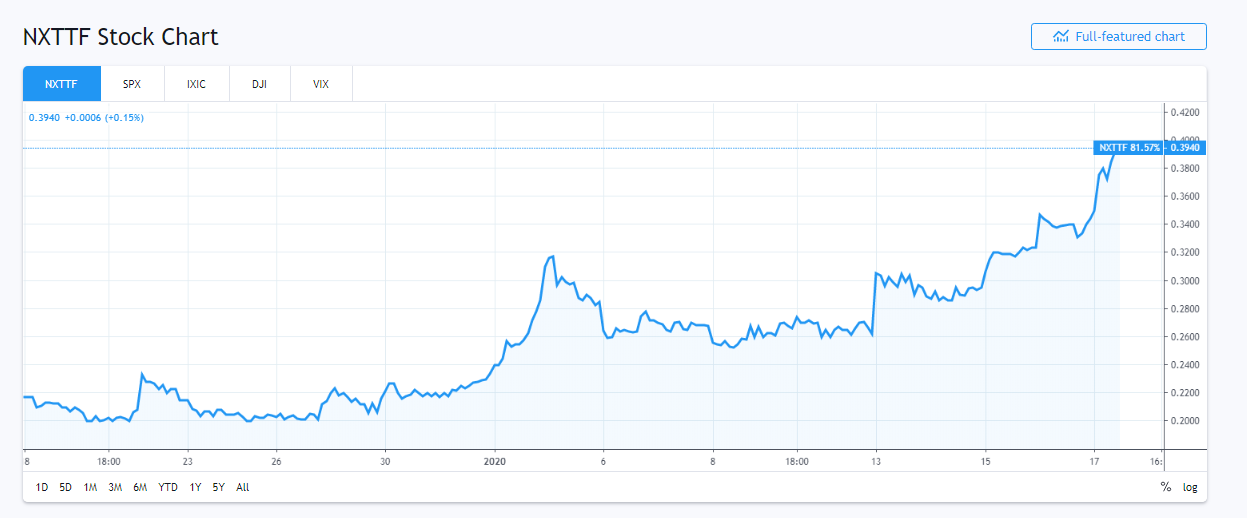 On top of that, the company's partner, an Alberta-based craft chocolate manufacturer, and chocolatier received some exciting news earlier this week.
Naturally, all of this recent success has created a lot of attention around Namaste Technologies Inc. (TSXV:N) (OTCQB:NXTTF) and analysts expect even more upside to come from the company.
The company has received a solid "BUY" recommendation from Tradingview.com's technical analysis,  which takes into account multiple indicators to give an overall assessment of the stock's price and direction. The overall recommendation is a "BUY", but the moving averages indicators show a "Strong BUY."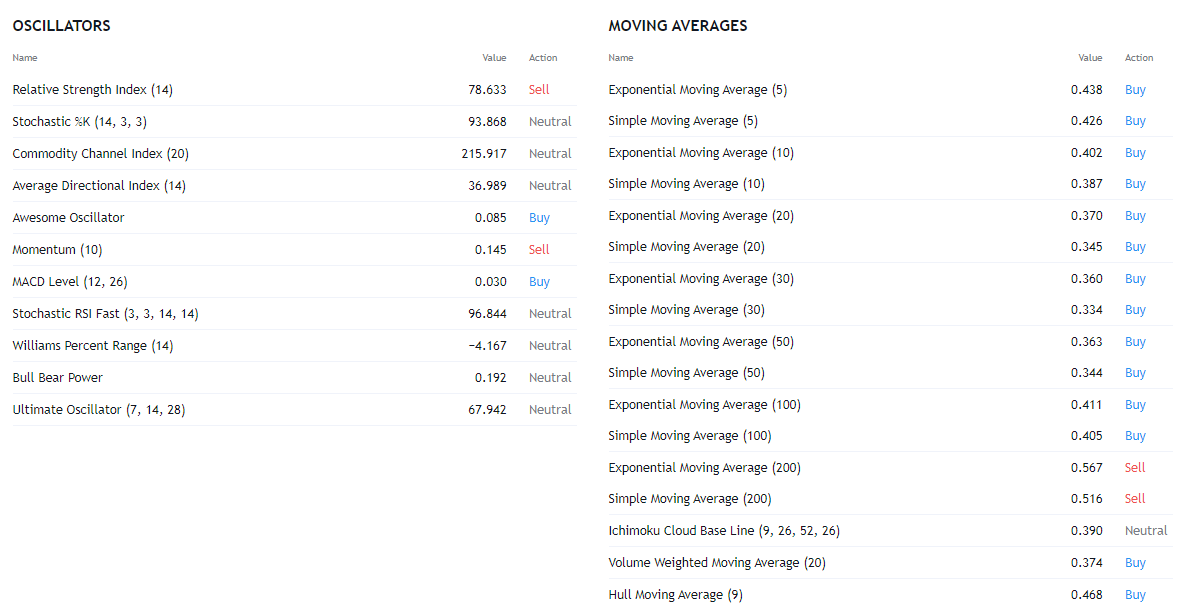 Investing.com's Daily Technical Analysis summary also considers Namaste Technologies Inc. (TSXV:N) (OTCQB:NXTTF) a "Strong BUY," with an impressive 9 technical indicators pointing to a "Strong BUY" and 12 moving averages suggesting the stock is a "BUY."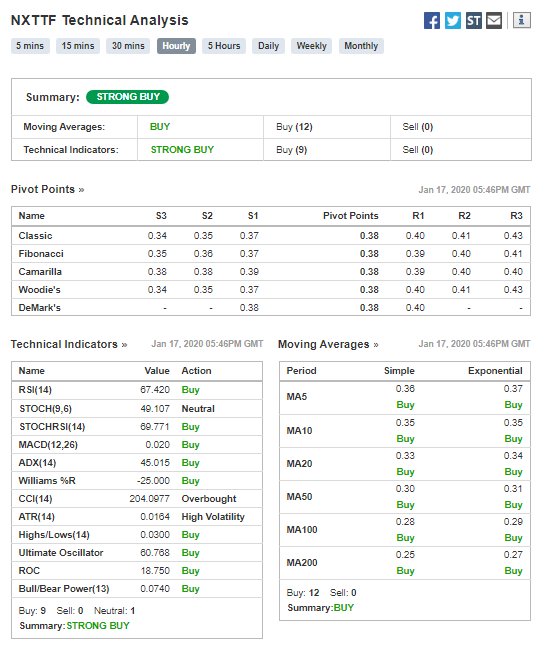 Indeed, Namaste Technologies Inc. (TSXV:N) (OTCQB:NXTTF) is well-positioned to do great things this year and is the stock to watch in the green space.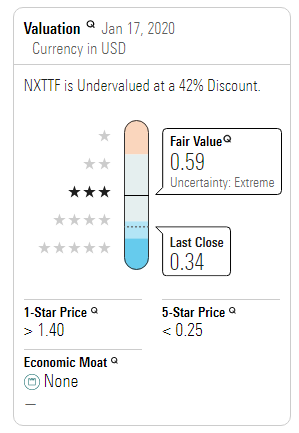 Despite the recent uptick, the company's stock is still undervalued according to Morningstar.com. The independent research platform's value assessment suggests a fair value of US$0.59, meaning its currently trading at a 42% discount.

Namaste Announces Health Canada Processing License For Choklat
Although the company has been on an upward trajectory since the beginning of 2020, news this week from its partner Choklat further boosted Namaste stock. On January 13, 2020,  Namaste Technologies Inc. (TSXV:N) (OTCQB:NXTTF) announced that Choklat Inc., in which Namaste holds a 49% equity position, has received a processing license from Health Canada to produce a line of high-quality infused chocolate bars, drink mixes and infused sugar.
The news couldn't come at a better time, as pot 2.0 finally comes to fruition in Canada. 
"We believe there is pent up demand for cannabis-infused edible products on a national scale," said Namaste Technologies CEO Meni Morim. "Choklat is one of the first food processors in Canada to receive its processing license from Health Canada and we expect their products to be on shelves in March, allowing for the Health Canada notice period. We invested in Choklat not only to maximize the significant market opportunity for cannabis-infused edibles but also because we see Brad as a true craftsman in his trade and the quality of his products speak for themselves."
Now that the processing license is in place, Namaste's 'everything cannabis store' CannMart will be submitting up to 11 unique product SKUs to Health Canada with sales expected for the beginning of March.
Since the announcement, Namaste Technologies Inc. (TSXV:N) (OTCQB:NXTTF) stock has increased an impressive 31% on the OTC and 30.77% on the TSXV.
Add to that the overall positive sentiment surrounding Namaste Technologies Inc. (TSXV:N) (OTCQB:NXTTF) and it becomes clear why this company is worth adding to your watchlist.
Featured Image: Namaste Technologies