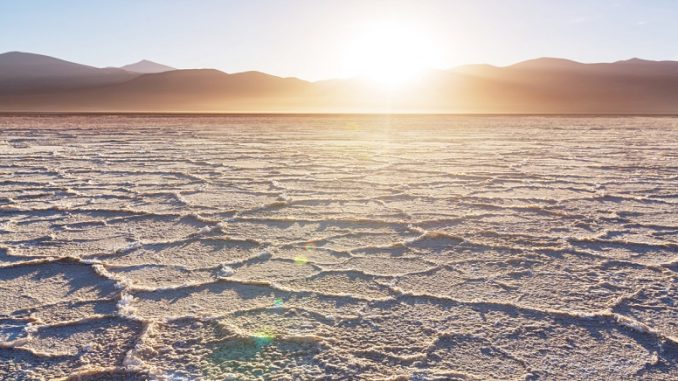 The world simply can't get enough lithium to feed its electric vehicle demand, and China in particular is leading the pack. The government is strongly behind the electric vehicle push, and Chinese companies are scrambling to secure stable lithium supplies – a move that has already benefited junior lithium miners. One company that is also very well-positioned to benefit from this is Standard Lithium (OTC:STLHF) (TSX.V:SLL).
Lithium has been one of the hottest commodities for the past two years, driven by the increasing demand from the electric vehicle revolution. China, which is already the world's largest manufacturer and consumer of electric vehicles, is moving to secure sufficient lithium supplies for its envisioned all-electric future. The government just extended its tax rebate on electric vehicles until 2020, lending further support to electric vehicle demand.
As electric vehicles continue to gain market share, China is right at the top driving a substantial portion of that demand. According to a new report by Bank of America Merrill-Lynch, electric vehicles are forecast to reach a global market share of 34% in 2030 and 90% in 2050. The analysts note that they expect China to maintain its estimated 50% market share of global electric vehicles up to 2030.
Lithium Supply Remains a Limiting Factor – The Race for Lithium Is Getting Desperate
CNBC calls the race for lithium supplies a 'desperate global race', and China is winning. Benchmark Mineral Intelligence notes that there are 26 battery 'megafactories' that will be in production by 2021- and 49% of this total planned capacity will be coming from China.
China is pulling out all the stops in its search for lithium. It is already going 'dumpster diving'; Reuters reports that Chinese recycling companies are viewing the increasing number of lithium batteries as a huge opportunity. One Chinese think tank estimates that by 2023, this could be a $4.68 billion market.
Even American politicians are starting to take notice. President Trump just signed an executive order to boost U.S. production of critical minerals. According to a report released by the Department of the Interior, the U.S. relied heavily on importing twenty-three minerals of which lithium was one of the named minerals. The move could "open up new avenues of growth," said Andrew Cosgrove, senior energy and mining analyst at Bloomberg Intelligence. Companies may be less inclined to "seek out properties in foreign countries."
More Acreage Could Potentially Equal More Lithium Discoveries
Standard Lithium (OTC:STLHF) (TSX.V:SLL) recently announced that it had signed a Memorandum of Understanding with TETRA Technologies, a NYSE-listed company, giving them access to an additional 23,000 acres of land at the company's Bristol Dry Lake and adjacent Cadiz Dry Lake projects in the Mojave Desert region of Southern California. In total, Standard Lithium now has access to 48,000 acres of land to conduct exploration activities across two basins.
The region has a long history of large-scale industrial mineral harvesting and is home to two large U.S. commercial operations producing calcium chloride from naturally occurring salt-rich brines.  Standard Lithium has agreements with both companies, which allows the company access to significant existing production and local infrastructure including close proximity to major highways, rail and power.
Standard Lithium has also officially announced the signing of another agreement with TETRA, this time for up to 33,000 acres of brine leases in the productive Smackover Formation in Arkansas. Historical data for brine production is highly promising. The Arkansas Geological Survey estimates brine production of  267,503,967 barrels (approximately 9,362,000,000 imperial gallons), in 2013. Historical analyses of Smackover brines from the TETRA lease area show lithium concentrations ranging between 370 to 424 mg/l lithium.
With a history of existing brine production, well understood geology, and the infrastructure already in place, Standard Lithium's (OTC:STLHF) (TSX.V:SLL) Smackover project is primed to place this miner as THE name in American lithium.
Standard Lithium's American Advantage
Chile and Argentina are two of the world's largest producers of lithium and the famous Lithium Triangle is located squarely within their borders. All of the world's top lithium producers are there. But it's a crowded market and it comes with its own flavor of risk – namely geopolitical risk.
For instance, the World Bank ranks Argentina 117th out of 190 countries in its Ease of Doing Business rankings. Chile fares better at 55; but it still doesn't even come close to the United States at number 6. Argentina also ranks 95th out of 176 countries on Transparency International's Corruption Perception Index. And it's easy to see why – inflation in 2017 was a whopping 21% and its poverty rates are hovering around 30%. The country also has a history of nationalization as in 2012 when it nationalized its largest oil company from Repsol, a Spanish oil and gas company.
This kind of geopolitical risk means that when the big companies are looking for secure and stable sources of lithium, miners with projects in low risk countries like the United States stand to benefit. Standard Lithium's (OTC:STLHF) (TSX.V:SLL) project is one of only a few lithium brine project opportunities in the United States – an early mover. And even setting the location aside, the project shows immense potential.
Cost-Efficient and Time-Efficient Proprietary Lithium Extraction Technologies
Standard Lithium (OTC:STLHF) (TSX.V:SLL) has also revised upwards the lithium brine concentrations from its solar evaporation ponds in the Bristol Lake project. Earlier, it had reported that it could concentrate brines from solar evaporation from 146 mg/L to 556 mg/L in as few as 6 weeks. That figure now stands at an even more impressive 686 mg/L. Exploration drilling work is also ongoing with five exploration boreholes completed, and an extended drilling and sampling program has also been initiated on TETRA's property.
When production begins, Standard Lithium (OTC:STLHF) (TSX.V:SLL) will be using a hybrid approach, applying both conventional and proprietary lithium extraction technologies,that will be both more cost-efficient and time-efficient month compared to traditional processing (testing is currently underway). This method of utilizing modern processing technologies was pioneered by Pure Energy Minerals, the first lithium brine project to apply the process in the United States. Both the CEO and COO of Pure Energy Minerals, Robert Mintak and Dr. Andy Robinson, are now the CEO and COO of Standard Lithium (OTC:STLHF) (TSX.V:SLL).
Lithium Demand Continues to Grow – Far More Than Analysts Initially Expected
Market research firm, Roskill, which specializes in metals and minerals, recently TRIPLED its lithium demand forecast to 1 million tons per annum by 2026. Benchmark Mineral Intelligence also estimates that world lithium ion battery demand will grow between six to seven times by 2026.
So it's no surprise that lithium prices till the end of 2017 have continued to increase even over 2016 highs.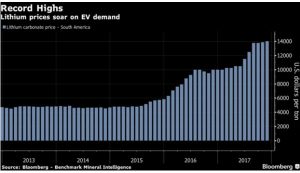 Junior Lithium Miners Are Already Getting Snapped Up – Which One Will Be Next?
On December 18, 2017, China's NextView New Energy Lion Hong Kong just entered a $265 million deal to purchase Canadian junior miner Lithium X (TSX-V: LiX), a company that has yet to reach the production stage. The announcement of the deal saw the company's share price rise by 16.9% in a single day.
The fact that a Chinese company would snap up a Canadian junior miner shows just how heated the race for lithium has become. The news may have come as quite a surprise to many investors, but not to seasoned veterans.
Mining Legend Bob Cross Believes That the Lithium M&A Cycle Is Coming Very Soon – and Standard Lithium Is Poised to Benefit
Bob Cross is one such veteran. He was the co-founder and chairman of Bankers Petroleum and B2Gold and under his tenure, both companies share prices rose by over 1,000%. When he became chairman of another company, Northern Resources, he took the company's market cap grew from $20m to $1.4 billion in less than five years.
In a recent interview, he reiterated his reasoning for his long position on lithium, and Canadian junior miner Standard Lithium (OTC:STLHF) (TSX.V:SLL) in particular (his ONLY long lithium position). He focuses on how the company's combination of low risk and low cost mean that it could be a major benefactor from the industry's M&A cycle.
Standard Lithium: A Top Performing Stock in 2017
Standard Lithium (OTC:STLHF) (TSX.V:SLL) stock returned 348% to investors over 2017 and has a current market cap of about CAD$136 million. Even in the booming lithium space, this was an anomaly. Here are some comparisons to put things in perspective.

Sociedad Química y Minera de Chile
Market Cap: $16.25 B
The world's biggest lithium producers stock gave investors a 109% return over the past year.

Albemarle Corp
Market Cap: 14.39 B
The second largest lithium producer, this stock returned 45% over the past year.

FMC Corp
Market Cap: 13.07 B
No longer part of the "Big Three" lithium producers but still performing well, FMC Corp's stock returned 67% over the past year.

Nemaska Lithium Inc.
Market Cap: 877.19 M
This Canadian based junior miner saw its stock return 70% over the past year.

Orocobre Limited
Market Cap: 1.847 B
This Australian based mining company with lithium operations in Argentina delivered a 59% return to investors over the past year.

Lithium X Energy Corp
Market Cap: 222.73 M
Another Canadian based junior miner, this company's stock returned only 4% to investors over the past year
Standard Lithium's Bull Run Is Set to Continue into 2018
Investors should consider adding lithium to their portfolio with the electric vehicle revolution in full swing. According to Goldman Sachs, "Lithium is the new gasoline" and Standard Lithium (OTC:STLHF) (TSX.V:SLL) is poised to be the next lithium producer in the United states with its high quality lithium projects located in California and Arkansas. Standard Lithium is well-positioned to take advantage of the frenzy of strategic acquisitions that is already starting to hit the industry.
Latest Press Release: January 18, 2018