If you want to make your money work for your future, a good first step is to open a brokerage account. Investments are the best way to put your money to work, and setting up a new account just takes a matter of minutes.
If you've already read our full review about TD Ameritrade accounts, you already know about the benefits and features the brokerage account can offer. Simply follow these steps to open a new account.
Getting Started with a New Account
Before you begin the process to open an account, you'll need the following according to the TD Ameritrade website:
Your employer's name and address
Your Social Security Number or Individual Taxpayer Identification Number
You might also want access to funds for your new account. Funds are not required as there is no minimum deposit in a new account, but your future trades will cost $6.95 each. Additionally, if you want to use margin trading or options, you will need to have $2,000 invested in your new account.
If you need help as you move through this step-by-step guide, TD Ameritrade has 24-hour phone support. You may also see a chat box appear on your screen. You can type your questions directly into this box to find answers.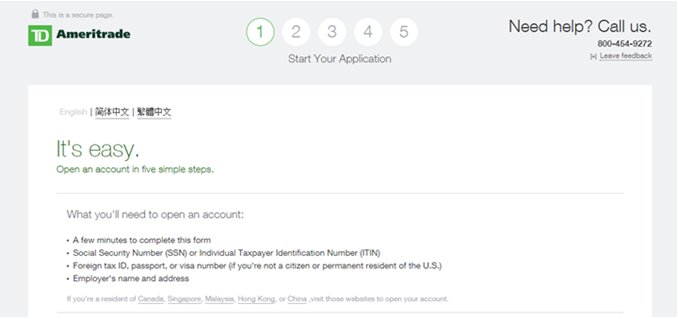 Step 1: Start the Application Process
Your first step will be to navigate to the new account page on the TD Ameritrade website. Once there, you'll start by filling out basic information including your name and your preferred contact information. You will also be given a chance to choose the type of account you want to open. These instructions are for opening a TD Ameritrade individual brokerage account.
You will also be asked about your plans for using this new account. You will be asked if you plan to use the account to buy and hold investments. Answer this question, read the company privacy policy and then you can move to the next page.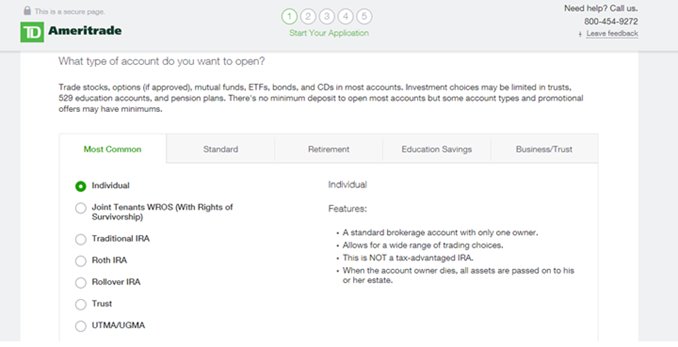 Step 2: Entering Your Information
This screen is dedicated to your personal information. You will enter your Individual Taxpayer Identification Number or Social Security Number as well as your mailing address, your employment information and your birthdate.
There are also disclosures to address on this page. Answer if you or anyone in your immediate family works on a stock exchange. Also answer if any is a director or owns 10% of a publicly traded company. You will likely say no to both. Then move to the next section.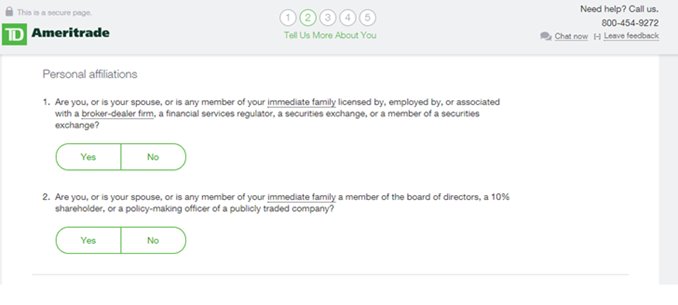 Step 3: Information Review
The third step is simple. Review your information and fix and mistakes or typos. Then click on the Continue button and you should move to the next step.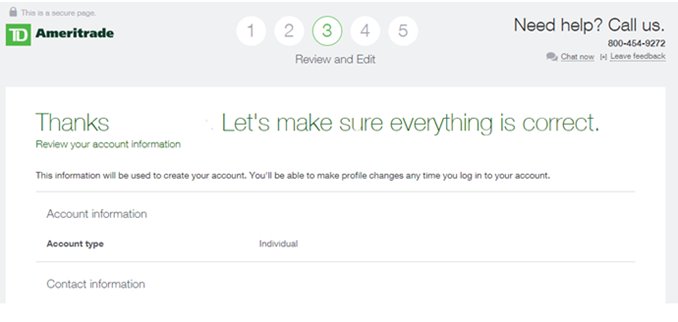 Step 4: Agreements and Forms
Step 4 includes agreements and forms to read. You will be given a client agreement, business continuity plan, an IRA disclosure and a handbook for your account as PDFs. When you are done reading through these documents, continue with the application.

This step also offers you a choice in how you'd like to handle the cash that is not invested in your account. You will be given the default option of leaving your funds in a FDIC-insured deposit account or you can have them stored in a TD Ameritrade account. This account is covered by the Securities Investor Protection Corporation and earns interest.
The last set of questions are IRS related. You'll be asked to confirm your Social Security or Tax ID number again. Then you'll have a choice about withholding taxes as well as a question about citizenship. When all questions have been answered, continue to the last step.
Step 5: Establish Your Username and Password
Your final step is to establish a username and password for your new account. You'll also be asked to select the answers to security questions. Once you've finished these selections, your new account will be established.
On the final screen you will see the official account number for your new account. You will now have the opportunity to fund your new account and begin any investment plans you've made. You will also be able to edit personal preferences and trading features in your new account settings.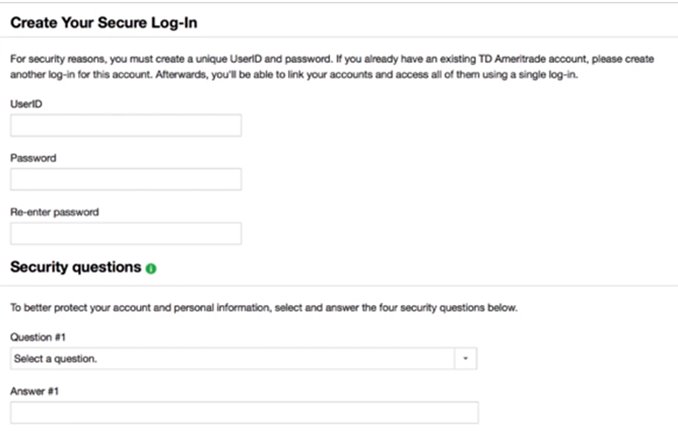 Congratulations on opening your new TD Ameritrade individual brokerage account! Your new account should be ready for trading and investments.
American investors are interested in the possibilities of investing in Canada – especially in light of the emerging marijuana marketplace. If you find yourself interested in Canadian markets, but limited by your current investment accounts, a new TD Ameritrade account can give you access to Canadian exchanges and the Canadian market.
Is it time for a new account in a new market?