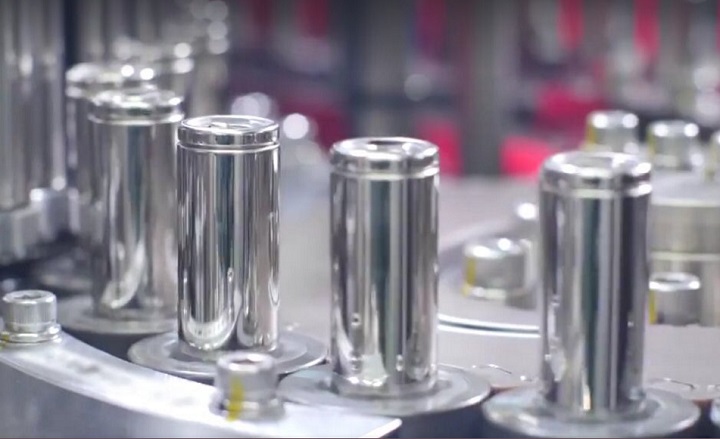 On the weekend, Tesla Inc. (NASDAQ:$TSLA) disclosed that the California-based company commenced production of the new Model 3 battery cell at their Gigafactory 1 in Nevada. Not only is this good news for anyone interested in investing in cobalt but it also marks a crucial step towards the launch of the Model 3, which is thought to be Tesla's most economical car yet. The Model 3 integrates performance, safety and range into a premium sedan. We know that Tesla's Model 3 will have 345 km of range per charge, seating for 5 adults, autopilot hardware, and it has been constructed to achieve 5-star safety ratings. Essentially these new battery cells will allow Tesla to achieve the cost reductions that authorize the model 3's $35,000 starting price tag before incentive.
Production for Tesla's 2170 format battery cells began in January, but these cells were solely using Nickel Manganese Cobalt Oxide (NMC) chemistry for stationary energy storage products as well as Tesla's Powerwall and Powerpack.
However, for Tesla's vehicle battery packs, the automaker company has been using Nickel Cobalt Aluminum Oxide (NCA) chemistry. Despite Tesla confirming that they would be using separate batteries for their vehicles, the company did not disclose whether they would still be using Nickel Cobalt Aluminum Oxide chemistry.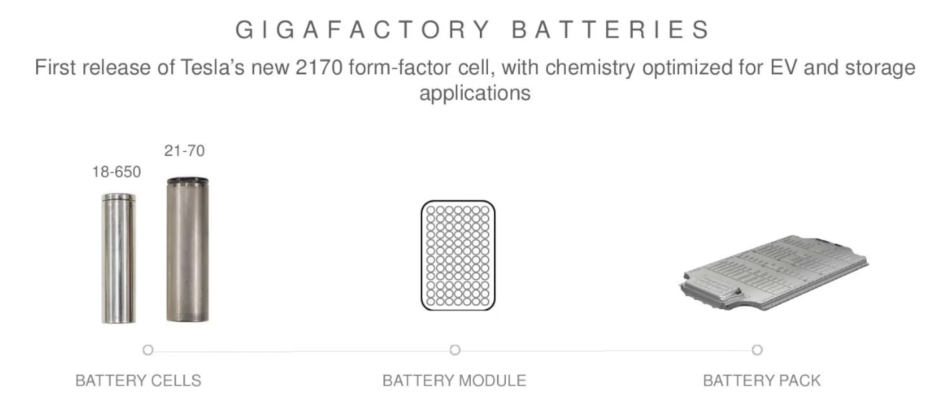 Still, Tesla has announced that it plans to start the production of these vehicle cells in Q2. Additionally, JB Straubel, Tesla's co-founder and Chief Technology Officer, announced over the weekend at the Midwest Renewable Energy Association's 28th Annual Energy Fair that the production of these vehicle cells has commenced at Nevada's Gigafactory 1. In his keynote presentation, Straubel disclosed that Tesla were "right now" starting the production lines for the Model 3 battery cells. He further noted that the company plans to ramp them up as needed for the production of the car.
The 2170 battery cells will be used in the Model 3 as Tesla created a new battery module and pack architecture in order to do so. Production is strictly done at the Gigafactory 1, however Panasonic (TYO:$6752) will be in charge of producing the cells and Tesla will manufacture the modules and battery packs.
As of right now, Panasonic and Tesla have not disclosed much information in regards to the new cells, however, Elon Musk, the CEO of Tesla, has been bragging about them for months. According to Musk, these batteries are the "highest energy density cell in the world and also the cheapest."
With these new cells, Tesla plans to achieve a 35% cost reduction. One could think of these batteries in the Model 3 as a test run. If all goes as planned, Tesla plans to shift Model S and Model X on the new cells as they increase output.
Towards the end of 2018, the California-based company aims to reach an output rate of 50 GWh of battery pack energy capacity at the Gigafactory 1 in Nevada. This would allow for Tesla to produce 500,000 cars as well as numerous Powerwalls and Powerpacks.
Asides from helping Tesla achieve cost reduction, these new battery cells could have enhanced durability. Over the past couple months, Jeff Dahn, a Tesla battery researcher, has made it known to the public that there have been crucial breakthroughs in improving the cycle of lithium-ion batteries. However, he has not disclosed when these improvements will be added to Tesla's cells.
Nevertheless, the production of the Model 3 battery cells will  play a defining role in the launch of its first mass market vehicle.
Once the battery packs are produced, they are shipped to Tesla's factory in Fremont, California, which is where Tesla will start manufacturing the Model 3 in July. Tesla Inc. has planned a delivery event at the end of June.
Featured Image: twitter