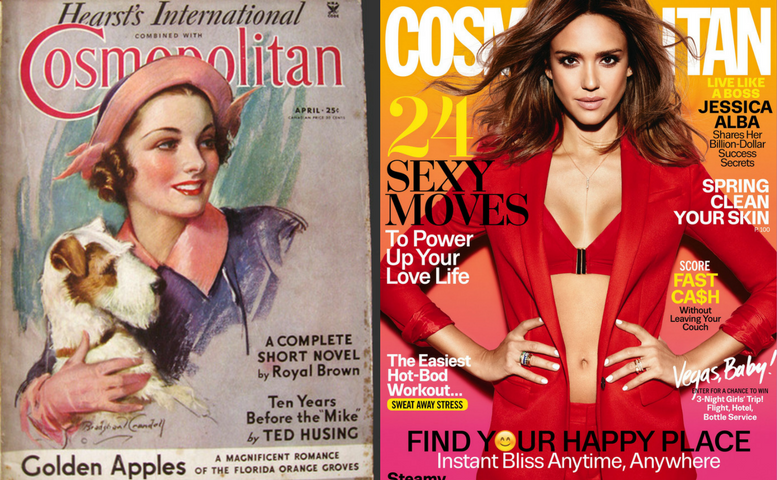 Heart Commuinications Inc.'s (private) most popular magazine, Cosmopolitan, has been removed from the 5,000 check-out counter shelves of the largest U.S. superstore Walmart (NYSE:WMT). The magazine which was first issued in 1886, has been at the centre of criticism from an activist group accusing the publication of being "degrading" and "hyper-sexualized." The group, The National Center on Sexual Exploitation [NCOSE], is a Washington-based, non-profit group and it had singled out the magazine in particular as the group as a whole felt it was "targeting young girls with its advertisements."
Haley Halverson, the group's VP of outreach told the Washington Post in an interview:
"It's on Snapchat. It has these brightly-colored pink covers. There are Disney stars that appear on it and [articles about] the Jonas Brothers and One Direction. … But at the same time, it's promoting that its young readership engage in sexting, group sex."
The group, founded in 1962, was created initially to combat pornography and sex trafficking but has since pivoted to concentrate more on media and commercials. For years, the group's leaders have been trying to convince major retails to remove Cosmopolitan from their checkout displays. The NCOSE believes that customers shouldn't be "forced" to be exposed to the content the magazine portrays.
The group believes the #MeToo movement finally pushed the Walmart executives to make the decision. A Walmart spokesperson, Meggan Kring, responded to the Washington Post in an email stating:
"As with all products in our store, we continue to evaluate our assortment and make changes. While this was primarily a business decision, the concerns raised [by NCOSE] were heard."
The New York-based publication, which is owned by parent company Hearst Communications, will surely see an impact in sales and revenue from Walmart's move, as the magazine is one of the most popular among their current publishings. Whether this impact will be positive or negative remains to be seen. Hearst responded to the decision by saying:
"Cosmopolitan is the most successful global media brand for young women, with award-winning content produced by leading female journalists. With our focus on empowerment, we are proud of all that the brand has achieved for women around the world in the areas of equality, health, relationships, career, politics and social issues."
Though fans of the magazine will no longer be able to purchase Cosmopolitan at checkout lines where cigarettes and other tobacco products are sold, they can still find it in other areas of the store.
Do you think the removal of the magazine will hurt or help the brand of Cosmopolitan? Let us know in the comments section below.
Featured Image: Canva