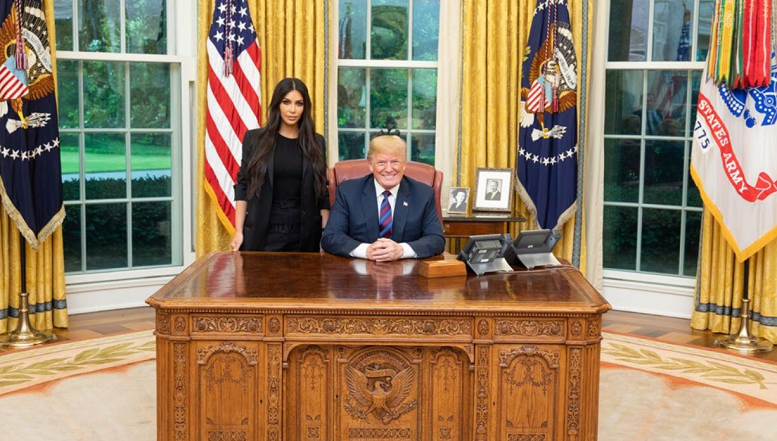 Exactly one week ago President Trump and Kim Kardashian West met in the Oval Office and discussed granting clemency to Alice Marie Johnson, a first-time nonviolent drug offender. Ms. Johnson has been in prison for the past two decades. Mrs. Kardashian West pled her case to the president, and a week went by with no word as to whether Trump would allow for Ms. Johnson to be released from prison.
Today, however, we've found out his decision. Trump has commuted Ms. Johnson's sentence. She is forecasted to be released from prison soon.
Trump Grants Alice Marie Johnson Clemency
It is said that Kardashian West contacted Ivanka Trump first, in order to get help setting up a meeting with the president. The two met last Wednesday, alongside Jared Kushner, and discussed whether Ms. Johnson should be released and if she has paid her debt to society. Ultimately Trump decided to grant clemency, releasing the following statement:
"While this Administration will always be very tough on crime, it believes that those who have paid their debt to society and worked hard to better themselves while in prison deserve a second chance."
Mrs. Kardashian West reacted positively to the news, as one would have expected. Alice Marie Johnson is her great-grandmother. Kardashian West tweeted her gratitude, thanking both the president and Jared Kushner for showing compassion and dedicating their time to doing the right thing by Ms. Johnson.
So grateful to @realDonaldTrump, Jared Kushner & to everyone who has showed compassion & contributed countless hours to this important moment for Ms. Alice Marie Johnson. Her commutation is inspirational & gives hope to so many others who are also deserving of a second chance.

— Kim Kardashian West (@KimKardashian) June 6, 2018
This is the sixth time Trump has granted clemency since his January inauguration and it is the second clemency granted by Trump after a celebrity/influencer pled their case to him. The first was the pardon of Jack Johnson, a boxer, after Sylvester Stallone appealed to the president.
>> Tesla Shares on the Rise After Shareholder Meeting
Featured Image: Twitter