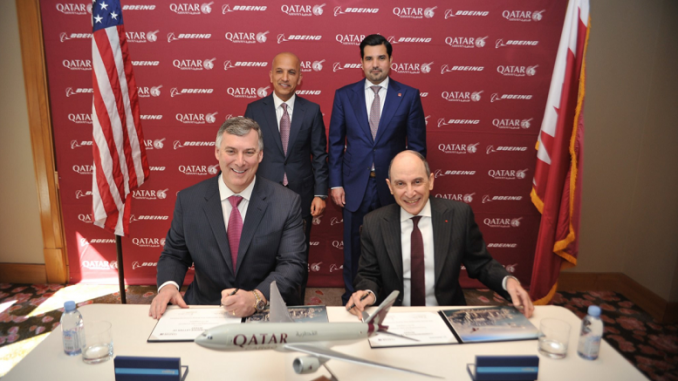 Qatar Airways Purchase five Planes from Boeing: Qatar Airways (private) announced today that it has come to an agreement with Boeing (NYSE:BA) to purchase five of the aviation company's 777 Freighters.
A letter of intent to purchase was signed during a ceremony attended by Qatari Minister of Finance and Qatar Airways Chairman His Excellency Mr. Ali Sharif Al Emadi, Qatar Airways Group Chief Executive His Excellency Mr. Akbar Al Baker, and Boeing Commercial Airplanes President and CEO Kevin McAllister.
>>>Money Running Out For NASA's International Space Station
The total value of the purchase approximately USD $1.7 billion and will be posted onto Boeing's Orders and Deliveries website once it has been finalized.
According to His Excellency Mr. Al Baker, Qatar Airways is the world's third-largest cargo operator and the transaction "will be a reinforcement of our confidence in Boeing to continue to deliver an outstanding product that meets our exacting standards."
>>>SpaceX Broadband Received Go-Ahead From US For Global Broadband
Currently, Qatar Airways has nearly 100 Boeing planes in their fleet, with close to 100 more that are on order.
The 777 Freighters have the capability of flying nearly 9,070 kilometers with 112 tons in the payload.
Boeing and Qatar Airways have had a long-standing partnership with each other, according to McAllister, and has said that the company is "honored that one of the world's leading international cargo carriers recognizes the unmatched capabilities of the 777 Freighter and wants to buy more to lift their growing freight operations."
Shares of Boeing have gone up by nearly 3.85% today, which leaves the company hovering around $335.00 in share value, higher than Monday's closing value of $322.48.
In addition to buying five planes from Boeing, Qatar Airways has also invested a minority stake in the private jet company JetSuite Inc., which is a partner of the JetBlue Airways Corporation (NASDAQ:JBLU).
Featured Image: Twitter