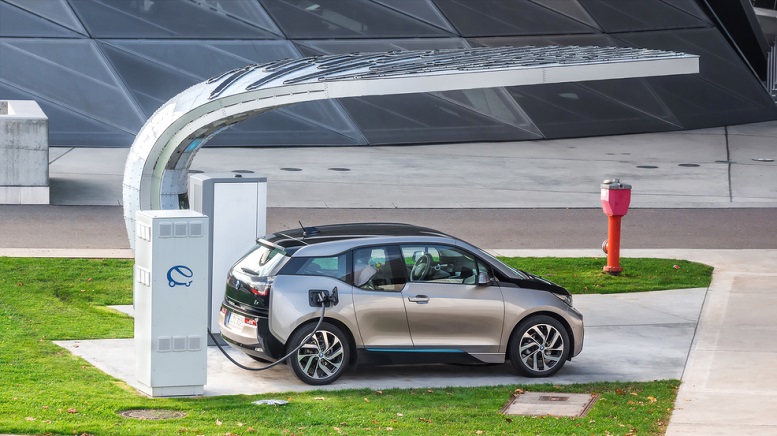 New manufacturers are joining the race to design electric vehicles, accelerating a revolution in the car market that could result in strong lithium demand as a battery ingredient. Standard Lithium Ltd.(TSX.V:SLL) (OTC:STLHF) (FRA:S5L)  is one of several companies that are innovating to meet this demand scenario by developing new technology that could unlock a major supply source untapped in Arkansas. Major producers Sociedad Química y Minera de Chile (NYSE: SQM) and Albemarle Corp. (NYSE: ALB) have already got permission by the Chilean government to carry out major expansions in the Atacama Desert to expand supply for the EV market. MGX Minerals, Inc. (CSE: XMG)(OTC: MGXMF) is working to develop a means to separate minerals from oilfield waste in order to meet surging demand from EV manufacturers such as Tesla, Inc (NASDAQ: TSLA).
To view an infographic of this editorial, click here.
The EV revolution has enticed many new entrants into the market, including Dyson, a UK maker of vacuum cleaners and hair dryers. The company recently announced it is planning to launch an EV in 2020 to compete with Tesla. Dyson's £2.6 billion investment involves the construction of a UK plant that will be used to develop solid-state lithium-ion batteries. The UK company has already spent £84 million ($109.5 million) on a test facility at a former airfield in southwest England.
Dyson's move into the EV market includes the acquisition of a solid-state battery start-up that was created by Ann Marie Sastry, a professor at the University of Michigan. The battery can reportedly produce energy at 400 watt-hours per kilogram (Wh/kg), a higher rating than the batteries Panasonic provides for Tesla, Inc. (NASDAQ: TSLA), which produce 240Wh/kg. Research and development into solid-state battery technology has been growing because the technology enables higher energy densities than today's technology without overheating. This means that the batteries can charge cars quickly without losing capacity. Solid-state batteries also utilize lithium in large quantities, which could create an opportunity for companies such as Standard Lithium.
The price of lithium has almost doubled in the past two years thanks to an industry-wide move towards electric vehicle production. Lithium-ion batteries are projected to take over the industry, as EV production could rise from 1.1 million vehicles in 2017 to 11 million in 2025. According to Roskill, this increase in EV production could result in a 650% increase in lithium demand by 2027, an expansion that will require lithium producers such as Standard Lithium to increase capacity.
Powering the EV Revolution
Governments around the world are also beginning to recognize the move towards electric vehicles. Indian Prime Minister Narendra Modi announced on September 7 that his government will prioritize the development of EVs to limit climate change and cut the country's oil import bill. India is the world's third-largest oil importer; however, the nation's recent progressive moves could provide a unique opportunity for further EV development. Suzuki Motor Corp. has already recognized this trend, with the intention to start road tests of EVs this year to introduce a new vehicle in India by 2020.
Most of the world's top automakers are also working on EV designs. Porsche AG, Volkswagen Group, Jaguar Cars, Nissan Motor Co., Audi AG, and Mercedes-Benz are all planning new models, all of which will require far more lithium than their internal combustion engine predecessors. General Motors is so convinced by the pending EV boom that they've begun adapting the technology found in the Chevy Bolt to design two new models. This trend towards EV designs could benefit junior miners such as Standard Lithium, which can quickly provide battery-quality lithium to consumers.
Standard Lithium is developing a major untapped lithium resource in Arkansas by using an innovative production process that could drastically reduce production time. The team at Standard Lithium saw the opportunity to apply a "moneyball" approach to its Arkansas resource, opting to sign partnerships with two major chemical producers to leverage existing infrastructure and create a fast-track towards production.
Smackover Offers Shortcut to Major Lithium Source
The unusual feature about the Smackover, Arkansas, lithium brines is that they are already being extracted from the ground by giant chemical producers including Albemarle and German producers Lanxess AG and Tetra Technologies. The chemical industry extracts about 9.4 billion U.S. gallons of brine per year and is the world's largest supplier of bromine to industries around the world. Currently, Albemarle and Lanxess extract the bromine and discard the leftover residue, including the lithium. That lithium resource has been indicated as one of the world's biggest, according to the U.S. Geological Survey.
Standard Lithium signed an agreement with Tetra Technologies for the largest available brine lease package. The 30,000 acres of brine leases are located in a key brine production fairway in southern Arkansas, adjacent to producing Albemarle leases. Previous drilling reports indicate brine on Standard Lithium sites to be between 350–450 mg/L, a number competitive with similar lithium projects in Argentina.
The Vancouver-based lithium miner followed up its Tetra agreement with a second deal involving the region's largest operator Lanxess. This second agreement allows Standard Lithium to locate and operate a pilot plant at one of Lanxess' three facilities in southern Arkansas for the purpose of demonstrating the commercial viability of lithium extraction from brine ("tail brine") that is produced as part of Lanxess' bromine extraction business.
Lanxess' land operations in southern Arkansas encompass more than 150,000 acres, 10,000 brine leases and surface agreements, and 250 miles of pipelines. Lanxess extracts the brine from its wells located throughout the area, and the brine is transported to the three Arkansas plants through a network of pipelines. The three bromine extraction plants currently employ approximately 500 people, and process and reinject several hundred thousand barrels of brine per day.
As noted in a recent press release, Standard Lithium is ready for procurement and fabrication of its rapid lithium extraction demonstration plant, unlike other companies that are developing new "black box" methods of lithium extraction. Standard Lithium's approach is to work backwards and have the project drive the process. The company's Scientific Advisory Board, which includes a Nobel Prize winner, has developed its proprietary process to work most effectively and economically at the project level.
The company's lithium extraction Mini-Pilot Plant has been operating continuously for long durations and has demonstrated that lithium can be selectively extracted from raw Smackover brine (i.e., with no pre-treatment other than pH adjustment). The lithium can then be converted into a concentrated and substantially purified (compared to the feed brine) lithium chloride solution. The Mini-Pilot Plant has also proven that the lithium-loaded sorbent material can be continuously regenerated and recycled to the extraction stage, achieving overall lithium extraction efficiencies of over 90%. Once fabrication of the modular Pilot Plant is complete, it will be shipped to the project site in southern Arkansas for installation, commissioning and operation.
Faster Extraction Technology
Standard Lithium's innovative approach to lithium extraction could be a significant breakthrough for the company. The majority of lithium supplies are currently found in the "lithium triangle" of Bolivia, Argentina, and Chile, but the Smackover Formation represents a new opportunity for those capable of perfecting this new technology.
New lithium projects such as mines or salt lake extraction facilities typically take anywhere from several years to a decade to develop. For example, Australian start-up Orocobre took five years to achieve its first production at its Olaroz site in northern Argentina. The company is still fine-tuning the quality of the lithium carbonate extracted at Olaroz to meet the exact requirements of battery manufacturers.
As mining companies rush to develop new lithium resource projects, companies such as Standard Lithium that are capable of leveraging existing infrastructure could rapidly accelerate the development process.
For a more in-depth look at Standard Lithium Ltd.(TSX.V:SLL) (OTC:STLHF) (FRA:S5L), please read the full report here.