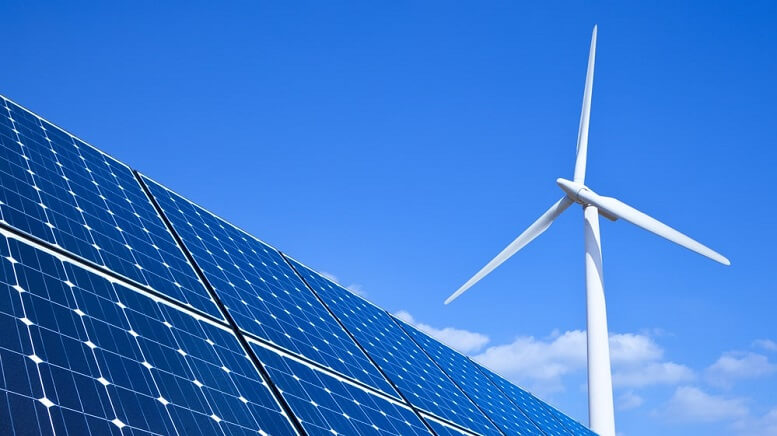 Renewable energy sources, such as solar energy, are becoming vastly present in our everyday lives. The Solar Energy Industry Association claims that a new solar energy project is born every 100 seconds. Harnessing the power of solar energy has become so important that there are more than 2 million solar systems installed in the US already, while China still has the highest solar capacity in the world—over 175 GW.
There's also a growing number of companies worldwide that believe in the power of alternative energy. These companies are working on turning toward renewable energy sources, such as solar power, and creating products or services that will enable greater solar energy usage.
When it comes to investing in solar energy, you can most certainly invest in solar panels and other equipment, as well as in the stocks of companies focused on alternative energy sources.
Safe Investing in Large-Cap
If you're looking to diversify your portfolio, you can invest in large-cap and small-cap companies. Large-cap companies are a better way to secure your investments for a long-term hold. 
Why is large-cap investing better, even when it comes to solar energy?
Large market capitalization companies have a well-established reputation. These companies have a longer business tenure, meaning that investors can research them more thoroughly. Publicly traded large-cap companies must provide their shareholders and potential investors with accurate financial statements. This type of transparency allows investors to determine whether the company is worth the risk.
Speaking of risk, we all know that high risk brings high rewards, but investing in a large-cap company means investing in stability. Since large-cap companies have a considerable level of stability, they are less likely to face any business or economic circumstances that would make them insolvent. 
Large-cap investing is worthy for another reason: steady dividend payouts. We've already mentioned the stability of large-cap companies. However, this stability can bring another issue to the table. 
The stock prices of large market capitalization companies don't fluctuate dramatically. There's no high trading volume on the market, as there's no massive participation among buyers and sellers. This can create a stagnant stock price, meaning there isn't much to earn while trading these types of stocks. 
A lack of earning potential can worry investors. That's why large-cap companies often offer dividends to compensate their shareholders.
There are four kinds of solar companies to consider before choosing which company to invest in:
Solar panel producers make solar panels and solar cells.
Independent power producers operate and develop large-scale utility solar projects.
Solar installers maintain and install distributed solar systems.
Solar component producers represent a smaller business, focused on selling their products to manufacturers.
>> 3 Video Game Stocks to Track Closely in 2020
Large-Cap Solar Companies
If you want to hold your stocks long-term and are looking to invest in some of the best large-cap companies that focus on solar energy, here's the list: 
Tesla (NASDAQ:TSLA)—Market Cap: $42.5 billion
Tesla is focused on electric cars, solar panels, and clean energy storage. 
The AES Corporation (NYSE:AES)—Market Cap: $10.6 billion
This is a Fortune 500 company that delivers safe, reliable, and sustainable energy to millions of people. Based in Virginia, AES is one of the world's leading power companies.
Brookfield Renewable Partners (NYSE:BEP)—Market Cap: $7.5 billion
With its corporate headquarters in Canada, Brookfield Renewable Partners is a publicly traded limited partnership. The company operates one of the world's largest publicly traded renewable power platforms. 
First Solar (NASDAQ:FSLR)—Market Cap: $6 billion
First Solar is a leading producer of PV solutions. The company is based in the US, with a focus on research and development. First Solar aims to increase the power of each solar panel while keeping it cost-effective. 
How to Invest
There are two options for investing in a large-cap company: investing in the stocks and investing in the ETFs. 
Stocks can be purchased in any market, such as the New York Stock Exchange (NYSE). All it takes is deciding on a budget, doing some research on the company you wish to invest in, and then opening an investing account. 
Exchange-traded funds (ETFs) are similar to stocks, as they're also traded on the stock market. The difference is that ETFs are not focused solely on the shares of one company. They track an index, a commodity, bonds, or a basket of securities. ETFs have smaller fees for stocks. 
Summary
By investing in the stocks or ETFs of large-cap companies focused on solar energy and other renewable energy sources, you'll diversify your portfolio with reliable and stable stocks. If you invest in stocks that pay dividends, that's a bonus to your earnings. 
Buying shares in a solar energy company also helps the price of the stock go up, which further increases the company's value. This way, the company can borrow more money and expand its operations. So you won't only be investing in the stocks, you'll be investing in a brighter future for all.
This article was curated through StreetSignals' Contributor Program. If you would like to write for us, send us your submission!
Featured image: DepositPhotos © eyematrix