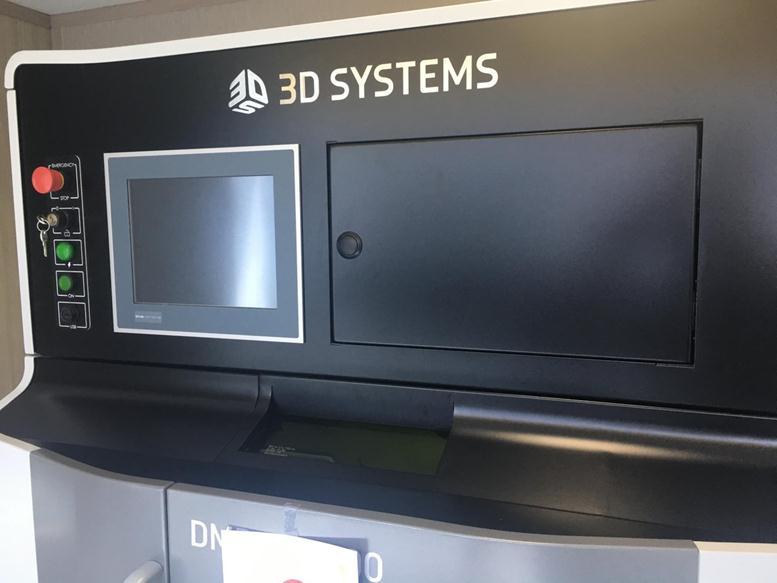 3D Systems Corporation (NYSE:DDD) shares are soaring since it announced first-quarter results at the beginning of May. Traders believe the 3D Systems transformational plan is aiding the company's revenue growth potential. 3D shares grew 70% year-to-date, and the stock is up 93% from its 52-week low of $8 a share. 3D shares are trading around $15.76 at present – with the market cap of $1.6 billion.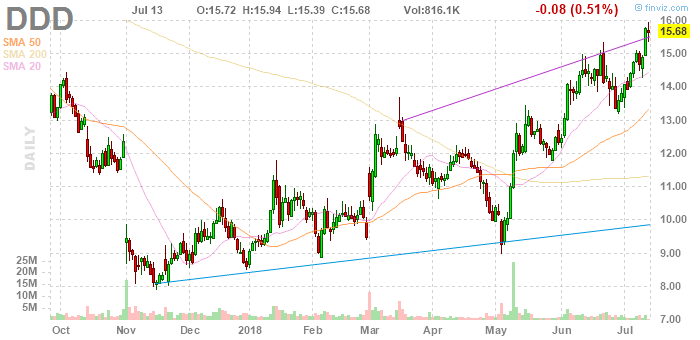 3D Systems Transformational Plan
The company emphasizes 2018 is a turnaround year in its multi-year transformation process. The company is working on its operational efficiencies to boost margins and planning to improve its top-line growth through new solutions and investments in organic growth opportunities.
The company, for instance, started shipping FabPro 1000 and SLS 610 products during the first quarter. Its FabPro 1000 provides 2.5 times faster speed than competitors, and the next generation SLS 6100 system offers six production-grade materials, enhanced temperature control, and superior part quality.
"We have made significant progress in many areas of the company, and we continue to make strategic investments in organizational and operational improvements which we believe are critical for long-term success," John McMullen, executive vice president, and chief financial officer said.
The U.S. Air Force has selected 3D's Figure 4 product for research on integrating high-speed 3D printing into the aircraft maintenance supply chain. 3D says its Figure 4 can generate 20% cost savings, decrease injection moulding cycle by 40%, and enhance production rates up to 30% relative to established manufacturing methods.
>> Broadcom Announced CA Technologies Acquisition – Analysts Downgraded Stock
Financial Numbers Are Improving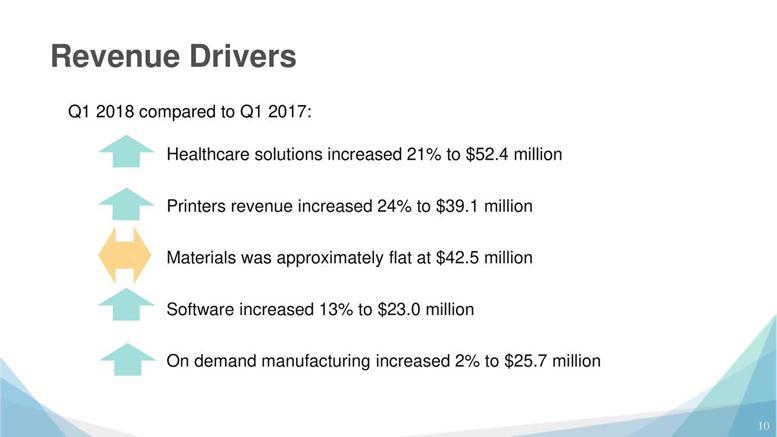 3D has generated year-over-year revenue growth of 6% in the first quarter, supported by 24% growth in printer revenues, along with growth in manufacturing, software, and healthcare solutions. Although the company's losses widened in the first quarter since last year, the management is committed to improve its operational efficiencies and lower the overall cost structure.
Featured Image: twitter