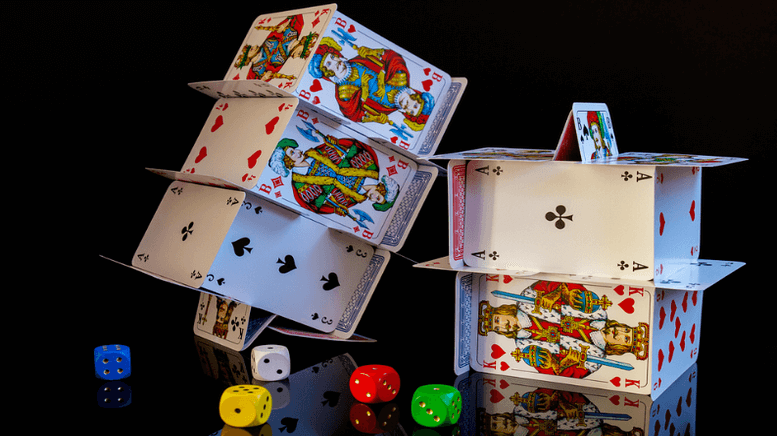 The coronavirus outbreak has wreaked havoc on the markets over the past days, and certain sectors have been hit particularly hard. One such sector is the casino sector, due to the measures that have been put in place to prevent the gathering of too many people in one place. Cities like Los Angeles, San Francisco, and New York City have already closed down restaurants and bars. Consequently, it has also led to the closures of casinos in the United States. The sector is losing a lot of money, and that has been reflected in casino stocks.
The leaders of the casino industry have approached the United States government for a possible bailout. At this point, casinos have been shut indefinitely, and it remains to be seen whether the companies will receive a bail out.
Here is a look at 4 casino stocks that suffered declines of 80% or more due to the coronavirus outbreak.
Casino Stocks Dropping: MGM Resorts International (NYSE:MGM)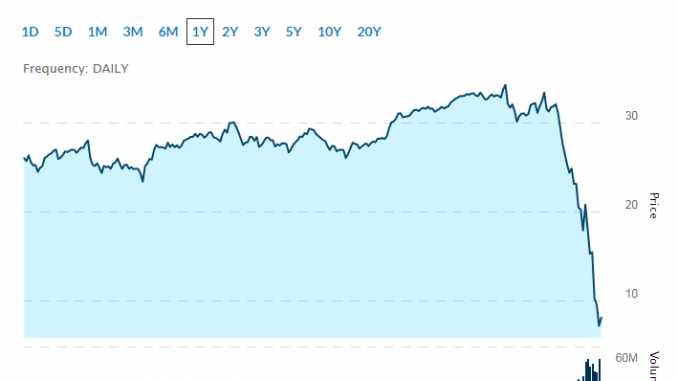 MGM Resorts International is one of the biggest casino operators in the industry, and since hitting a new high back on February 12, MGM stock has plunged by 75%. After the announcement of the casino closures, it emerged that MGM is all set to access its back up loans to the tune of as much as $1.5 billion and keep its balance sheet in better shape. The massive drop in the footfalls in its property in Macau had already hurt the company considerably.
The company closed all its casino resorts earlier this week on Monday. The lockdown is until further notice, and currently, there is no information about how long these establishments are going to be closed. MGM said that it will reopen the casino resorts when it is safe to do so.
Casino Stocks Dropping: Wynn Resorts, Limited (NASDAQ:WYNN)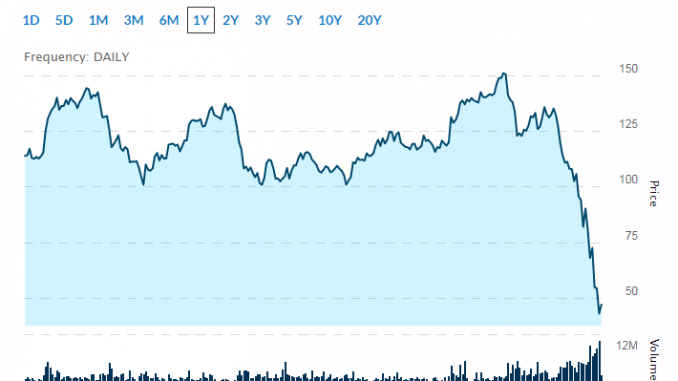 Another major casino stock to have tanked at an alarming rate is Wynn Resorts Ltd. WYNN stock has dived by 70% over the last five weeks, and it is unlikely to recover in the middle of this lockdown. On Tuesday, the company announced that its Wynn Las Vegas and Encore casinos are going to be closed down, effective immediately.
>> 3 Blue Chip Stocks Taking a Severe Hit Due to Coronavirus Pandemic
These two casinos will be closed for at least two weeks. After two weeks, Wynn is going to evaluate the situation. All full-time and part-time employees at the casinos are going to be paid during the closure. Wynn also stated that only a handful of employees are going to work in order to keep the buildings secure. Others are going to work from home.
Casino Stocks Dropping: Caesars Entertainment Corporation Common Stock (NASDAQ:CZR)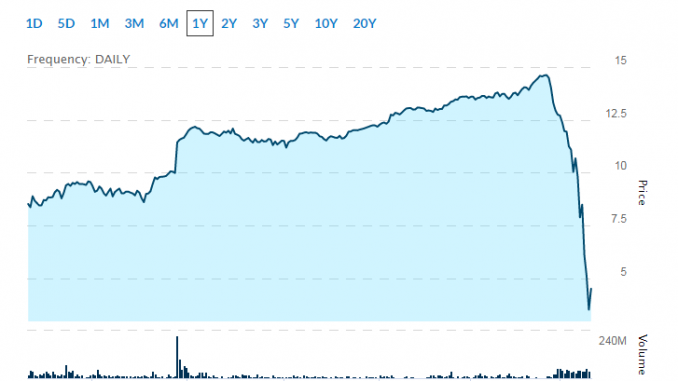 Caesars is one of the biggest casino operators in the country, and the coronavirus pandemic has hit it particularly hard. On Tuesday, news broke that Caesars was laying off employees at its locations. The company itself made no announcements about this, but an anonymous employee who had been laid off revealed this information to sources.
The news emerged as the company started closing down many of its restaurants, and it is believed that its casinos are also going to be closed in the coming days. Over the last month, CZR stock has tanked by 75%. Due to the outbreak, it has already had to close down as many as four casinos in Illinois and Indiana. The company also announced that all live shows are being suspended until March 31.
Casino Stocks Dropping: Las Vegas Sands Corp. (NYSE:LVS)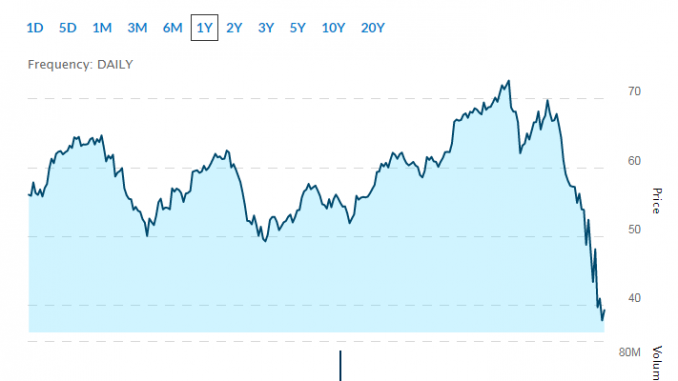 Lastly, Las Vegas Sands stock has taken a beating in recent days. Over the past month, LVS stock has tanked by as much as 50%. On March 17, the company announced that due to the precautionary measures laid down by the United States government, it is going to close its casino resorts in Las Vegas until at least April 1. The resorts in question are the Palazzo and the Venetian. Las Vegas Sands also stated that a decision regarding an extension of the closure or reopening will be made at a later date.
What to Expect Now?
Considering the current situation, investors need to be extremely cautious about investing in the casino industry.
Featured image: Pixabay