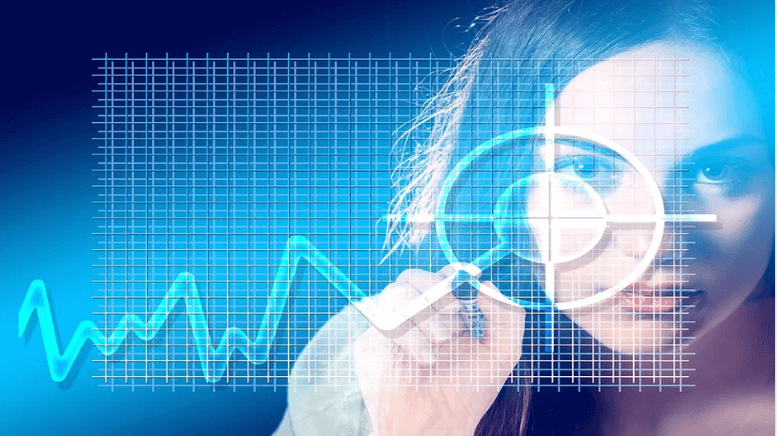 The stock market has been in dire straits for the better part of the week; on Monday, the Dow Jones Industrial Average suffered its biggest fall since 1987. The coronavirus pandemic has sent the markets into a tailspin, and despite the rate cut from the United States Federal Reserve, no drastic change has been seen yet. When such crashes take place, investors become nervous over blue chip stocks. The movements in these stocks have a massive impact on the market.
Some blue chip stocks have been affected severely by the coronavirus pandemic, and it is important for investors to know about these impacts before they consider investing in those stocks. These stocks could slump further, if experts are to be believed. Goldman Sachs has warned that the market could fall by a further 16%, and in such a situation, many large-cap stocks could come under intense selling pressure. On that note, investors should take a closer look at these three blue chip stocks that have suffered considerably due to the coronavirus pandemic.
Blue Chip Stocks Taking Severe Hit: Boeing Co (NYSE:BA)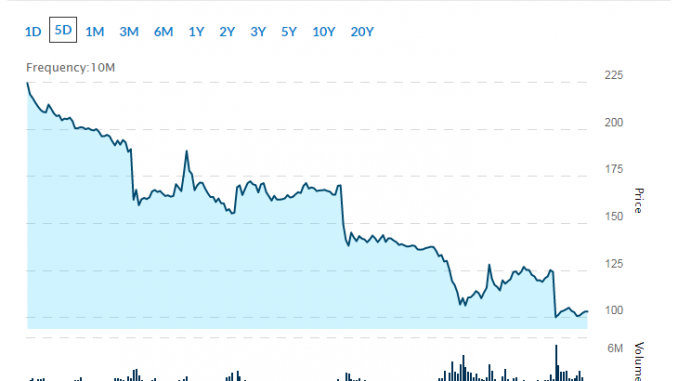 One of the biggest large-cap losers these past weeks has been Boeing. The stock has lost 70% over the past month, and it seems that the worst might not be over yet for the multinational behemoth.
The company was already in trouble due to the 737 Max crisis, and the coronavirus pandemic has compounded the company's problems. On Tuesday, it emerged that Boeing might be approaching the United States government for loan guarantees to the tune of "tens of billions" of dollars.
Last week, Boeing reported that it has had 28 order cancellations. During the same period last year, Boeing received 49 orders. Since the company is now dealing with massive cash burn, Boeing could try to draw the entirety of its $13.825 billion loans from a series of banks.
However, the liquidity crunch at Boeing is now a reality, and the company is currently in discussion with the government. It is believed that Boeing has asked for massive government support in order to meet its liquidity needs. It remains to be seen how Boeing stock performs in the coming days.
Right now, BA stock is down 19% and trading below the $100 mark.
>> 3 Tech Stocks to Watch After Coronavirus Panic Selling
Blue Chip Stocks Taking Severe Hit: Chipotle Mexican Grill, Inc. (NYSE:CMG)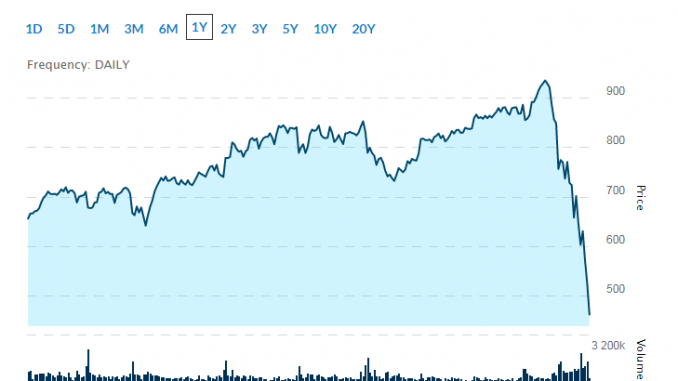 Another large-cap stock that suffered significant losses in recent times is that of fast-food chain Chipotle Mexican Grill. Chipotle has been one of the worst-hit large-cap stocks during this coronavirus pandemic. Over the past month, CMG has lost 50%, and as the pandemic intensifies, the stock could witness further pressure.
Due to the coronavirus outbreak, authorities have instructed restaurants to close, an action that puts intense pressure on Chipotle stock.
In addition to that, the work-from-home policy that is now being adopted by hundreds of companies across the United States may also have an effect on restaurant stocks like Chipotle. For instance, Connecticut, New Jersey, and New York put a ban on restaurants on Tuesday. The three states have a combined population of 30 million people, and missing out on such a large number of customers would be hard for any company.
However, Chipotle has grown its delivery channels in recent times and has announced that it is going to offer free deliveries until the end of March.
CMG stock tanked 11.33% to $464.99 on Wednesday.
Blue Chip Stocks Taking Severe Hit: Tesla Inc (NASDAQ:TSLA)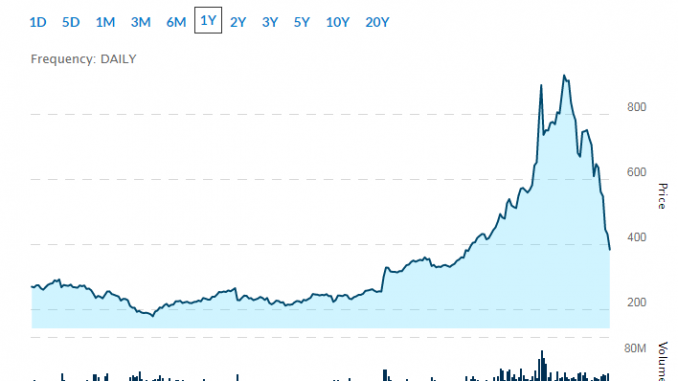 Electric vehicle manufacturing giant Tesla has taken a major beating over the past weeks. Since the middle of February, TSLA stock has tanked by 60%, and the coronavirus panic has sent its stock on a tailspin over the past few days.
The coronavirus pandemic has affected most companies in the automobile sector, so Tesla's performance has not been surprising. However, it should be noted that Tesla is fundamentally in a strong position as far as its underlying business is concerned. The selloff is entirely predicated on the current state of the market.
At the time of writing, TSLA stock is down another 11.22% and is trading at a new 2-month low of $381.95. However, the stock is still up 120% since early June.
Featured image: PixaBay