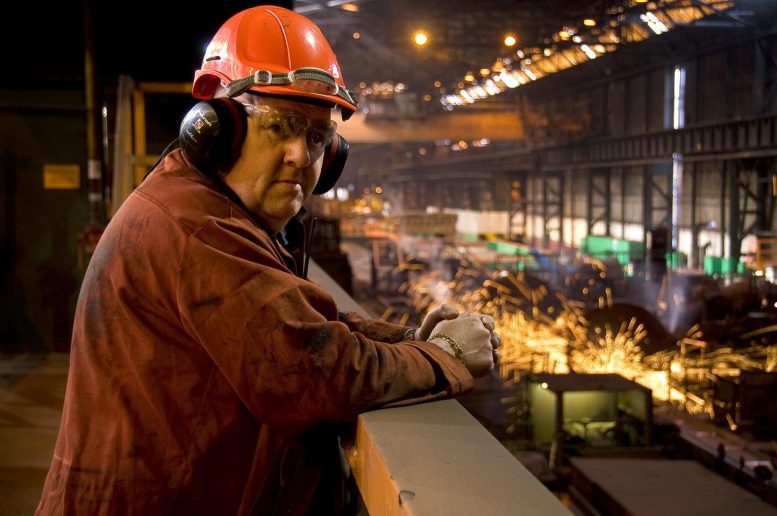 Back on March 1st, U.S. President Donald Trump announced that he would implement tariffs on steel (25%) and aluminum (10%) imported into the country. Since then, there has been a tidal wave of backlash with dozens of industry heads voicing their concerns that the tariffs will hurt the U.S. economy. It's not surprising, given that the US is the world's largest importer of steel. By forcing manufacturers to purchase domestically, the cost of producing products such as cans, automobiles, aircraft, chemical plants, and basically everything made from steel and aluminum is going to rise. And that means that consumers will have to pay more, too.
So let's take a deep breath for a minute and see if we can look at this objectively. Trump's tariffs are difficult for sure, and it's clear that most US industries will suffer, at least in the short-term. But there must be benefits, and could there be long-term gains?
The Steel Industry
First off, steel, in particular, is a pretty important commodity. "Steel is steel," said Trump, in what is probably his least controversial statement ever. "If you don't have steel, you don't have a country." Putting the price up, therefore, seems counter-intuitive. And it is, in terms of spending. But it should create jobs in the steel industry, fulfilling one of his primary campaign pledges. Speaking to CNBC, U.S. Steel (NYSE:X) CEO David Buritt said: "We're really excited to be able to tell our employees in the community in Granite City, Illinois, that we will be calling back 500 employees," adding that the tariffs are "like the beginning of a renaissance for us." The US Steel industry has faltered in the past 18 years, with production falling since 2000 from 112 million to 86.5 million tonnes in 2016 and employee numbers falling 135,000 to 83,600 in the same period, according to the BBC. In addition, six U.S. aluminum smelters have shut down in recent years, leaving just five left in the US. 
>> Trump Slaps Tariffs on Steel and Aluminum – Beer Industry Will Suffer, Says MillerCoors
The Aluminum Industry
Century Aluminum (NASDAQ:CENX) CEO Michael Bless has called Trump's tariffs "extraordinary" for business, adding that he now expects Century to be able to ramp up production capacity from under 40% to 100%. Speaking to CNBC, he also highlights the creation of 300 jobs and a $100m investment into the plant. This is also very beneficial for the US itself since the Century plant alone can potentially provide well over the amount of high-purity metal used by the US Department of Defence and commercial aerospace sector, according to Bless. This would mean that those two sectors become more self-reliant; exactly the sort of thing Trump wants to see. 
National Defense
This is arguably the real forefront of Trump's reasoning. Speaking at a White House conference on March 8th, Trump said "We want to build our military equipment with steel, with aluminum from our country." This would mean that the US military would be as self-sufficient as possible, able to construct war-ships, fighter jets and other defense equipment from materials gathered in the country. In times of military tension, the US would be in an unfavorable position by relying on other countries for its materials, given destabilized trade routes and potentially unsteady alliances. In addition, tax dollars used to fund national defense would return back to the US economy.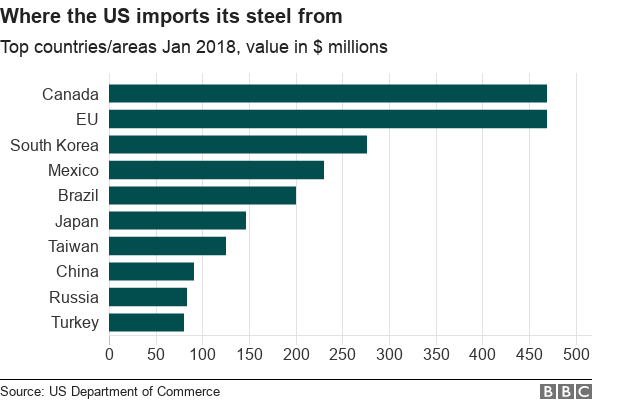 The argument does have a variety of downsides though. Even with the US' current steel output, it could produce enough to continue supporting its military since it accounts for a 'very, very small proportion' of steel use in the country. Plus, US military manufacturing uses more than just steel. Aluminum production for example makes use of bauxite, which is almost necessary to import as it is expensive to mine in the US. In any case, the White House is running with the national defense argument since it is the only one which carries any weight as far as the World Trade Organisation (WTO) is concerned.
>> Donald Trump Blocks Broadcom's Takeover of Qualcomm
Canada and Mexico
According to the US Commerce Department, Canada is the largest single supplier of steel into the US, providing more than the entire EU. Unsurprising, given that is a neighboring ally with vast natural resources. Mexico, though supplying just over half that amount, is another major supplier. For this reason, the two countries are the only two which are exempt from the global tariffs, at least for now. This is very good news, particularly for Canada. It potentially secures the market it had already cornered. Canadian steel company Russel Metals called the tariffs "nothing but positive", since higher steel prices benefit them. Plus, according to the Organisation for Economic Co-operation and Development (OECD), the Canadian economy will grow faster than expected in 2018, driven in part by stronger demand from the US. 
So there you have it. Of course, each point has a counterpoint here, but at least it is clear what is happening on the other side of the argument. At any rate, at least we can't be labelled 'fake news', right?