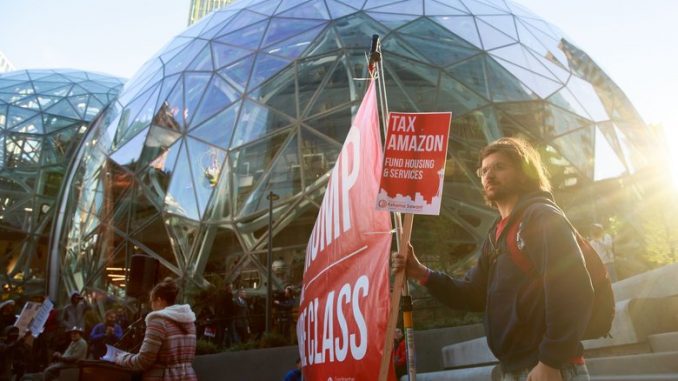 Seattle Raises Taxes: The Seattle city council has passed a new plan which aims to combat homelessness by increasing business tax on huge firms such as Amazon and Starbucks to fund affordable housing and homeless services.
The council passed the tax plan on Monday in response to a house price crisis resulting from an economic boom; supporters of the tax say that median house prices in Seattle are now $820,000, according to the BBC. However, Councillors have faced opposition from local firms who say that the tax will hurt their businesses.
Seattle Raises Taxes For Major Businesses
The tax plan applies to firms in the US city who have an income of over $20 million and amounts to an extra 14 cents in tax per hour worked by each employee under the companies who are large enough to be eligible – around 500 in total. Ultimately, the tax is expected to raise about $47 million a year, three fifths of which is planned to go towards affordable housing and the rest towards emergency care and shelter services for those experiencing homelessness. Seattle reportedly has the third-largest concentration of homeless people in the United States.
>> Undercover Report Reveals Shocking Working Conditions in Amazon Warehouse
Quoted in the Guardian, Teresa Mosqueda, a Seattle councilor, said: "People are dying on the doorsteps of prosperity. This is the richest city in the state and in a state that has the most regressive tax system in the country."
However, retail giant Amazon, which is headquartered in Seattle and is it's number one employer, was one of the most vocal opponents to the plan. Drew Herdener, vice president of the firm, called the move "disappointing", stating that the firm is now "apprehensive about the future created by the council's hostile approach and rhetoric toward larger businesses, which forces us to question our growth here." The firm posted net revenue of $177.8 billion USD in 2017. If Amazon decided to cover the annual $47 million cost of the tax plan by itself, it would amount to 0.02% of its total income last year.
>> Amazon Releases Record Q1 Financial Results
It is not the first time Amazon has been outspoken about the tax plan. The firm put on hold a huge construction plan in the city's downtown district when the plan was proposed earlier this year. With the passing of the plan, Amazon has decided to go ahead with the construction anyway.
Coffee outlet Starbucks – which posted $22.39 billion in revenue in 2017 and could cover the annual tax with 0.2% of that – has also been vocally opposed to the tax. John Kelley, public affairs chief for the firm, doubted the Seattle council's ability to fix the issue of homelessness, saying: "If they cannot provide a warm meal and a safe bed to a five year-old child, no one believes they will be able to make housing affordable or address opiate addiction." Kelley also accused the city of continuing to "spend without reforming and fail without accountability, while ignoring the plight of hundreds of children sleeping outside."
Featured image: Seattle Times / Erika Schultz