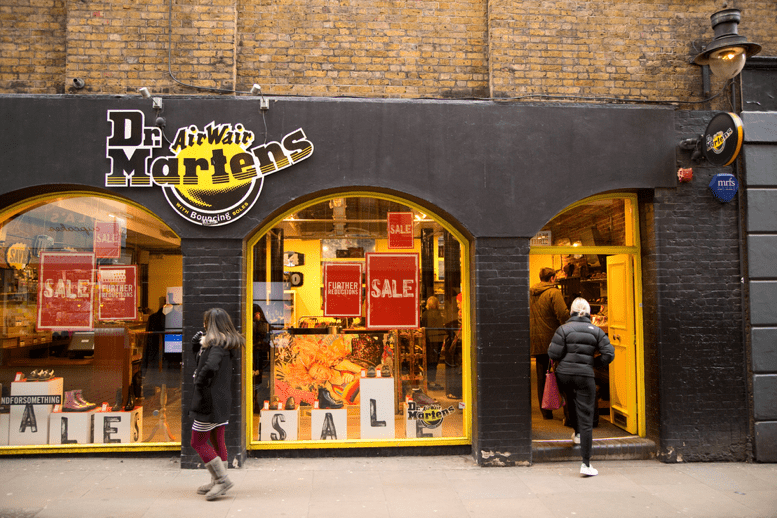 UK boot-maker Dr Martens is on a roll. Profits of the iconic shoe brand surged 70% in the year to the end of March. The company has attributed much of its success to the inclusion of "vegan" boots to its range.
Dr Martens
According to the company's financial report, online sales rose by a whopping two-thirds to £72.7 million ($87.79 million USD). This accounted for 16% of total revenues for the company.
According to CEO Kenny Wilson, the sales of its vegan range have been astronomical, increasing by "multiple hundreds of percent" in recent years. The vegan replacement for the leather is synthetic polyurethane plastic.
These boots now account for 4% of Dr Martens sales. In recent years the brand has also seen a rising success in its other shoe styles aside from its iconic boots. Sandals, shoe collaborations with the Sex Pistols and designer Marc Jacobs, as well as children's styles, have all brought success to the company.
Ownership: Will There Be an IPO?
Increased margins on its products meant the underlying earnings rose by 70% year-on-year to £85 million ($102.65 million USD).
Dr Martens is currently owned by Permira—which bought the brand in 2013 for £300 million. Since it took over, the brand has almost tripled its revenues, from £160.4 million in the 2012–13 financial year to £454.4 million ($548.83 USD) in the year to March 31, 2019.
>> Nvidia Announcing Q2 Earnings Results Amid Decline in Data Center Sales
Now, according to The Guardian, "the private equity investor is now looking at a possible sale or stock market flotation to realize its profits."
Permira has a standard holding period for investments of five to seven years. It has owned Dr Martens for 5.5 years.
As such, Wilson believes the decision of what to do next "could be coming over the horizon." He continued, "[Permira] is starting to look ahead to when they are going to sell the business."
As a privately-owned brand, investors can't take a piece of this pie just yet. However, if Permira chooses to float its stock, then this would be one fashion brand to keep a close watch on. Would you invest if Dr Martens went public?
Featured Image: DepositPhotos © michaelpuche