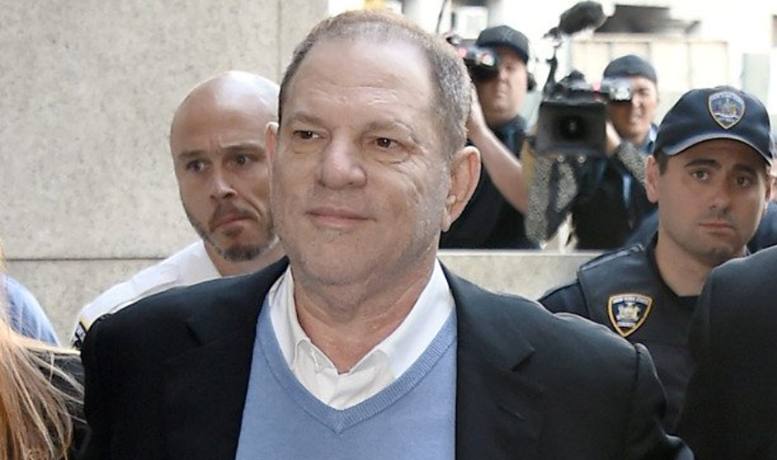 Harvey Weinstein Arrested: Last year, investigative reporters detailed various sexual harassment claims against Harvey Weinstein, co-founder of The Weinstein Company. These reports sparked the #MeToo movement, in which hundreds of women have since come forward and accused men in power, of sexual assault and harassment. Back in October, the Weinstein Company made the decision to fire Mr. Weinstein from his own company. Fast forward to May 2018, and the former entertainment mogul has (finally!) been arrested.
Women around the world will be celebrating this weekend — as they should be. Not too hard, though, because Mr. Weinstein is reportedly planning on pleading not guilty to the charges. This, of course, is disappointing to hear, but seeing the former movie giant leave the 1st Precinct in Manhattan in handcuffs was enough to make women around the globe smile. Especially considering more sexual harassment reports surfaced yesterday, this time centering around beloved actor Morgan Freeman.
Here's what you should know about the founder of the Weinstein Company's historic arrest.
Harvey Weinstein Arrested
On Friday, Harvey Weinstein turned himself into police. The movie producer was charged with both rape and another sex felony. This is a big step forward in the case, but that doesn't mean seeing Weinstein in jail is a guarantee. According to Benjamin Brafman, Weinstein's lawyer, Mr. Weinstein plans on fighting the allegations and pleading not guilty.
In addition to fighting the charges, Weinstein didn't seem to show much remorse over his actions – actions that include reportedly harassing over 70 women – in court on Friday. In fact, he was making faces that showed he disagreed with what the opposing lawyers had to say about him, particularly with what Attorney Joan Illuzzi-Orbon had to say. When Joan said that Weinstein used his power to lure young women into "situations where he was able to violate them sexually," Mr. Weinstein was recorded grimacing and raising his eyebrows as he heard her statement.  
Less than three hours after Weinstein's arrest, the former movie producer was released on $1M bail. He is not allowed to leave either New York or Connecticut.
The Takeaway
Despite Weinstein being released on bail, and despite his lawyer saying he plans on pleading guilty, women around the world should be proud of the movement they created, as it ultimately led to the arrest of this man. By making our voices heard, we can stop powerful men like Harvey Weinstein from thinking they are above us. In reality, it's probably the opposite, anyway.
So long Harvey, we hope the women you abused for years are finally given the justice they deserve.
Featured Image: Twitter