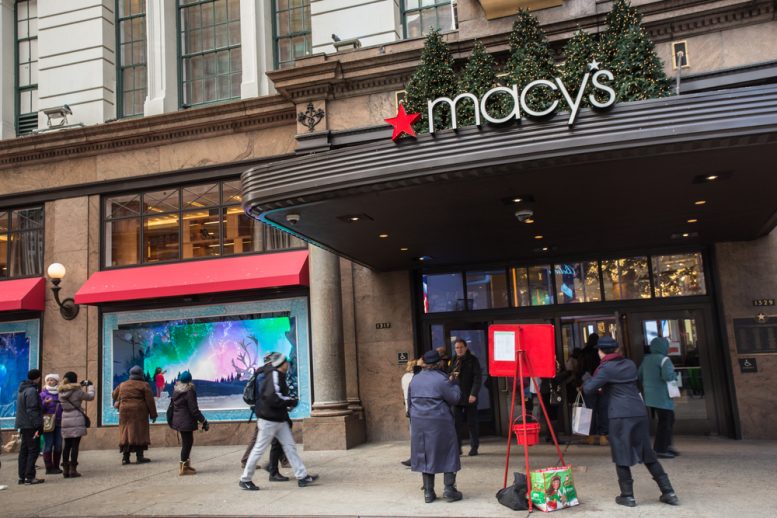 Macy's stock is trading higher by 2%, cooling off after a 7% jump in the pre-market session, following Macy's Inc (NYSE:M) announcement of improved earnings for the first quarter.
The department store's earnings that reportedly towered over analysts' projections were apparently a breath of fresh air to the Macy's stock which shrunk nearly 27% in 2019 alone. The impressive numbers suggest that the company's aggressiveness to revamp old stores and push for the adoption of their mobile app by shoppers has eventually bore fruits.
According to expectation, the company's sales failed to match last year's numbers as online retailers like Amazon.com, Inc. (NASDAQ:AMZN) continue to reign over physical retail outlets. Revenue fell slightly to $5.504 billion, from the previous year's quarterly revenue of $5.541 billion, narrowly missing the forecast $5.505 billion.
The report indicates an improvement of 0.7% in the store's sale for the last 12 months contradicting the 0.2% drop predicted earlier. Net income for the just-concluded quarter was $136 million, $0.44 ahead of analysts' prediction of $0.33 and short of last year's $139 million, $0.45 per share.
As of this writing, the Macy's stock was priced at $22.15, representing a 1.90% surge.
Macy's Loyal Customers Boost
According to the company's CEO, Jeff Gennette, revenue from its e-commerce platform sprung double digits during the previous quarter with sales from the mobile app growing tremendously. Gennette confirmed that the store's loyal customers transacted nearly 5.7% "more frequently than ever."
Macy remains bullish after its fiscal 2019 forecast. The company did not make any adjustment in its annual revenue outlook. Macy's adjusted earnings per share remain in the range of $3.05-$3.25. Analysts covering the stock have predicted annual earnings per share of $3.09.
As competition from online retailers intensifies, Macy's is looking to cut over 100 management jobs in a bid to save about $100 million in costs. The company is actively clearing large inventories although there's not much progress seen as inventory as of the last quarter is "heavier than normal" according to analyst, Chuck Grom.
Do you think Macy's stock will recover after solid earnings?
Featured Image: Depositphotos © littleny