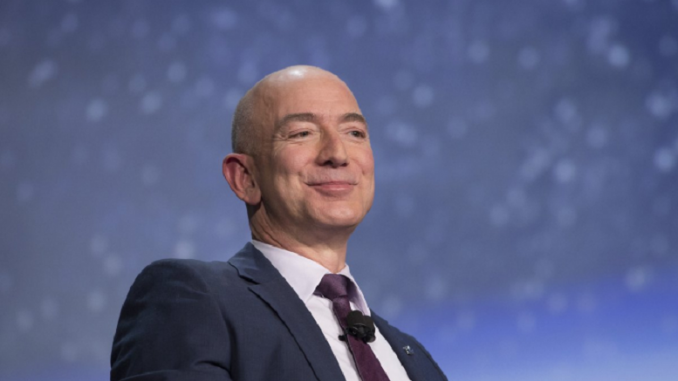 Amazon's (NASDAQ:AMZN) CEO, Jeff Bezos, has just been named the richest person in history, according to Bloomberg's billionaire tracker. On Monday, it was reported that Bezos net worth had reached $105.1 billion USD. The record beat, was held by Microsoft's (NASDAQ:MSFT) founder, Bill Gates.
Fobes, the other tracker of wealth, has the CEO's net worth at only $104.4 billion. The majority of the net worth of his comes from him 78.9 million shares of Amazon stock. Shares climbed up 1.4% yesterday, which added around $1.4 billion to his net worth.
In 2017, shares of Amazon stock had risen over 56% and so far this year, the stock is up almost 7%.
Amazon's stock closed the day at $1,252.70 a share, up $5.83;. 0.47% from yesterday's close.
Bezos also holds shares of the Washington Post (NYSE:GHC) and Blue Origin (private). Blue Origin is a privately held space travel business that hopes to one day take tourists into outer space.
Bezos grabbed the world's richest person title back in July and it seems the two have been battling for the number one spot, ever since. Currently, Forbes has the Microsoft exec at $91.9 billion and Bloomberg has him at $93.3 billion.
With Amazon making tremendous strides and putting huge margins in between it and its competitors, Bezos net worth should continue to rise this year.
However, Gates would be far more wealthy than Bezos if it wasn't for his significant charitable contributions. Gates's publicly disclosed donations ranged from around 700 million shares of Microsoft, that is now worth $61.8 billion USD. He also donated around $2.9 billion in cash, which puts his total net worth well over $150 billion.
Bezos may have the title but I think we all know, who reigns supreme.
Featured Image: twitter