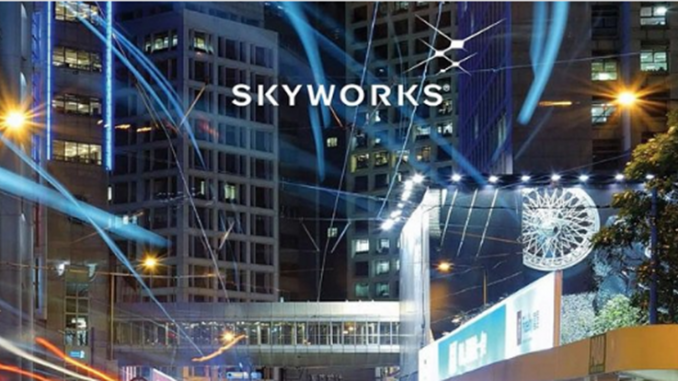 Skyworks Solutions (NASDAQ:SWSK), an analog semiconductor company and one of the leading chip suppliers for Apple (NASDAQ:AAPL), exceeded expectations for its second-quarter report of 2018, which were released on Thursday.
The company reported total revenue of $913.4 million USD, which is up by 7% year-over-year, and generated $434.2 million in operational cash flow.
Revenue for the second quarter of 2018 surpassed analyst estimates of $910.7 million.
Operating income was $289.4 million on a GAAP basis while on a non-GAAP basis it was $331.1 million.
According to the company's President and CEO, Liam Griffin, Skyworks "demonstrated continued strength in [its] financial fundamentals" and "improvements in profitability directly translated into cash flow growth."
According to a Reuters article, Skyworks Solutions was still negatively affected by the US ban on the Chinese telecom equipment maker ZTE Corp. (HKSE:0763.HK).
>>>American Companies Banned from Selling to Chinese Phone Maker ZTE
The ban on ZTE cost Skyworks nearly $25 million to $30 million of its total revenue.
Kris Sennesael, senior vice president and chief financial officer of Skyworks, has said the "strong growth in [the company's] broad market portfolio is mitigating the near term softness at leading smartphone customers and the trade restrictions imposed by the U.S. government."
Skyworks expects revenue for the third quarter to be between $875 million to $900 million.
>>>Intel Finds Major Security Flaw In Millions Of Its Processors
Griffin believes that with the company's recent launch of its Sky5 platform, a 5G network, "Skyworks is well positioned to capitalize on the transformational applications ahead."
The share value of Skyworks went up by nearly one percent today and closed at $92.25.
The company's high for the day was $92.98 and reached a low of $89.53.
Comparatively, Skyworks Solutions closed at $91.36 on Wednesday.
Featured Image: Twitter