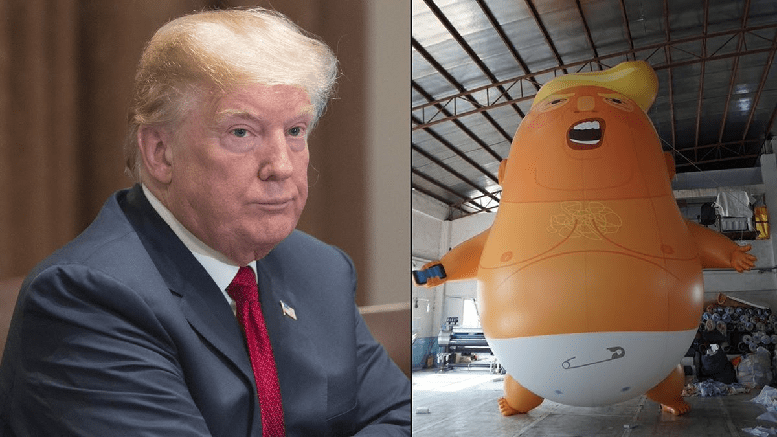 Trump Baby: When Donald Trump, the U.S. president, first confirmed that he would be visiting the United Kingdom, public outcry swiftly followed. The British were not happy. 
On July 5, however, the people of the U.K. had their wishes granted. After U.K. citizens (10K, to be exact) signed a petition to float Trump Baby, a giant Trump balloon, near parliament on the day of his visit, the London mayor approved the protest. 
Trump Baby | A Different Kind of Protest
It is a protest, it's not just an attempt to taunt the U.S. president—but that does play into it. As the balloon floats high in the London sky, a Stop Trump march will be underway in Central London. 
All of this will be happening when Trump lands for his three-day visit to the United Kingdom. He arrives on July 13; the balloon will take flight at 9:30 a.m., and will stay in the sky for two hours. 
The Geniuses Behind Trump Baby 
An activist group is behind the Trump Baby, which stands almost 20 feet high. The balloon features the signature hair, small hands, and a cell phone, which likely illustrates his heavy-duty presence on social media. 
A Protest in the Making
Trump Baby wasn't always going to fly over parliament upon Trump's arrival. In fact, in an interview with Sky News, Leo Murray, an activist, said: "we didn't get off to the best start with the Mayor's office over this." 
According to Murray, the London mayor Sadiq Khan did not "recognize Trump Baby as a legitimate protest."
Regardless, the lengths taken to get Trump Baby in the air must have persuaded Sadiq Khan after all. Which is understandable, it's difficult to say no when 10K people signed the petition, and over 1,000 people raised more than $20K via a crowdfunding campaign. 
>> Trump-Putin Summit Happening Next Month: US Playing with Fire
Eventually, the operations team met with the group and gave them the green light to use Parliament square as, according to sources, a "grounding point." 
The Takeaway
This is going to likely have some sort of retaliation. As the group wrote on their Crowdfunder page, Trump "really seems to hate it when people make fun of him." 
Either way, good on the people of the United Kingdom for fighting for their beliefs, even if it's being done in the most sarcastic way possible. Which, I suppose, is fitting for the British. 
Featured Image: Twitter