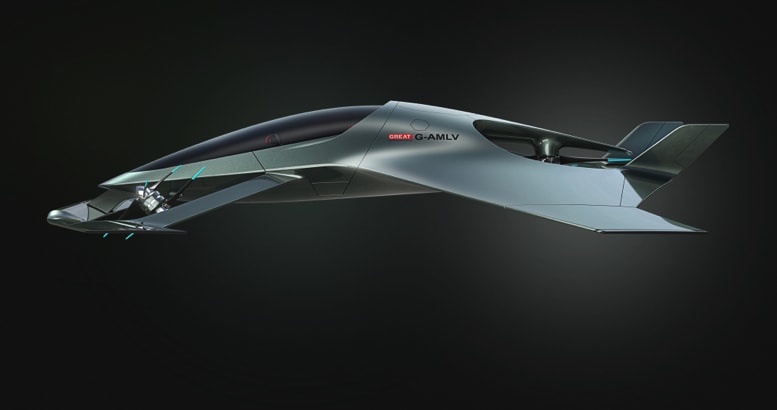 Volante Vision Concept: It looks like it should belong in the James Bond movies that Aston Martin is so associated with, but the company has assured skeptics that it is very much a real concept that spells the future for personal aircraft design.
Dubbed "a sports car for the skies" Aston Martin is currently developing a personal aircraft which will come with a price-tag anywhere between £3-5 million. It is a three-seat hybrid-electric vehicle and will take-off and land vertically.
"Unlike a private plane, it will be vertical lift. Unlike a helicopter, it will cruise more efficiently," said James Stephens, the company's director of global government.
The sky-flying sports car is a joint venture between Aston Martin and fellow fancy-car and jet-engine maker Rolls Royce (LON:RR). The companies will also work alongside engineers at Cranfield Aerospace Solutions.
Volante Vision Concept
The vehicle has been given the name the Volante Vision Concept and should be able to hit speeds of up to 200mph. Pitched as an alternative way to escape city traffic, it will, of course, also feature autonomous technology.
The futuristic project was unveiled at the Farnborough Airshow, but the team plans on having a live model ready to fly for the next show plotted in two-years time.
"Personalised and electric air transport is a fast-developing area and we need to start getting into it," said Stephens.
Continuing, he said it would be a "sports car for the skies…we, in the UK, have the ability to develop this…the challenge is time, money and regulation. But the market will be there eventually."
>>Johnson & Johnson's Robust Growth Signifies Potential Increase in Shareholders Returns
Mr. Stephens said Aston Martin wants to corner the market in next-generation luxury flying vehicles for the rich and famous. But Aston Martin is not alone, there are a small number of aviation and technology firms hoping to make electric-powered small aircraft and air-taxis a reality, including Airbus (EPA: AIR), Uber, and Google's Kitty Hawk (NASDAQ:GOOG).
Featured Image: Google Images/Fortune.com