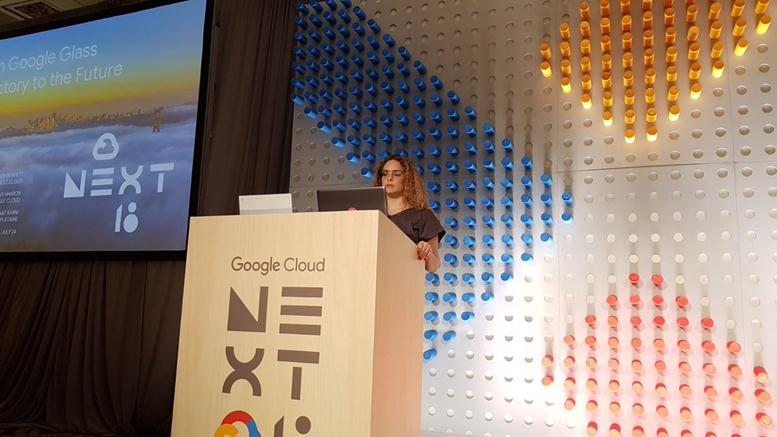 AI Google Glass: Google Glass was developed by Google X, the sector within Google that is devoted to technological advancements such as driverless cars. Google Glass first started out as standard eyeglasses with the lens replaced by a head-up-display.
The first pairs were introduced to the public back in early 2013, but Google stopped selling the glasses last year due to privacy concerns. Now the search engine company has announced that it has teamed up with a software company and a new version of Google Glass has been made that uses Artificial Intelligence.
Google Glass with AI
Yesterday, Israeli software company Plataine demonstrated its new Glass app at a Google conference in San Fransisco. The new app for the face-mounted gadget understands spoken language and offers verbal responses. This app is designed specifically for manufacturing workers—think of it as an Amazon Alexa for the factory floor.
Currently, Plataine is working on adding image-recognition capabilities to its app. This app was built using Artificial Intelligence services provided by Google's cloud division. Google is banking on charging other companies to have access to its AI technology, which would pull cloud customers away from Microsoft and Amazon.
"Many of you probably remember Google Glass from the consumer days—it's back," Jennifer Bennett, Google Cloud's CTO, said at the conference before introducing Plataine's project. "Glass has become a really interesting technology for the enterprise."
Anat Karni, product lead at Plataine, wore the black AI Google Glass glasses yesterday and demonstrated to the crowds how the app could be used in a factory. With artificial intelligence, the app could tell a worker clocking in for the day about issues that required immediate attention and show information that could resolve the problem. A worker using the glasses could also talk to the app, as one would to Alexa, and ask for help.
"Spaces like manufacturing floors, where there's no social norm saying it's not OK to use this, are the spaces I think it will do really well," Gillian Hayes, a professor who works on human-computer interaction at UC Irvine, told Wired.
Google (NASDAQ:GOOGL) Stock Movement
According to Yahoo Finance, Google's stock opened with a near 5% increase from yesterday's market close. GOOGL closed the market yesterday at $1,211 a share and opened today's market at $1,271. At press time, GOOGL stock is trading at $1,264 a share, up $5.85 (0.46%).
>> Ford Creates New LLC to Build Out AV Business
Featured Image: Twitter