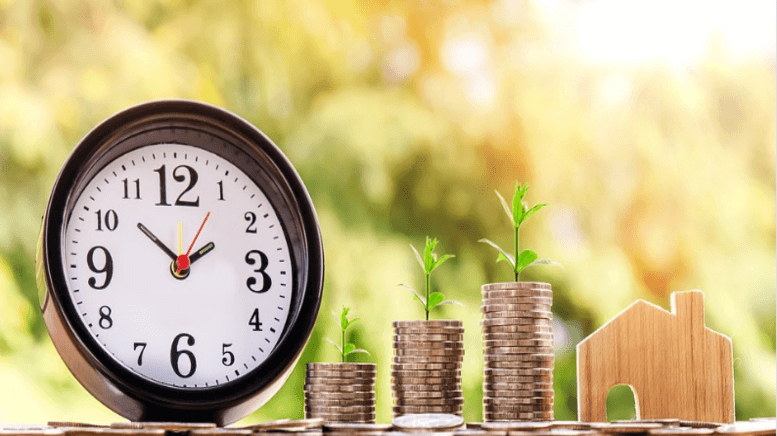 The current coronavirus pandemic seems like a never-ending nightmare now, but eventually, it is going to pass, and even if it does take time, the global economy will rebound as well. Now could be the ideal time for investors to consider having a look at the best growth stocks on the market. Some of the best tech growth stocks are able to deliver steady returns, and due to the nature of the businesses, investors often hold these stocks for the longer term.
These companies may not be completely shielded from economic uncertainties, but ultimately, they have built up business models that can often stand the test of time. In times of great market uncertainties, it could be wise for investors to considering watching some of the best tech growth stocks in the market. On that note, here is a look at three of those stocks.
Best Tech Growth Stocks: Zoom Video Communications Inc (NASDAQ:ZM)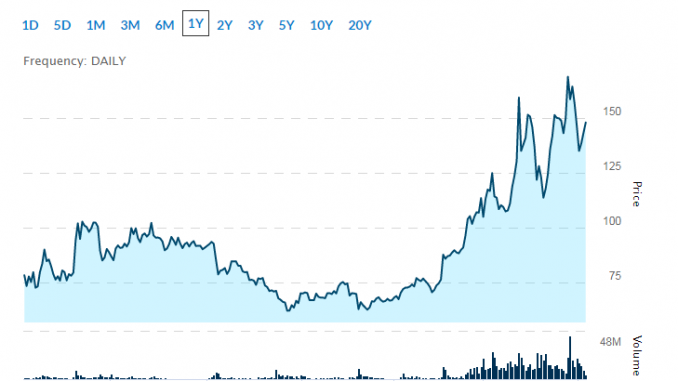 The coronavirus pandemic has resulted in widespread lockdowns, and hundreds of thousands of people are now working from home. The demand for video communication services has gone through the roof, and Zoom Video Communications has emerged as one of the significant beneficiaries.
As a matter of fact, educational institutions like schools and colleges, which have been closed, are also conducting classes via video conferences. Zoom has recorded explosive growth due to the situation and has emerged as one of the best growth stocks on the market at the moment. At the end of 2019, it had only 10 million users per day, but now this number stands at a staggering 200 million.
More importantly, Zoom's technology is scalable, and on top of that, the company is already profitable. As the user count starts rising, its margins are also expected to rise concurrently. The stock has soared by 115% so far this year, and it seems likely that it might gain further as its user base expands. It is necessary to keep in mind that Zoom is still a relatively small operation in terms of its market share, but studies suggest that the market could eventually be valued at as much as $40 billion. Hence, there is a lot of potential growth still to come to this sector, and that makes Zoom one of the growth stocks worth tracking.
>> Are These the 3 Best Value Stocks for 2020?
Best Tech Growth Stocks: Shopify Inc (NYSE:SHOP)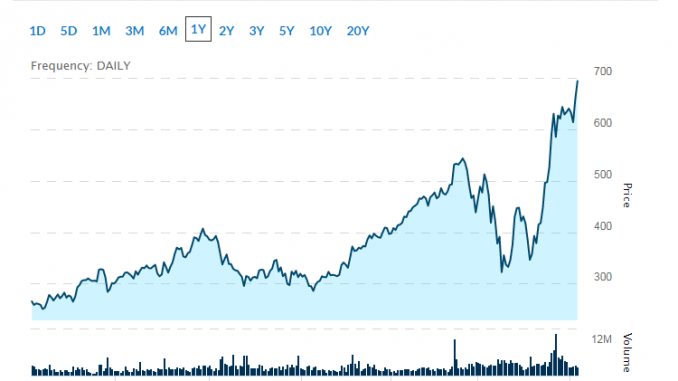 The traditional retail industry has been dealt a heavy blow by the coronavirus pandemic and the associated lockdowns. People are no longer venturing out to the shop; instead, much of the shopping for essentials is taking place online. E-commerce operations have boomed, which brings us to the subject of Shopify.
The company helps businesses start and grow with a ready-made e-commerce platform. The company is well-positioned to grow even more due to the onset of the e-commerce boom, possibly emerge as one of the best growth stocks on the market. It offers its customers a website and also takes care of payments, shipping, and other essential solutions that are needed to run a modern e-commerce operation.
The company has experienced significant growth in recent times, and if the current trend continues, then more explosive growth could be in store in the future. In 2019, Shopify managed to grow its revenue to $1.6 billion, which reflects a year-on-year growth of 47%. Moreover, e-commerce platforms are now experiencing soaring traffic, which may also help the company to generate significant growth this year. In 2020, Shopify stock has surged by 55% so far.
Best Tech Growth Stocks: Amazon.com, Inc. (NASDAQ:AMZN)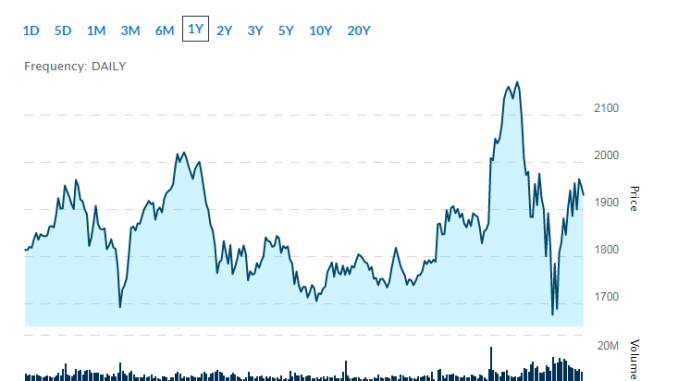 E-commerce and tech behemoth Amazon has been among the best growth stocks for more than a decade now, and it could continue to be so in the long run. Over the years, it has entered new businesses and managed to become a dominant player in many, which is why the long-term growth of Amazon could be enormous.
The company is now the biggest player in the e-commerce industry at a global level, and it has continued to innovate with new products, which have become popular. Its Kindle reading devices and Fire TV devices have become significant revenue generators in recent times. It has made an entry into the grocery business as well and has plans to expand the business significantly in the future.
On top of that, Amazon now boasts of as many as 150 million Prime members, which helps to create a captive customer base for its products. The scope of the company is so vast that it may not be entirely possible to predict the nature of its growth, but it is highly likely that Amazon is going to generate impressive growth in the years to come.
Featured image: Pixabay