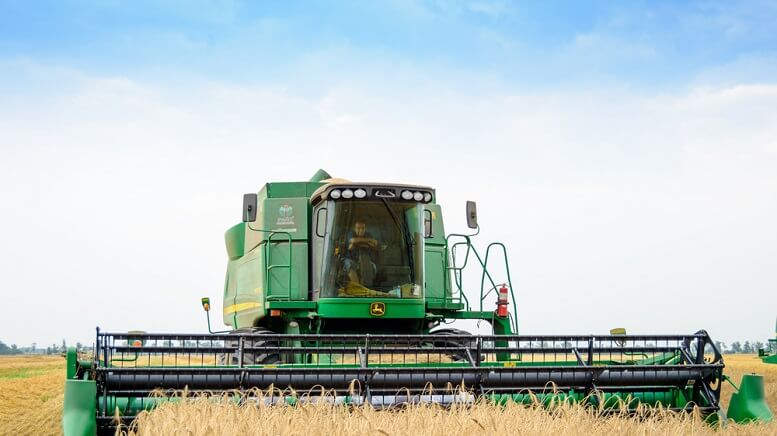 Deere stock is up 3.84% today, despite Deere & Company (NYSE:DE) releasing fiscal Q3 earnings that missed Wall Street predictions.
The heavy machinery manufacturer posted earnings of $2.71 per share, eight cents shy of analyst expectations. Revenue was $8.97 billion, which also fell short of the forecasted $9.39 billion. The company has blamed delays in farmers purchases due to uncertainty over Trump's trade war with China for the slump in sales.
Deere CEO Samuel Allen said in today's announcement, "John Deere's third-quarter results reflected the high degree of uncertainty that continues to overshadow the agricultural sector. Concerns about export-market access, near-term demand for commodities such as soybeans, and overall crop conditions, have caused many farmers to postpone major equipment purchases."
A Good End to a Bad Week for Deere Stock
Deere stock will close the week on a positive note, despite having seen almost 10% wiped from its share value during midweek trading. A poor economic environment for farmers, coupled with heavy flooding that delayed the planting of many US crops, led to investors losing confidence in Deere stock. However, investors were bullish following today's results and appeared to be boosted by Deere's commitment to making the company more structurally efficient and profitable.
Despite Deere's farming sales taking a hit, the company's construction and forestry businesses posted strong financial results, and investors will be hopeful that this can help Deere stock weather the worst of the storm.
>> SAEX Stock Plunges 31% on News of Securities Claim Investigation
Trump's Farm Relief
Investors will also be hopeful that President Trump's $16 billion USD aid program for American farmers, announced in May, will begin to bear fruit and stimulate an increase in sales for Deere, which saw sales of agricultural and turf equipment fall by 6% during the fiscal third quarter.
Today's trading saw Deere stock make its biggest gains in seven months, and despite the disappointing quarterly report, investors appear confident in the company's ability to get back on track.
Featured image: DepositPhotos © maxpro