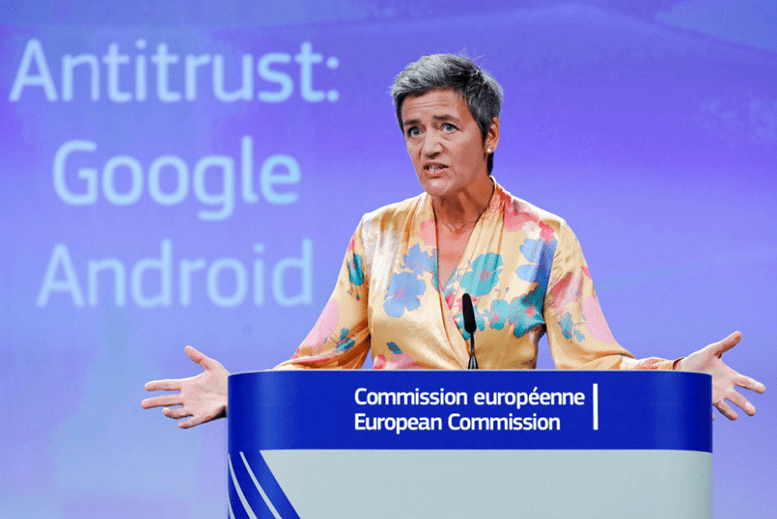 All day yesterday, tech investors spoke of the Google EU fine. How much will the fine be? More than $2B? Or, perhaps, between the ranges of $4B to $5B?
Now, we have our answer.
On Wednesday, the EU hit Google with a more than $4B antitrust fine. And the Google stock is suffering because of it. 
Google EU Fine: Record-Breaking, but Google will Appeal
Google being fined around $5B was not a far-fetched prediction, but now that it has happened, it's still a little shocking. Why? Well, it's a record-breaking fine.
Google also said Wednesday that it will appeal the fine, which was another shock to some.
Why Was Google Fined?
The Google EU fine came about because of Google's use of the Android mobile operating system. They used it to exile rivals, says the EU.
According to Margrethe Vestager, the EU antitrust chief, Google has used Android as a way to "cement the dominance of its search engine." She went on to add that these business practices have stopped rivals from having "the chance to innovate," as well as "compete on the merits." 
Google, apparently, disagrees, stating that it will be appealing the EU fine. 
The Google Stock (NASDAQ:GOOGL)
The Google EU fine was inevitable. The decision of the EU was supposed to happen a while ago but was delayed because of Donald Trump's recent trip to Brussels. 
The point is, we knew it was coming, and because of that, we thought the Google stock would keep its head high. But that didn't happen.
According to Yahoo Finance, at closing, Google was trading at $1,195.88, which puts the stock down 0.24%. 
>> AmEx Disappoints Wall Street with Lower-Than-Expected Q2 Revenue
Sure, there was a chance the stock was going to drop today, considering the Google EU fine is record-breaking, but some thought that maybe, given Google's reputation, the stock could find its way to end in the green zone. 
The Takeaway
What do you think of the Google EU fine? Should it have been as much as $5B? Did you think the stock was going to end in the red, or did you have high hopes it would be able to come out of this alive? 
Let us know what you think in the comments below! 
Featured Image: Twitter