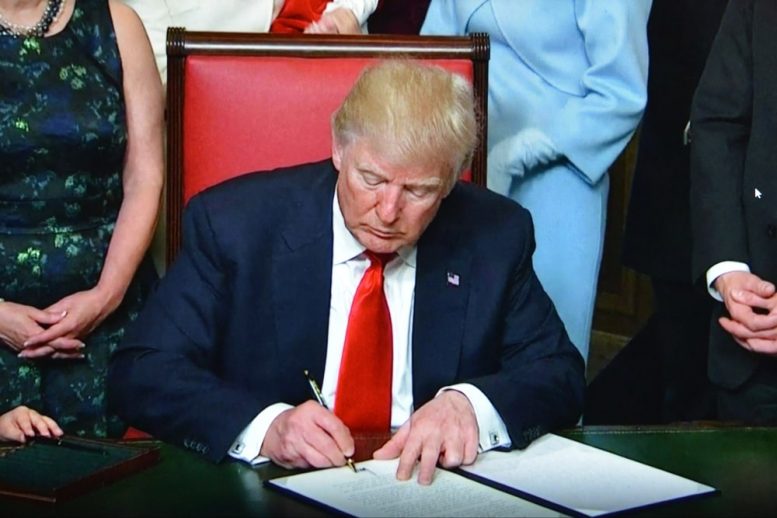 President Trump signed The Music Modernization Act into law today. Some familiar faces from the music industry were in attendance to oversee the iconic signing.
The Music Modernization Act
The new bill is one of the largest ever reforms to copyright law. It will offer a whole new set of business conditions in the music publishing industry. The end goal, of course, is higher royalties and higher earning rates for songwriters and publishers. 
The law has been reformed to suit the digital music-streaming era. Prior to today's signing, music rights legislation has been outdated and built around a vastly different industry model.
Trump spoke at the signing and said the following:
"The Music Modernization Act closes loopholes in our digital royalties laws to ensure that songwriters, artists, and producers receive fair payment for licensing of music […] I've been reading about this for many years and never thought I'd be involved in it, but I got involved in it. They were treated very unfairly. They're not going to be treated unfairly anymore."
The Music Modernization Act
The Music Modernization Act was passed by the House and the Senate in a unanimous vote. The bill aims to ease the music licensing process and will update rules about streaming music and applicable royalties. The end result will hopefully see artists and songwriters fairly compensated for their work when it is played or used digitally. The new bill will also act as a publicly accessible database to clearly discern who should be paid what for what song, etc.
>> PayPal and Walmart Team Up and Customers Can Soon Take Out Cash at Stores
National Music Publishers Assn. president and CEO David Israelite said in a statement:
"Songwriters have for too long labored without seeing fair rates and receiving all that they deserve, and for the first time in history, the music industry has partnered with the tech industry to fix these systemic problems."
There are two other sections to the Music Modernization Act: the Classics Act and the Allocation for Music Producers Act. The Classics Act ensures that artists are properly compensated for master recordings made before 1972.
The Allocation for Music Producers Act is aimed at producers and engineers. This ensures that they too receive compensation when their music is used on online and satellite radio.
The Music Modernization Act signifies a momentous occasion for the music industry.
Featured Image: DepositPhotos /© 1000Words