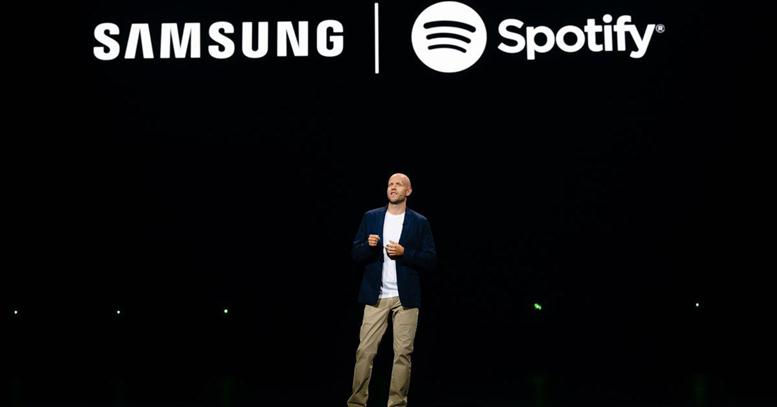 Spotify signs deal with Samsung, the major announcement possibly being enough to take the company to the next level and even beat out its top competitor—Apple Music.
Spotify Signs Deal with Samsung
Spotify has just signed a deal with the world's largest smartphone maker, Samsung. The Spotify app will be automatically downloaded on all new Samsung devices, making more people inclined to use it.
The companies announced this merger at an event in NYC yesterday. Spotify will also be added to all of Samsung's smart speakers and TV's. Samsung is coming out with a new smart home speaker, similar to that of Amazon's Alexa, but the release date has not yet been announced. The company has been working on the speaker for almost a year now, and it remains unknown how Spotify will be added to it.
Currently, to connect Spotify to a speaker all you need to do is pair the speaker via Bluetooth to the device that has the Spotify app downloaded. The new Samsung speaker will control things such as lights and thermostats, just like its competitors. Samsung has a SmartThings platform, and all things must be connected to the platform before they can be controlled by the speaker.
Spotify hopes that this will increase the number of individuals that use their free service. The free service works like a funnel to get customers to pay for the paid version of its app. In April after the company went public on the NYSE, Spotify introduced a new version of the free service of its app.
Spotify Stock Movement (NYSE:SPOT)
According to Yahoo Finance, Spotify's stock spiked yesterday following the Samsung announcement and continues to trade today in the green. At press time, SPOT stock is trading at $188.85 a share, up $1.58 (0.79%). The stock is up nearly 6% since the Samsung collaboration was announced.
>> DropBox Stock Falls as Chief Operations Officer Resigns
Featured Image: Twitter