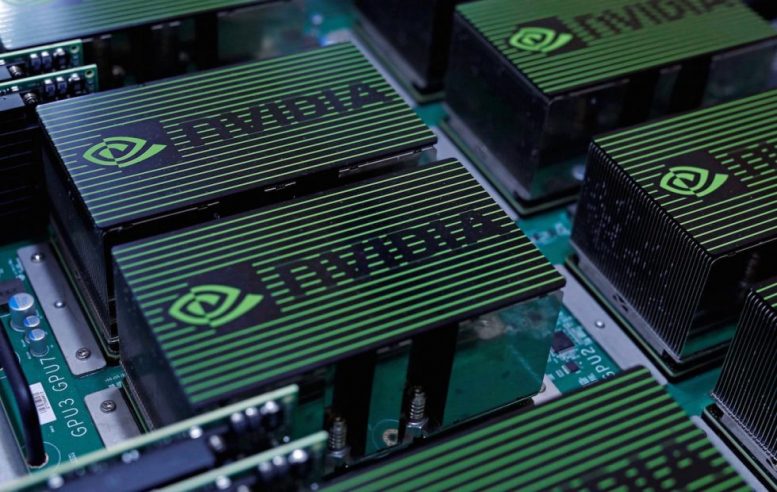 Nvidia stocks (NASDAQ:NVDA) have surged today ahead of the company's much-anticipated Q1 earnings report. 
Per-share prices are up 4.14% to $248.95, bringing the firm's market cap to $151.1 billion USD. 
The global graphics card giant is expected to report its first-quarter fiscal results on May 10th. Analysts predict that the firm will report earnings of about $1.45 per share, up 84% on sales of $2.89 billion USD, up 49% for the end of the quarter, April 29th. That being said, Nvidia has a history of surprising investors with higher-than-expected financial results. The company has exceeded the Zacks Consensus Estimate for the last four quarters running, according to reports. With this in mind, it's not surprising that potential investors want in ahead of the results. 
>> Skyworks Solutions Exceeds Q2 Expectations
In addition, shares have likely been driven upwards by reports that Nvidia recently announced the shutdown of its GeForce Partner Program (GPP), mere months after the program was announced in March. In essence, the GPP program looked to create gaming brand partners with Nvidia technology. Partners would receive "early access to our latest innovations, and work closely with our engineering team to bring the newest technologies to gamers".  In addition, GPP would result in clear branding, "ensuring that gamers know what they are buying and can make a clear choice", said Nvidia. 
However, the program was subject to a good deal of backlash over how it would affect competitiveness in the gaming market, and, according to Anandtech, "a general degree of mean-spiritedness". Indeed, a Verge report claims that the GPP program "basically amounted to Nvidia strong-arming hardware partners and resellers into aligning their gaming brands exclusively with GeForce gear." The issue was made worse by the fact that Nvidia never revealed much about the program, including what exactly it expected in return from its partners, though the firm claimed: "Partners continue to have the ability to sell and promote products from anyone." 
>> Snapchat Stocks Tumbling Up to -8% As Firm Announces New Layout and Spectacles 
In any case, Nvidia announced that they would be pulling the plug on the GPP program "rather than battling misinformation' amid 'rumors, conjecture and mistruths". Nvidia's burying of the program is likely a relief for investors who no longer have to worry about what potential backlash the program might have on share value. 
Nvidia is perhaps best known for producing high-end graphics cards for gaming PCs; it is an industry leader in that respect, along with rival AMD. However, Nvidia is becoming increasingly occupied with artificial intelligence and data centers. 
Featured image: Slashgear / Nvidia