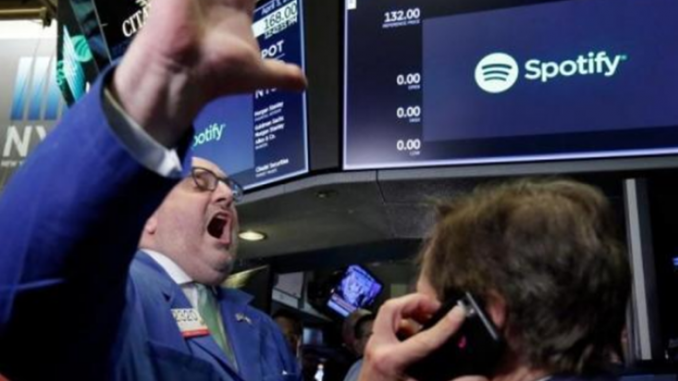 If you're an avid music lover you can now buy yourself some Spotify stocks. The popular music-streaming business, Spotify Technology S.A. (NYSE:SPOT) has officially entered the stock market today.
The Swedish company, which launched 10 years ago, did not have a set price of its shares as it is selling them through a Direct Listing Process (DLP), allowing private investors and employees to sell their own shares.
Shares opened at a value of $165.90 USD on the NYSE, while it was said to be valued at approximately $130.00 USD privately. The New York Stock Exchange (NYSE) gave Spotify a reference price of $132.00 USD.
According to the Wall Street Journal's live analysis of Spotify's debut, it's predicted that we could see the company's market cap reach just under $30 billion USD.
With availability in 61 countries and territories and 159 million active users, including 79 million who are purchasing monthly subscriptions, Spotify believes that this is double than that of their closest competition, Apple Music.
According to recent filings, Spotify hopes to "unlock the potential of human creativity by giving a million creative artists the opportunity to live off their art and billions of fans the opportunity to enjoy and be inspired by these creators," although the company has had several issues in the past regarding licensing.
>>Spotify Being Sued for $1.6 Billion Over Song Licensing
Earlier this year, the company's CEO and chairman, Daniel Ek, was also was given the number three position in Billboard's Power 100.
Spotify shares have reached a high of $169.00 USD since the market opened, but are currently sitting at around $150.00 USD.
For the company's first official day of trading shares on the public market, Spotify made a fairly smooth transition, according to the Wall Street Journal, but who knows what the trend may be tomorrow. Does this excite you? Would you buy Spotify stocks?
Featured Image: Twitter