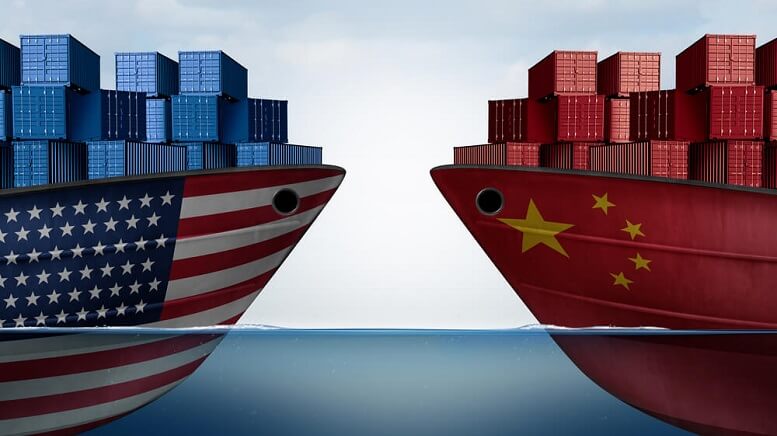 Every day, news of the trade war with China gets worse and worse. With Trump's newest round of tariffs causing the DOW to plunge to its worst day of 2019 so far, analysts are finally coming to terms with the fact that there will not be a quick and tidy end to this conflict.
Staples of the American economy like tech, automobiles, and agriculture are the industries that suffer the most during trade wars. Others, like oil, are particularly susceptible to a trade war with China, as not only do tit-for-tat tariff retaliations drive down the price of oil, reserves will dwindle as China looks to purchase oil from Iran.
So where can investors put their money to avoid getting mired in this protracted conflict? Which industries won't be riding the trade war roller coaster for the next two (or more) years?
To weather the trade war storm, investors should look to domestic industries. It's a smart move to put your money in companies that derive 100 percent of their profit from the United States alone. Those are the companies that are protected from tariffs, and can actually do better business as other corporations pass extra costs on to consumers.
Here are just a few of the major players that are likely to protect investments throughout the trade war.
Allstate
The Allstate Corporation (NYSE:ALL) has seen remarkable growth this year. It opened 2019 at $81.64 and has steadily climbed all the way to $103.33. Zacks Investment Research has placed the company at #2 on its Zacks Rank and awarded it an "A" Value.
The stock's gained nine percent in the last three months, which is roughly when the trade war with China began to escalate. It's no surprise, then, to learn that as an insurance company, Allstate naturally derives all its revenue from the United States.
Most telling of all, however, is that Goldman Sachs (NYSE:GS) recently included Allstate in a domestic sales basket for its clients, along with 49 other S&P 500 stocks. The basket is specifically designed to highlight companies that can do well in a trade war.
>> FedEx Stock Reacts to Departure from Amazon Ground Deliveries
Dollar General
Another entry on the Goldman domestic sales basket is discount retailer Dollar General Corp (NYSE:DG). Several retail stocks have been highlighted as growers lately, but Dollar General has been outperforming all of them, growing from $117.28 three months ago to $134.59 today.
By appealing to low-wage workers in rural America, Dollar General has not only been able to avoid the downturn experienced by other companies, but it has also actually benefited from the trade war with China. As most industries suffer and money becomes tighter, shoppers are more likely to turn to cheaper options for their consumer goods.
Normally this would mean other wholesale retailers, like Walmart (NYSE:WMT), would also be a good investment. However, with Walmart's stock price dropping amidst rumors of a walkout to protest gun sales, Dollar General remains a much safer bet.
Public Storage
When looking for companies that don't need to rely on international trade to turn a profit, you can't do better than REITs. Public Storage (NYSE:PSA) is another of Goldman's domestic sales picks from the S&P 500. Since the start of the year, it's gained more than 25 percent, rising from $195.06 to $254.22.
As a major owner of American real estate, Public Storage is protected from protectionist policies. No tariffs are needed to protect the land from international trade. In addition, real estate value has risen and risen in recent years and doesn't show any signs of dropping soon.
Finally, as the trade war with China continues, individuals and corporations alike may choose to downsize, necessitating the use of Public Storage sites.
Other sectors, such as health care, finance, and utilities, have also been cited as safe ports. No matter how long the trade war with China lasts, investors will always have options to turn to.
If you think you know of some good investments to pick during a trade war, let us know about them in the comments below.
Featured image: DepositPhotos © lightsource