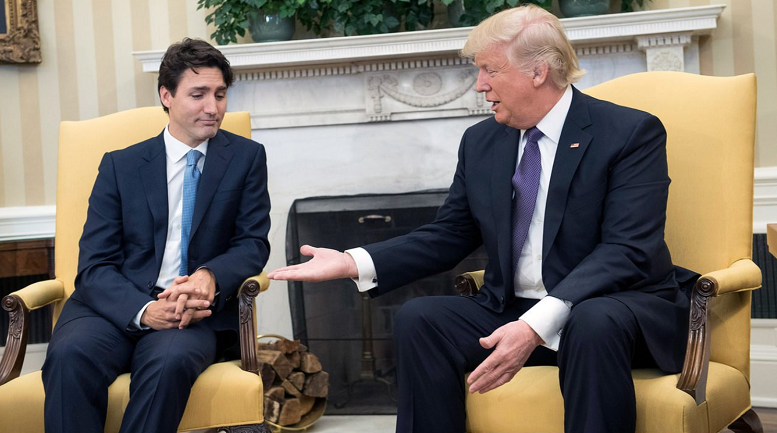 Trump and Trudeau are having it out – well, Trump is.
Donald Trump is set to meet Kim Jong-Un in Singapore in a few days, and instead of keeping quiet in the days prior, the US President is making headlines and causing drama. Not with North Korea, though. Instead, Trump is attacking Canada and its Prime Minister Justin Trudeau.
Trump and Trudeau: A Now Strained Relationship
For the most part, Trump and Trudeau have appeared to have a friendly relationship. While it's evident that Trudeau does not believe in the things that Mr. Trump does, they have never expressed a problem with one another. Things changed today, however.
On Friday, Donald Trump arrived in Quebec for the G7 meeting. This would be big news on its own, but it's even bigger now that people are watching to see if Trump has an awkward encounter with Trudeau, who is hosting the meeting. Why would it be awkward? Well, Trump has been attacking Trudeau on Twitter for roughly the past 24 hours.
Trump and Trudeau: The Tweets
In the past 24 hours, Trump has criticized both Trudeau alone and Canada's agricultural policies. For the latter, Trump stated that Canadian agriculture policies have had a significant, and negative, impact on United States farm interests. Here's a standout line from the President's tweet:
"Canada charges the U.S. a 270% tariff on Dairy Products! They didn't tell you that, did they? Not fair to our farmers!"
Then, Trump moved onto attacking Trudeau. He called out the Canadian Prime Minister by name, and said that he is "being so indignant." To simplify Trump's insult, the businessman-turned-politician accused Trudeau and Canada of "hurting" American farmers, and "killing" American agriculture.
The Takeaway
I would've liked to have thought that Trump wouldn't have started anything in the days leading up to his meeting with the North Korean dictator, but that's just my opinion. Regardless, it will be interesting to see how Trudeau retaliates, and if we see any videos of the two North American leaders speaking at the G7 meeting.
>> Facebook Bug Changes Settings of 14 Million Users from Private to Public
Featured Image: Facebook