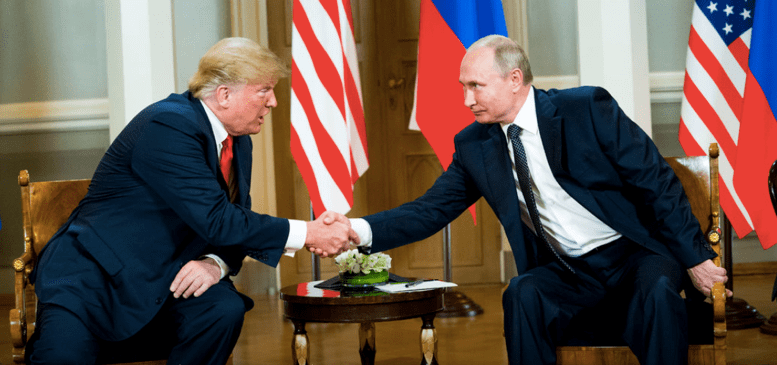 These days most Americans agree on two things. Their President, Donald Trump, is an extremist, looking only to get a rise out of people. And the Trump-Putin summit might be the most important summit in decades. It could even beat that time Trump met with the very powerful and very intimidating North Korean dictator. 
 Trump-Putin Summit: July 16, 2018
On Monday, Donald Trump met with Vladimir Putin in Helsinki, Finland. The two leaders wanted this meeting to take place for a long time. But it's not the first time they've met. It is, however, the first one-on-one Trump-Putin summit.
Trump and Putin spent two hours behind closed doors, talking. Parts of the discussion are known, the others, lost in translation (so to speak). One can't help but wonder: did they solely talk about the 2016 allegations of meddling? Or, did they speak of plans to work together more heavily in the future? What if, Trump and Putin spoke of the World Cup Final? After all, it was pretty hard to miss the Russian president soaking wet, handing out medals to the players with a genuine, yet menacing smile on his face.
The Trump Putin News Conference 
Surely this is a news conference that will go down in history. After the face-to-face talks, Trump and Putin stood on a podium together, side by side, both behind lecterns, speaking to a crowd of reporters, as well as each other. 
At the news conference, a reporter asked Donald Trump whether he thought American intelligence agencies were right about the meddling allegations in the 2016 presidential election. The reporter then asked whether Trump believed Putin when he says Russia didn't meddle. 
The answer? Trump is taking Russia's side. 
In what is now being called a shocking response, President Trump said that Putin has reiterated that it's not Russia who meddled, adding that he doesn't "see any reason why it be," and that Putin was "extremely strong and powerful in his denial today." 
A Treasonous Performance, Says America 
It was inevitable that something scandalous was going to come out of the Trump-Putin summit, but no one forecasted that Trump would outright side with Russia over his own country's intelligence agencies. 
And Americans are not shying away from speaking their mind. Paul Ryan, US House Speaker, said that there is "no moral equivalence between the United States and Russia," explaining that Russia continues to be "hostile to our most basic values and ideals." To put simply: why on Earth would Trump side with Putin? 
>> FANG Stocks Plunge in After-Hours Trade – Is It Netflix's Fault?
Ryan added that Trump has to "appreciate that Russia is not our ally." 
Former CIA chief John McCain has called Trump's performance at the news conference "treasonous." Saying what everyone was thinking, McCain then called the summit a "tragic mistake." 
What Will the Future Look Like?
Now that the Trump-Putin summit is over, it's unnerving to think about what will happen next. Will there be another summit? Or will the two meet in private? Talk over the phone?
Whether in America and Russia or elsewhere, following along with this story should be a priority. 
*Article Update: 
It is now 5:00 p.m. on Monday, July 16, and #TraitorTrump is trending worldwide on Twitter, as is #Treason
Featured Image: NYTimes