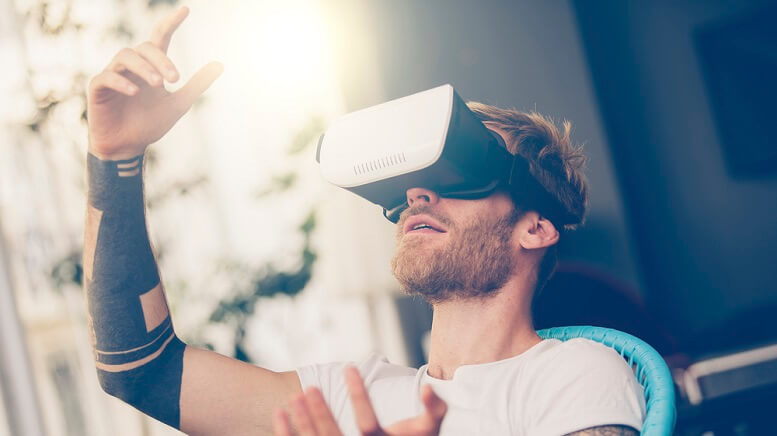 Very few emerging tech sectors out there have sparked quite as much debate as Virtual Reality. VR is one of the fastest-growing sectors in the tech industry, with the technology's user base jumping from just 1 million users in 2014 to a staggering 150 million last year. However, for most people, the term VR brings to mind video games, chunky headsets, and goofy gimmicks, but with an estimated market value expected to hit nearly $50 billion by 2023, virtual reality is no joke.
So if you're a speculator interested in getting in on an emerging tech space, then VR could represent the hot take for you.
What is VR?
Virtual Reality is a digitally created, 3D immersive experience designed to make an artificial reality, such as the ones we enjoy every time we switch on the TV, as realistic and believable as possible. It works by removing the user from all external factors in a manner that immerses the senses in the digital world so that it becomes the only present reality. The potential of VR technology is endless, as it can instantly transport the user to places that reality normally wouldn't allow.
Virtual Reality is a wide sector with a variety of different products and applications—and that's what makes it such an attractive market to get in on. There are so many different areas to choose from, such as hardware, software, gaming, desktop, or smartphone technology—investors, take your pick!
Who are the major players?
Facebook (NASDAQ:FB) is huge in the world of VR, and you may have heard of its product—the Oculus Headset. When you first saw the term Virtual Reality mentioned above, the first image that probably sprung to mind was of that funky looking headset that makes the wearer look like a Star Wars extra. Well, that's Oculus, and it's certainly a VR trailblazer.
You also may have noticed the increasing prevalence of 3D videos on your Facebook feed over the last year or two, which allow you to get an immersive 360-degree video experience right on your smartphone. This is a clear attempt by Facebook to become the platform of choice for VR users, and with a price of around $500 CAD, Oculus could make VR far more accessible in the very near future.
Of course, with the huge potential of the VR gaming sector, Sony (NYSE:SNE) was always going to have its name in the mix. It's hardly surprising that Sony is the industry leader for VR headset sales, given that PlayStation has dominated the gaming world since its inception way back in 1994.
Sony released PSVR, a companion VR headset for the PS4, back in 2016 at a price of about $350 CAD and its value, coupled with PlayStation's market dominance and the headset's gaming capabilities, are what set it apart from Facebook's Oculus. With the PS5 on the horizon, it's safe to say we can expect an upgrade to PSVR in the very near future.
>> Deere Stock on the Rise Despite Posting Disappointing Earnings
To give just a small example of what the emergence of VR can do for a company's stock, let's look at Nvidia Corporation (NASDAQ:NVDA). Nvidia has been one of the world's leading developers of high-performance graphics processors for personal computers, without which virtual reality simply isn't possible, for over 20 years now. In 2007, Forbes named Nvidia its Company of the Year and the company's stock hit a then all-time high of about $35.
Since late 2015, when VR technology really began to take off, Nvidia stock has hit the lofty peaks of $280 and has rarely fallen below $140 since. That's a stunning increase of 700% in just a few short years. Investors who got in on Nvidia stock at the right time probably feel like they struck gold. So, the question you're probably asking now is—where do I find the next Nvidia?
What are the Stocks to Watch?
Vuzix Corporation (NASDAQ:VUZI) is a manufacturer of what it describes as "wearable display technology" for which the applications are endless. From 3D gaming to manufacturing training and even military tactical equipment, Vuzix really has the potential to do it all. Vuzix's potential was even recognized by Intel (NASDAQ:INTC), which invested $25 million in the company back in 2015. At just $2.07 a share, this stock could represent a huge steal as the VR sector looks skyward.
HTC Corporation (OTC:HTCKF) (TPE: 2498) is a fairly common household name, having been one of the trailblazers for touchscreen mobile technology and also holding the prestigious honor of having the first phone, the HTC Dream, to be powered by Android OS all the way back in 2008.
HTC currently manufacturers the Vive VR headset, which is seen as the main competitor to Facebook's Oculus, and with a 13% market share, there's definitely room for growth for HTC. In January, the company announced Vive Pro Eye, which features eye-tracking technology that makes VR accessible for users who can't use regular motion controllers. This again highlights HTC's forward-thinking mentality when it comes to new technologies. The company's stock is currently valued at $33.70 TWD, which is close to the lowest it's been all year, so now could be an opportune time to get in on HTC stock.
The Takeaway
The possibilities for Virtual Reality are endless, as is apparent by some of the industry names that are keen to get a hold on the market. With the next generation of gaming on the horizon and 5G mobile technology about to be rolled out across the world, VR looks like one sector to get your head stuck in. Happy hunting.
Featured image: DepositPhotos © s4visuals