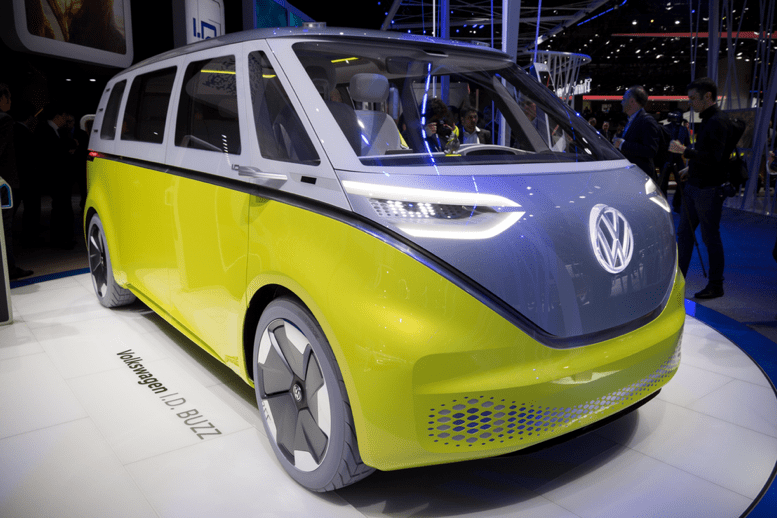 Volkswagen (OTCPK:VLKPF) has unveiled its Type 20 concept car, which marries its classic 1962 Microbus with today's latest electronic technology. The new model was unveiled at the company's Innovation and Engineering Center California in Belmont. It is unknown if this concept will ever hit the market, unlike the company's hotly anticipated all-electric van, the ID BUZZ, which is expected to hit dealerships by 2022.
Currently, Volkswagen shares are up 1.63% and selling for $153.46 USD. It's hard to know if this is in reaction to the new concept car, but considering the popularity of the iconic microbus, the revival is already proving a very smart move.
Volkswagen's ID BUZZ
The original Volkswagen Microbus was discontinued in 2013 due to safety concerns; the vehicle lacked airbags and anti-lock brakes. It had a good run, however, with the van first produced in the 1950s and reaching peak popularity in the 1960s and 70s.
But in 2017, Volkswagen released a concept for a new, fully-electric microbus called the ID BUZZ. The vehicle will include augmented reality features and laser scanners on the roof to make the driving experience easier.
Further futuristic features include the ability to unlock the ID BUZZ with your phone instead of a traditional key. It will also be drivable by touch screen, rather than a traditional steering wheel.
With a 369 horsepower, the ID BUZZ will reach 99mph at top speed and go from 0-60mph in five seconds.
The battery will give it a range of 300 miles per charge, and only 30 minutes of charging is required to reach just 80% of the battery's capacity.
>> TSLA Stock Comes Back Strongly on Robust Model 3 Delivery Numbers
The Takeaway
The Microbus capitalizes on a mix of old-school designs and the latest technology. Interiors of the ID BUZZ will be fully customizable and include tech features that will eventually see the car driving autonomously.
When the German automaker first revealed the ID BUZZ back in 2017, the stock market reacted favorably. Shares climbed nearly 40% thereafter and reached the highest level in the last two years of $181.90 by January 2018.
Featured Image: DepositPhotos © Foto-VDW