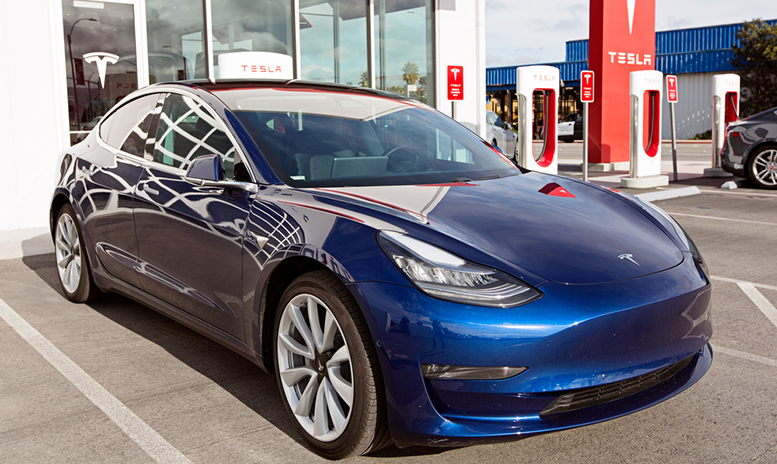 Tesla Model 3 Recommended: Consumer Reports has updated its review of the Tesla (NASDAQ:TSLA) Model 3 and officially recommends it to consumers.
The fully electric Model 3 had previously been put through tests conducted by Consumer Reports where it was not recommended due to the vehicle's long braking performance, and other issues involving controls and comfort.
Tesla Model 3 Recommended
According to a recent article from Consumer Reports, Tesla has improved its braking system through an over-the-air (OTA) update by "[improving] the software for the Model 3's antilock braking system to adapt to variations in how the brakes might be used and to respond to different environmental conditions."
>>BMW Announces Expansion of Battery Factory
Jake Fisher, who has been an automotive tester at Consumer Reports for 19 years, has said he has "never seen a car that could improve its track performance with an over-the-air update."
Although the Tesla Model 3 improved it's braking enough to be recommended by Consumer Reports, there are still other issues that were found. Consumer Reports has noted that the Model 3 had problems with its control system, "wind noise, stiff ride, and [an] uncomfortable rear seat."
The update was able to improve the Model 3's braking distance by 20 feet and, according to Consumer Reports, Tesla is already addressing the other problems that were encountered in the original review.
>>Fiat Chrysler Recalls 4.8 Million Vehicles
In response to the Consumer Reports review, Tesla CEO Elon Musk tweeted that he appreciated the critical feedback from the review.
Really appreciate the high quality critical feedback from @ConsumerReports. Road noise & ride comfort already addressed too. UI improvements coming via remote software update later this month. https://t.co/ZMLPJxmPlM

— Elon Musk (@elonmusk) May 30, 2018
Consumer Reports plans to rent a Model 3 from Tesla "to see if [the] changes made a difference."
After the announcement had been made on Wednesday, shares of Telsa went up by nearly 2.5%. As of 2:00 pm EDT, the company had been able to reach a high share value of $295.00 USD and a low of $281.60.
Comparatively, the company closed at a share value of $283.76 on Tuesday.
Featured Image: Depositphotos/© noblige