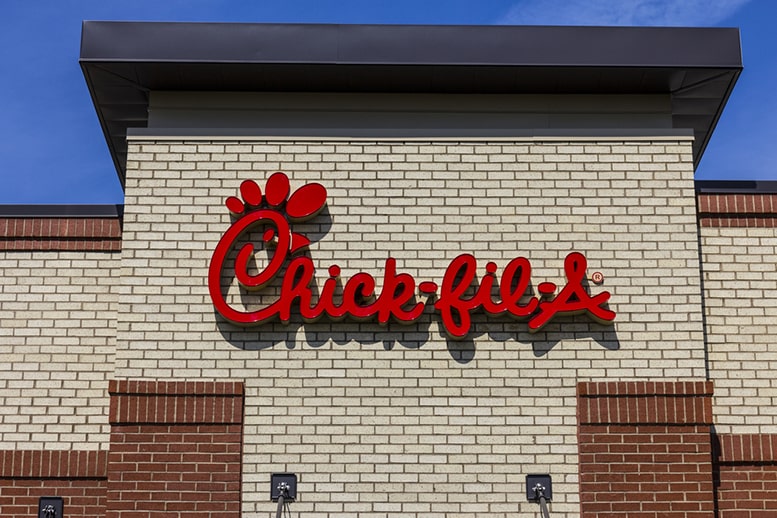 Fast food chicken sandwich chain Chick-fil-A is poised to become the third-largest fast-food chain in America.
Based on sales, the chain looks set to steal the third spot from Subway next year, according to Kalinowsky Equity Research.
Chick-fil-A Sales
Chick-fil-A would then be bigger than Taco Bell, Burger King, and Wendy's.
It owes its success to a particularly strong 2018 where the company "has rocketed." Chick-fil-A's stores grew by 8%, and now the firm has 2,100 outlets under its belt. It has been the fastest growing chain in recent years opening a staggering 100 stores every year.
It is now 3rd behind McDonald's (NYSE:MCD) and Starbucks (NASDAQ:SBUX), which are in 1st and 2nd place respectively.
But this is the tip of the iceberg. Sales are expected to grow a further 15% in 2019, and this is on top of an already 14.2% growth in 2018. This amounts to approximately $10 billion in sales. 
Chick-fil-A Controversy
What makes this news even more interesting is that Chick-fil-A is easily the most politically driven food chain out there. It has kept its founder S. Truett Cathy's values as a core essence of its business. And those values are ones that align with a strong Baptist faith.
>> Google Faces Another Scandal: This Time Involving Kids Apps on Play Store
To put it plainly, the company's own website declares its purpose as "to glorify God by being a faithful steward of all that is entrusted to us and to have a positive influence on all who come into contact with Chick-fil-A."
Religious Actions
Chick-fil-A is not afraid of the ramifications to its business when it closes its stores on a Sunday, for example. Or donates millions to a charity advocating against same-sex marriage. Its current president, Dan Cathy (Truett's Son), has openly spoken about the company's stance on gay marriage rights:
"And I pray God's mercy on our generation that has such a prideful, arrogant attitude that thinks we have the audacity to redefine what marriage is all about."
Headquartered in Georgia, it describes itself as the home of the "original chicken sandwich," but really there is far more than chicken with this food-chain.
In fact, the chicken house became a symbol of the American cultural divide between same-sex advocates who tried to boycott the chain, and those countering these boycotts who aligned with the chain's stance on the matter.
Despite all the controversies and unabashed proclamations of its beliefs, Chick-fil-A has maintained its popularity and, if anything, has only risen in popularity.
Featured Image: Depositphotos/© jetcityimage2