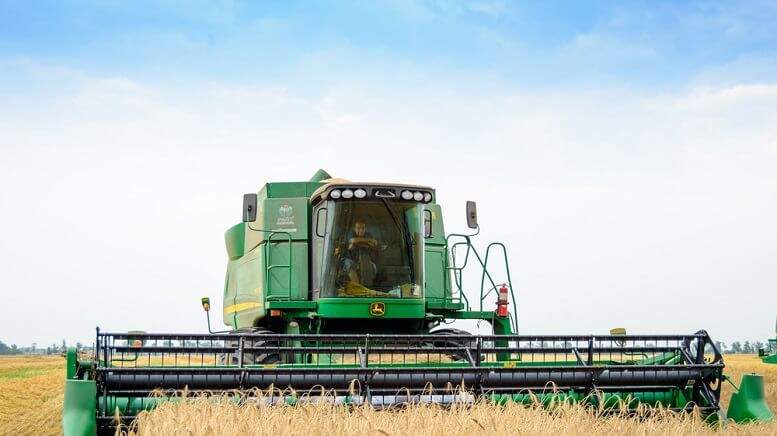 Deere stock is trading down today after Deere & Company (NYSE:DE) issued reduced guidance, citing the impact of escalating trade tensions as a reason for slow equipment purchases by farmers.
The farm equipment maker said it now expects to see net income of $2.7 billion USD to $3.1 billion USD in fiscal 2020, lower than average analyst estimates of $3.5 billion USD for the year. Deere also said that it expects to see agricultural equipment sales decline by 5% to 10% in the year, while construction machinery sales could fall as much as 15%. Deere stock is down about 5% at the time of writing.
"Lingering trade tensions coupled with a year of difficult growing and harvesting conditions have caused many farmers to become cautious about making major investments in new equipment," Deere CEO John May said in a statement. The US has been engaged in a Trade War with China for almost 18 months, and despite some recent thawing in tensions, President Trump recently signed a bill in support of the Hong Kong protests, which has enraged the Chinese government. Despite that, Deere stock is up 15% since the beginning of the year.
John Lagemann, Deere's senior vice-president of agriculture and turf, said that there were reasons for optimism. He pointed to the fact that the age of the current fleet of agricultural equipment in circulation in the US is at its highest point in ten years and that soon enough, farmers will have no choice but to upgrade their equipment as it depreciates. This could be boosted by the Trump administration's $16 billion USD farm subsidy plan to offset the effects of the Trade War. Deere shares are currently trading for $169.06.
>> ROKU Stock Moves Near 52-Week High: What's Next?
The slashed forecasts add somewhat of a negative shadow of Deere's most recent quarterly report in which sales and adjusted earnings beat Wall street's expectations following a record year for the company's construction and forestry divisions.
Featured image: DepositPhotos © maxpro