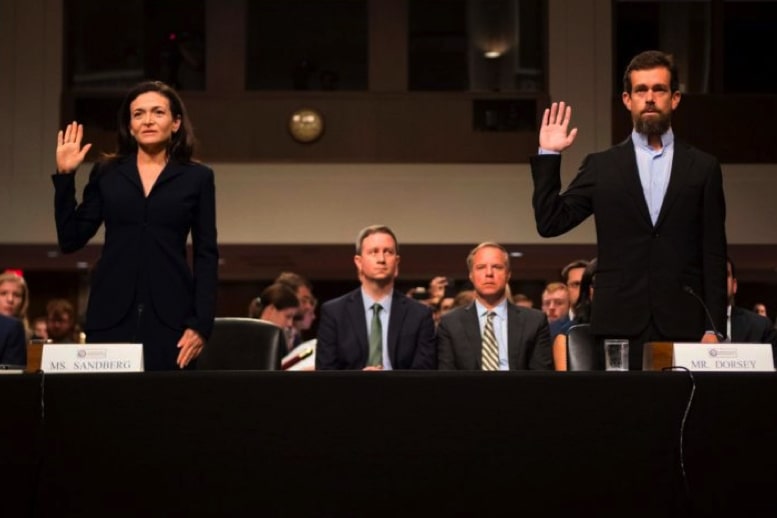 Twitter (NYSE:TWTR) CEO Jack Dorsey and Facebook (NASDAQ:FB) COO Sheryl Sandberg testified before Congress this morning. The pair appeared before the Senate Intelligence Committee (SIC) for the fourth social media hearing about Russian interference in US elections, propaganda, and fake online accounts.
Sandberg and Dorsey both defended their respective companies, but notably, Google (NASDAQ:GOOG) was nowhere to be seen.
Social Media Hearing: Sandberg and Facebook
Sandberg took a proactive approach and looked at what Facebook is doing and what it will be doing to deal with the issues pertaining to foreign influence, hate speech, and guerrilla organizations on its platform. Sandberg stressed, "we are more determined than our opponents and we will keep fighting."
Facebook's COO did also address the company's many previous mistakes and explained how Facebook deals with accounts that spread conspiracy theories. She claimed the company uses third-party fact checkers and that "bad speech can be countered by good speech"  which helps to decrease the reach of fake news.
>> Toyota Motor Corp is Recalling One Million Prius Hybrid Cars at Risk of Engulfing in Flames
Twitter Jack Dorsey
Twitter CEO Jack Dorsey, took a more apologetic approach to his questions. He was very sorry for the US election meddling and fake news that was borne of his platform. He stated:
"We found ourselves unprepared and ill-equipped for the immensity of the problems we've acknowledged. Abuse, harassment, troll armies, propaganda through bots and human coordination, disinformation campaigns and divisive filter bubbles. That's not a healthy public square." 
The pair were bombarded with questions about how their companies were combating Russian interference and disinformation campaigns. Foreign agents and warfare groups running inauthentic accounts on Facebook was also a major concern.
Also discussed was Facebook's role in spreading hate speech and fake news via illicit accounts, which subsequently garnered violent action and genocide against Rohingya Muslims in Myanmar.
People Need to be Vigilant and Where's Google?
Both Sandberg and Dorsey focused on how people can combat the issues with foreign interference and misinformation. Even more so than any specific AI or algorithm. Vying that responsibility lies fundamentally with users taking heed of information on social media platforms.
Google (NASDAQ:GOOG) was notably absent from the hearing. Though it offered its Senior Vice President for Global Affairs and Chief Legal Officer Kent Walker as its witness, it was rejected by the committee panel.
The panel had previously invited and wanted the CEO.
Featured Image: Politico Europe